Costco Easter Dinner 2023
Costco Easter Dinner is the best option to make your Easter a special one. Their Easter dinner includes the following options:
Angus Beef Roast- serves 6 for $199.99
Turkey breast roast- serves 8-10 for $269.99
Spiral ham meal- serves 8 for $199.99
Prime Rib Dinner- serves 8-10 for $249.99
Besides these, Costco also serves gift baskets, sweets, and wine baskets for special occasions e.g. Easter.
You can buy these gift baskets and sweets to serve to your guests along with Easter dinner.
These baskets differ in price and include different items such as jellies, chocolates, cookies, peeps, bunny buckets, etc.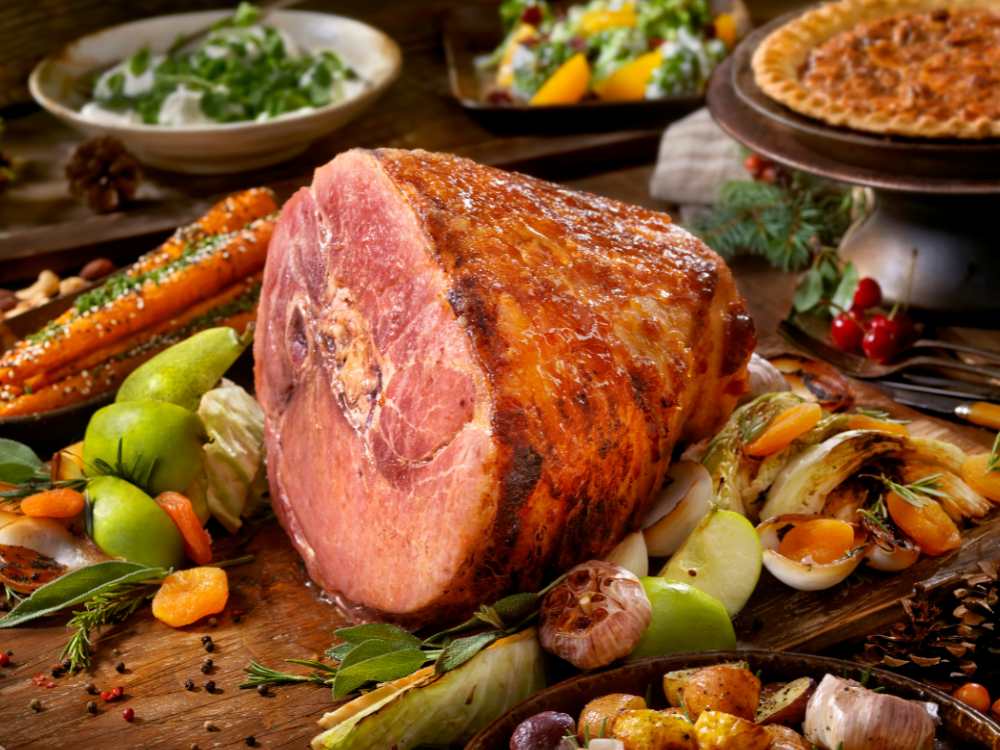 Costco Easter Menu Items
The main dishes offered in their Easter Dinner include prime rib dinner, ham meal, turkey breast, and Angus beef roast.
Costco serves all of these meals with sides and pies such as apple pie and pumpkin pie.
The sides include mashed potatoes, creamed spinach, beans, casserole, etc.
Unfortunately, Costco doesn't offer any vegetarian or gluten-free dinner options for Easter.
However, you may choose from their other food items other than Easter options for vegetarian/gluten-free options.
For the desserts and sides, you can buy sweets, gift baskets, and wine baskets.
For example, Easter deluxe gift basket, Godiva gift basket, sweets bunny bucket, bunny-loves/cake-balls tray, and cookies.
Costco Easter Dinner Menu
Items
Serves
Price
Rastelli's
Turkey Breast Roast (Antibiotic-Free), Turkey Dinner
Includes: Mashed Potatoes, Turkey Breast Roast Pre-Seasoned, Brussel Sprouts Casserole, Traditional Stuffing, Cranberry, Apple, Orange Relish, Green Beans Almondine, Turkey Gravy, Apple Pie (Unbaked) & Pumpkin Pie (Baked)
8-10
$269.99
Antibiotic-Free Spiral Ham Meal
Crème Fraiche Mashed Potatoes, Bone-In Spiral Ham, Creamed Spinach, Sausage and Cranberry Stuffing
8
$199.99
USDA Choice Black Angus Beef Prime Rib Dinner
Rastelli Signature Compound Butter, Prime Rib Roast, Scalloped Potatoes, Creamed Spinach & Green Beans Almondine
8-10
$249.99
Beef (Black Angus) Tenderloin Roast Holiday Meal
Pre-Seasoned Tenderloins, 2 Tenderloin Roasts and Gourmet Sides
6
$199.99
Hillshire Farm
Slow Roasted Turkey Breast (11 oz. 3 ct.)
–
Costco Easter Gift Basket & Sweets
Items
Serves/Quantity
Price
Happy Easter Deluxe Gift Basket
Dum Dum Lollipops, Peeps Bunnies, Jelly Bellies & Russell Stover Hollow Rabbit
$79.99
Godiva Happy Easter Gift Basket
Milk Chocolate Graham, Milk Chocolate Truffles, Easter Bucket, Chocolate Truffle Coffee
$39.99
Hebert Classic Gourmet Easter Basket
White Chocolate Bunny Pop, Solid Milk Chocolate Bunny, Peeps, Jelly Beans
$39.99
Easter Bunny Bucket of Sweets Gift Basket
Peeps, Bunny Bucket, CottonCandy, Chocolate Rabbit
$29.99
Cake Ball (Austin) Easter Collection
Oreo Cake Balls, Birthday Cake Balls, Strawberries & Cream Cake Balls, Lemon Drop Cake Balls
4-6
$49.99
A'cappella Easter Egg BevBombs
Easter Egg Chocolate with Marshmallows, Hand-Crafted & Individually Wrapped
12 ct.
$29.99
Mrs. Fields Some Bunny Loves You Easter Crate
Brownie Bites, Assorted Nibblers Bite-Sized Cookies, Frosted Cookies with Buttercream Frosting
$39.99
Ferrara's Bakery
Rainbow Cookies
Small Batch Baking, Tricolor Rainbow Cookies
1.5 lbs.
$32.99
Italian Cookie Pack
7 Types of Cookies, 4 lbs. Italian Cookies
4 lbs.
$72.99
Wine Basket
| | | |
| --- | --- | --- |
| Items | Serving Size | Price |
| Holiday 2 Bottle Red Wine Picnic Gift Basket | | $129.99 |
| Stags' Leap 3 Bottle Wine | 750 ml | |
| Premium Napa Valley Wine Collection 3 Bottle Wine | 750 ml | $109.99 |
| Grands Vins de Bordeaux 2018 | 750 ml Box Set 2-Pack | $89.99 |
How To Place an Order Process For Easter
You can place an order for an Easter dinner either through the website or by visiting the Costco store.
To order gift baskets online, you must place an order at least 3-5 days ahead.
For Easter dinner online orders such as Angus beef roast, make sure to place an order at least 2-3 days ahead.
You have to pay in advance for your order before they deliver it to your doorstep.
Costco Pickup and Delivery Options
You can pick up Easter Dinner from your nearest Costco store.
They also offer same-day or 2-day delivery for premium members.
However, a casual Easter dinner takes 2-3 and 3-5 days depending on the item.
For 2-day delivery, they charge a $3 fee for each item and $10 per order for frozen items.
You can either pick it up from the store or order it at your home address.
Our Recommendations For Costco Easter Dinner
Our recommendation for Easter Dinner is the Angus Beef Roast.
With it, you can easily serve 6 guests at only $199.99 at your Easter dinner.
It is not only the cheapest option but the most tempting one in taste.
Also, it comes with delicious cream spinach and scalloped potatoes.
Besides these, Costco Roasted Turkey Dinner is also the best pick for $269.99 which serves 8-10 people.
Important Links
https://www.foodandwine.com/holidays-events/easter/best-easter-recipes
FAQs
Does Costco Have Ham For Easter?
Yes, Costco serve a complete ham meal for dinner that can serve up to 8 people.
How Much is a Turkey At Costco?
Roasted Turkey Dinner at Costco is $269.99 that comes with sides too.
You can easily serve 8-10 people with this full-fledged meal.
Does Costco Do Holiday Dinners?
Yes, the same Easter dinners are also available on the other holidays.
You can order them at any time throughout the year to celebrate special holidays.
Does Costco Have a Meal Delivery Service?
Yes, Costco offers a meal delivery service.
The delivery time depends on the nature of the item you order.
Can I Freeze Costco Prepared Meals?
Yes, you can easily freeze Costco-prepared meals and simply defrost them whenever you need.
What is The Best Prepared Food At Costco?
Roasted Turkey Angus Beef Roast is the best-prepared food at Costco.