Savory Waffles with Leftover Ham and Cheddar Cheese
These savory waffles are a big hit for weekend brunch or weeknight dinner. They freeze well, so be sure to make a double batch!
Oh, and if you want more waffle recipes or just more ways to use leftover ham, keep on reading. I'm sharing plenty of them with you today!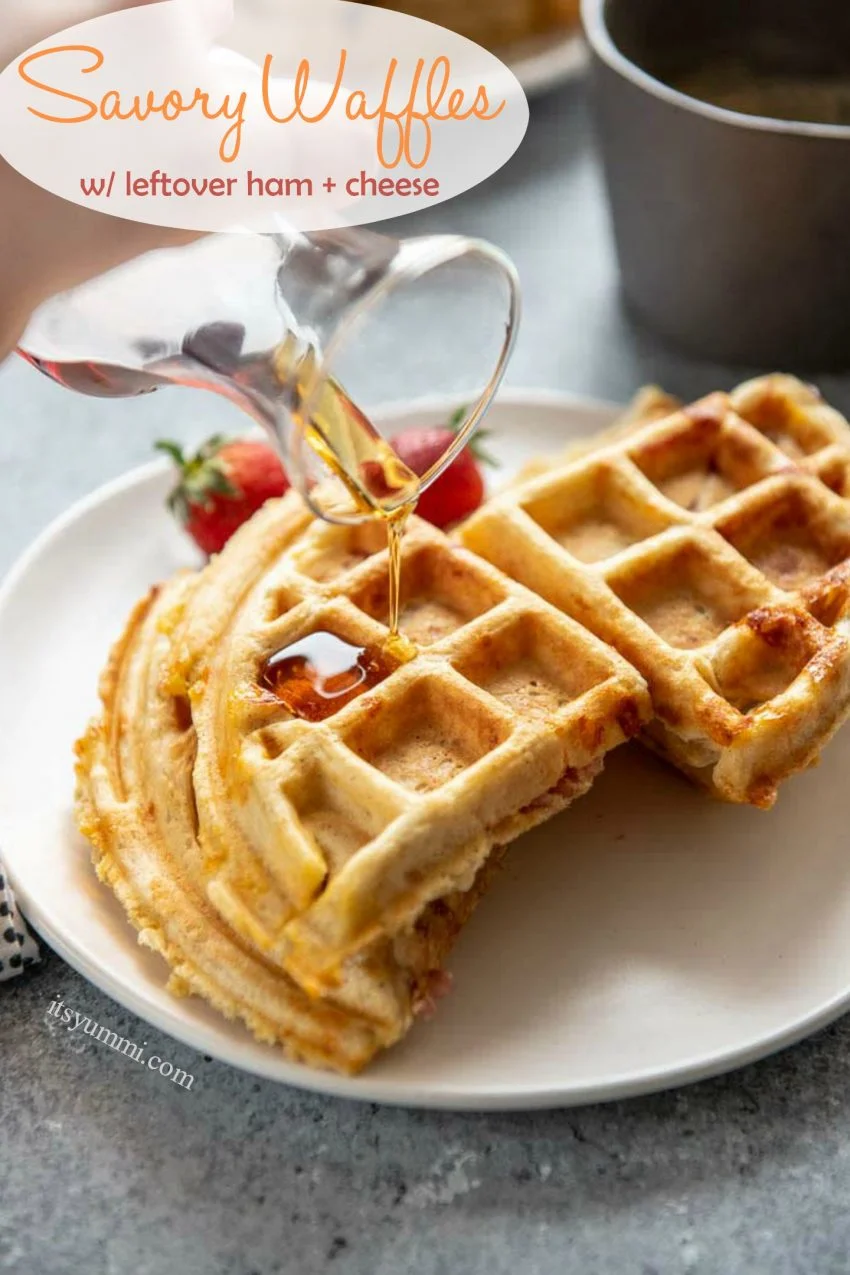 When you mention holiday meals, there are two that come to the mind of many people; Thanksgiving and Easter. Personally, my favorite is Easter.
Don't get me wrong, I love turkey with all of the trimmings. But I love Easter a bit more because, at our house, it's Easter brunch. What's better than breakfast and lunch all eaten together?!
Pork for Easter, especially glazed ham, makes me swoon. Waffles do too! Not sweet waffles; savory waffles hold the key to my heart.
For the record, if we're having Easter dinner, my favorite is roasted lamb. Speaking of which, do you know that Instant Pot leg of lamb is a thing?! I had no idea, but now I have another reason to love my Instant Pot!
Are you like me, going back and forth between the kind of waffles you want to eat? Can you go wrong with homemade waffles topped with fresh sliced berries and a dollop of whipped cream or powdered sugar? I have two words for you: Snickerdoodle Waffles! But, sometimes, you have to put your sweet tooth aside and sink your teeth into the savory side. That's where my ham and cheese stuffed waffles recipe comes into the picture.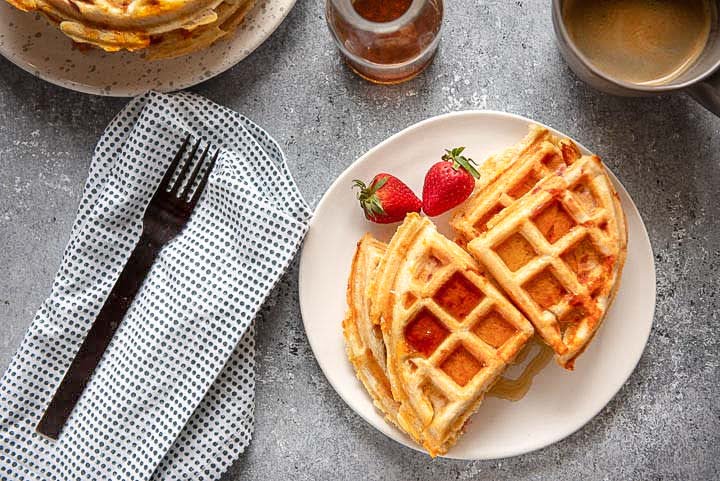 Savory Waffles
If you want to think outside of the waffle iron [box], think about making your waffles savory in and of themselves! Think to yourself; what kind of waffles would be delicious for dinner? Then, you mix up some polenta waffles!
Just keep your mind open to different recipes that will delight your palate. When I first mentioned savory waffles, did your thoughts go immediately to polenta? See, that's what I'm saying. You've got to keep your mind open to all of the delicious opportunities!
What's the difference between savory waffles and sweet waffles?
Believe it or not, waffles started out as a savory meal. I know, most everyone thinks about sweet waffles first, but waffles started off as a savory dish. Most people, when you mention savory waffles, immediately think of chicken and waffles. What if we take it up a notch? Think about making chicken stuffed waffles with a side of maple dijon dipping sauce! You're already craving them, aren't you? Yep, me too.
How you top your waffles will determine if you're having a savory or sweet dish. Any fruit toppings, whipped topping, or sugars, you'd put on your waffles would make a sweet waffle. On the other hand, if you add veggies, eggs, meats, etc, you'll be leaning towards savory waffles.
Now, when I think of savory waffles, I also think of what goes along with them for a meal: bacon, maple syrup, eggs. I mean, who doesn't want a full meal when you're eating? That's where maple bacon waffles come into play. You get everything you want in one waffle. I think the only thing missing is an egg on top, but that's just me.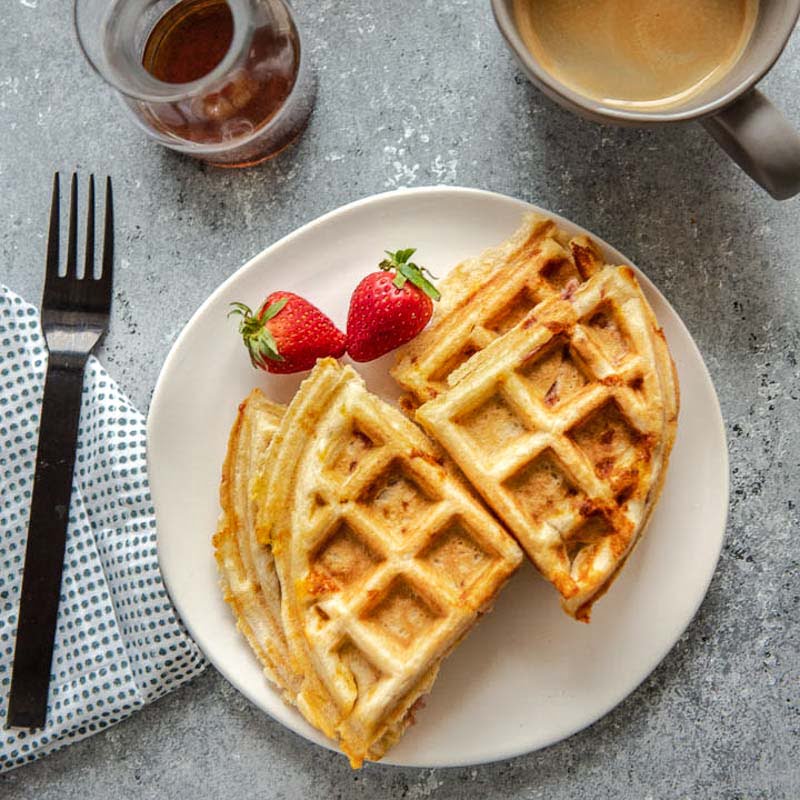 Ham and Cheese Waffles Recipe Notes
Making these savory waffles really couldn't be any easier. The only tip I have to offer is to make sure that your waffle iron is completely preheated before you start cooking. Also, be sure to spray it well with nonstick cooking spray, or use a pastry brush to apply melted butter to it. That will prevent any oozing cheese from sticking to your waffle iron.
The last thing we need on a relaxing weekend is a big mess in the kitchen to clean up, right?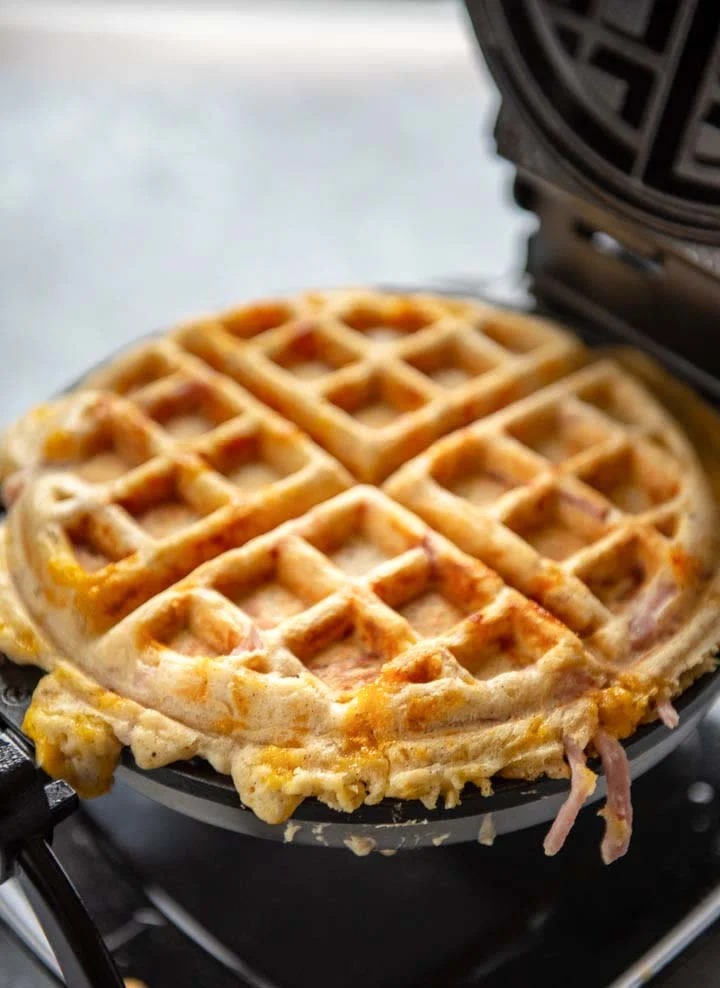 Can I substitute milk for buttermilk in waffle batter?
Yes, you can substitute milk for buttermilk. However, that means waiting several days for the milk to turn sour (Ewww gross, right?). Instead, use this simple kitchen hack to create the buttermilk you need for your waffles recipe.
Quick Buttermilk Substitute
Just add 1 tablespoon of white vinegar or lemon juice to 1 cup of milk. Stir to combine, then let it sit for 5 minutes and voila, you're good to go!
What can you put on waffles instead of syrup?
Looking to take make your savory waffles more than just a simple waffle? How about:
Poached eggs and hollandaise sauce
Seasonal fresh fruit. The ham and cheese stuffed waffles are delicious with sliced peaches on top! Or drizzle some honey over them. Yum.
Avocado and tomato
Fruit salsa
Egg salad
As you can see, the options are endless. Open the cupboard, take a peek in your fridge. See what you can find to top your savory waffles with!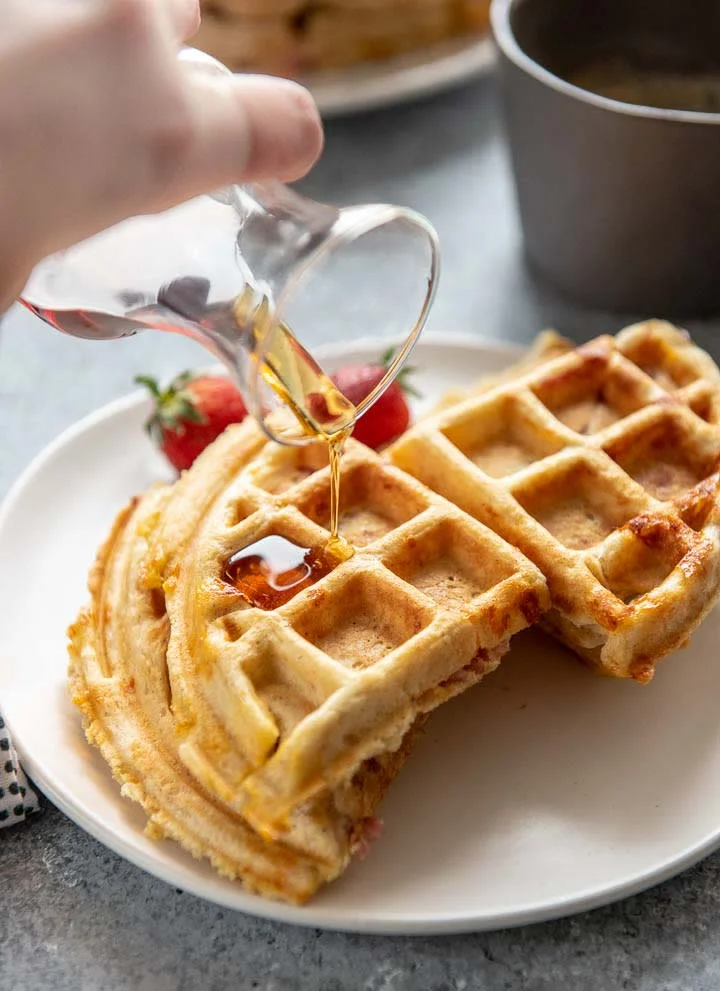 What can I make with leftover ham?
My goodness, there are so many things besides savory waffles to make with leftover ham! Appetizers, snacks, casseroles, and soups, to name a few.
Put together a simple ham casserole. You just need veggies, diced ham, and cheese, plus a starch like rice or pasta. I like to add leftover ham to my favorite comfort foods. Meals like macaroni and cheese with ham or hashbrown casserole with ham and broccoli take comfort food to a whole new level.
How about bringing a bit of the tropics to your leftovers? Pineapple ham crescent rolls are perfect for the hungry people at your next party. They make a great appetizer or a game day snack. They're incredibly easy to make and have a tangy, savory burst of flavor.
We're full into spring, but there are still days and nights that have a chill to them. Ham and bean soup (great use for a ham bone, by the way!) is the comfort food that keeps on giving. This soup has a rich flavor and is a delicious meal option.
Summer is coming. Some of you may be looking to have a beach-worthy body. To help your efforts, add this Ham and Swiss salad to your menu. Your rockin' bod will thank you.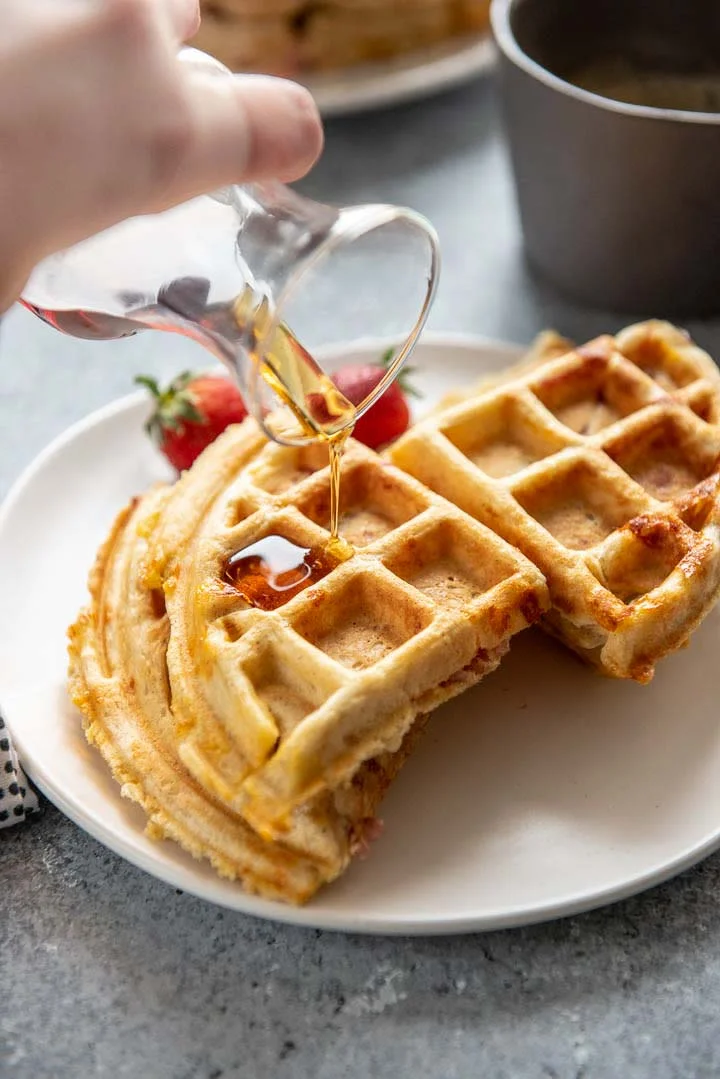 Do you prefer savory waffles or sweet waffles? Get the discussion started by leaving me a comment below Oh, and if you will please rate the recipe while you're there, I will be so grateful.
Don't forget to Pin this ham and cheese savory waffles recipe on Pinterest, or bookmark it to make them next weekend. You know, with that leftover ham from Easter.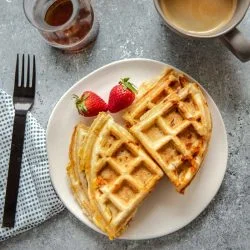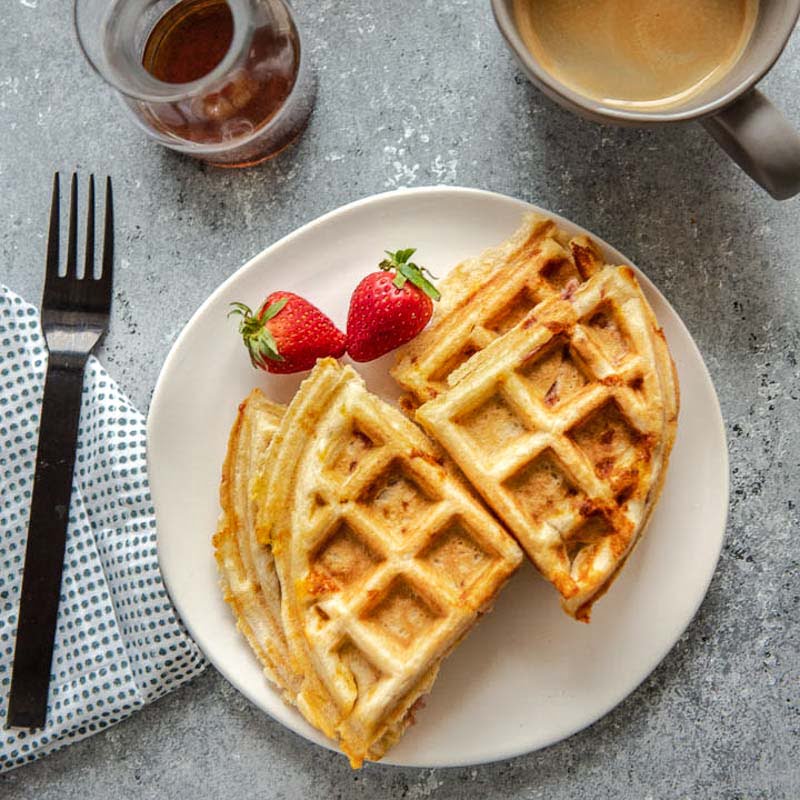 Savory Waffles with Leftover Ham and Cheese
Savory waffles are the perfect use for your leftover ham. This stuffed waffles recipe uses leftover Easter ham and cheddar cheese. They are a delicious brunch idea, or enjoy them as breakfast for dinner!
Ingredients
2

cups

all-purpose flour

1

tablespoon

baking powder

½

teaspoon

baking soda

½

teaspoon

cinnamon

¼

teaspoon

nutmeg

¼

teaspoon

salt

2

eggs

¼

cup

melted butter

coconut oil, or avocado oil

1 ½

cups

buttermilk *

1

cup

cooked ham

cut into thin strips (diced ham works too)

1

cup

shredded cheddar cheese
Instructions
To a large mixing bowl, add flour, baking powder, baking soda, cinnamon, nutmeg, and salt. Whisk to combine.

In a smaller bowl, whisk together eggs, butter/oil, and buttermilk. Add the wet ingredients to the bowl of dry ingredients and stir gently to combine. Once almost fully incorporated, fold in ham and cheese. Try not to over mix the batter or the waffles will become tough. It's okay if a few lumps remain in the batter.

Grease the plates of waffle maker with cooking spray. Pour 1/2 cup batter into preheated waffle maker. Cook according to manufacturer's directions.

Repeat until all batter is cooked.

Serve with desired toppings, such as maple syrup, honey, and/or sliced peaches or fruit compote.
Notes
* No buttermilk on hand? No problem! Just add 1 tablespoon of white vinegar or lemon juice to 1 cup of milk. Stir to combine, then let it sit for 5 minutes and voila, you're good to go!
Nutrition
Serving:
1
g
Calories:
376
kcal
Carbohydrates:
36
g
Protein:
16
g
Fat:
18
g
Saturated Fat:
11
g
Cholesterol:
110
mg
Sodium:
713
mg
Potassium:
420
mg
Fiber:
1
g
Sugar:
3
g
Vitamin A:
603
IU
Calcium:
310
mg
Iron:
3
mg