Honey Baked Ham Thanksgiving Dinner in 2023
The time has finally come! It is time for families from everywhere to gather around and feast at a big table for Thanksgiving.
It is a blessing for people the approaching holiday, as some wouldn't like to spend endless hours cooking.
Coming to the rescue, The Honey Baked Ham is preparing all kinds of dishes for the big holiday. We're talking ham, turkey breasts or whole turkeys, sides, pies, and many more!
There are so many options that you can't stop just at one. They have 30 dishes of ham, eight types of turkey breasts, 5 different whole turkeys, 8 beef dishes, 10 side dishes, and 7 desserts you can choose from.
The prices for the meals aren't as high as one would expect, they vary between 30 dollars to 140 dollars. But, that is not it! If you hurry and get your order for pickup on 11.19 and 11.20, you can also get a discount!
There are also sections down the website where you can choose to shop by price or shop the website favorites!
Why would you choose the Honey Baked ham you ask? Well, we have done the research and learned that everything they make is carefully cooked. They are popular for their ham because they cure them for 24 hours with a secret process that makes them tastier.
Their Ham is already fully cooked, but you can easily find some recipes, usually, they need to be cooked for around 2 hours. The turkey is already cooked but it is recommended to place them in the oven for 2 hours to heat it.
During Thanksgiving, the restaurant also offers Deals for the whole family, such as feasts and buffets where they include numerous dishes!
For more indications and steps on how to remove slices or heat, enter their official website, click on the item you bought, and search for serving information.
As mentioned before, the prices vary from 30 dollars to around 140 dollars. Nevertheless, the foods at Honey baked Ham are affordable.
For the whole Thanksgiving category, check from here.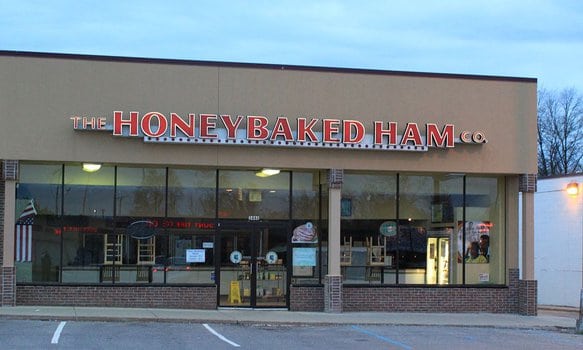 Honey Baked Ham Thanksgiving Holiday Meals
| | | |
| --- | --- | --- |
| Items | Serves | Price |
| 3.75 lbs of Half Boneless Ham l with 3 Sides | | $74.99 |
| 8 Lbs of Signature Syle (Bone-In) | 10-16 | $112.99 |
| 3.75 lbs of Boneless Ham & Turkey Holiday Duo | 4-6 | $84.49 |
| Six Sides Sampler- frozen Heat 'N Serve Side Dishes | | $49.99 |
| 3.75 lbs of Half Boneless Ham & Turkey Feast (Honey Baked) | 10-14 | $119.99 |
| 9 lbs of Signature Syle (Bone-In) | 10-16 | $119.99 |
| Turkey Breast Dinner (Smoked/ Roasted) with 3 Sides | 6-8 | $59.99 |
| 9 lbs of Honey Baked Ham (Bone-In) & Turkey Feast (Smoked/ Roasted) | 12-16 | $151.99 |
| 5 lbs of Quarter Ham (Bone-In) | 4-8 | $82.99 |
| 8 lbs of Honey Baked Ham (Bone-In) & Turkey Feast (Smoked/ Roasted) | 12-16 | $144.99 |
Honey Baked Ham Desserts Menu
| | | |
| --- | --- | --- |
| Items | Serves | Price |
| Southern Pecan Pie- filled with brown sugar, warm spices and syrup | | $15.49 |
| Vanilla Rum Cake- Made with smooth vanilla rum | 12 | $29.99 |
| Pumpkin Pie- Seasoned with allspice, cinnamon, cloves ginger and nutmeg | 8 | $15.49 |
| Red Velvet Cake- topped with White Chocolate Shavings | | $24.99 |
| Carrot Cake- loaded with carrots, raisins and walnuts | | $24.99 |
| Blueberry Coffee Cake- Made with real sour cream and sugar | 14 | $21.49 |
| New York Style Cheesecake Sampler | 12 | $24.99 |
| Coconut Cake- made with real cream cheese | 10-12 | $24.99 |
| Bake & Serve Apple Caramel Walnut Pie- loaded with Ida red apples | | $15.49 |
| Rum Cake Sampler- Hand glazed with rum | 8 | $23.49 |
| Triple Chocolate Cake- iced with Chocolate Ganache | | $24.99 |
| New York Style Cheesecake- includes real cream cheese | | $17.49 |
| Cinnamon Walnut Coffee Cake- sweet cinnamon streusel and crunchy walnuts | | $21.49 |
Food Meals You Should Choose From Honey Baked Ham
The top favorites for this holiday will certainly make you think the same way. They are delicious, with big portions and a remarkable aftertaste.
Some of the popular dishes have kept the restaurant's tradition for over 50 years! The following popular foods at Honey-baked Ham are:
The Honey-Baked Whole Turkey Dinner
It is obvious why everyone is choosing this dish. They love the roasted turkey taste! One advantage is that it is also fit for more portions and it is accompanied by Cheesy Scalloped Potatoes, Cornbread Stuffing, Turkey Gravy, and a special souffle!
All these are in just one order! (But, if you are searching for something bigger you can always opt for the HoneyBaked Whole Turkey Feast).
The 7 Lb Half Ham
This restaurant is known for its exquisite hams, so it is a no-brainer that people would like to buy this for their special time during Thanksgiving. This Ham will be enough for the whole family.
The Amazing Buffet
Nobody can resist a buffet! Neither could we when we saw the offer this restaurant gives. This Buffet contains HoneyBaked Ham, Turkey Breasts, sides such as Scalloped Potatoes, Cornbread stuffing, their special gravy, and cranberry-walnut chutney.
A buffet, indeed! This is surely something that your family won't stop talking about for years.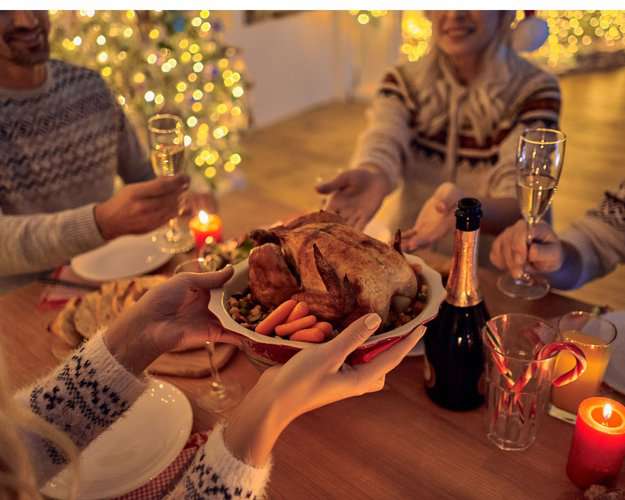 How To Order Your Holiday Dinner
The order process is a simple one! Pay close attention to the following steps and you will see!
Step 1
First, you need to enter their official website, choose the dishes you would like to order, and "Add to Cart".
Step 2
When you are ready, you can click on the "Shopping Cart" Button on the top right side of the website. Create your account
Step 3
Step 3 is to choose if you would either pick up your food or have it delivered to your home. Check for vouchers and if some dishes cannot be delivered to your door.
Step 4
Everything is done now! You will get the food in time for Thanksgiving.
*You can also use Postmates or DoorDash if you had the apps and want to order via the restaurant.
FAQs
How is it possible to refrigerate the Ham or Turkey?
This depends on whether you have opened the package or not. If it isn't open yet, you can go ahead and freeze it. If you opened it, then it is recommended to put a foil around the meat and then freeze it.
Are the Hams and turkeys from the HoneyBaked Ham with gluten?
The hams and turkey breasts do not contain gluten.
Where can I get information regarding the food's ingredients?
If you would wish to find further information, then search on their official site "Nutritional Information".
When should we order the Thanksgiving dinner?
You can place your order as soon as you want because the foods come refrigerated. Be aware of agglomeration during the days close to Thanksgiving.
Can I get a gift card?
You can get gift cards, vouchers, or discounts on their official website.
Final words
All in all, HoneyBaked Ham has prepared extraordinary dinner dishes for all of you this Thanksgiving. They have everything you would wish for and more! Go ahead and place your order and enjoy the tasty meat with its signature sides!