Hy-Vee has made this Easter easy for you with all their Pre-Made Easter Meals. Their menu also has cooking instructions for all of their options.
From delicious main entrées to scrumptious sides, there are options that are of both traditional and non-traditional types.
Their non-traditional entrées are Three-Cheese Meat Lasagna, Marinara Vegetarian Lasagna, Alfredo Vegetarian Lasagna, and Chicken Alfredo Dinner.
You can prepare them in the conventional oven or the microwave oven. Similarly, the traditional entrées can be reheated in the oven.
These entrées are perfect for a hearty, meaty Easter dinner.
They are Brown Sugar Spiral Ham, CarveMaster's Applewood Pit Ham, Hy-Vee Honey Glazed Ham, Hormel's USDA Select Prime Rib, Buterball's Turkey, and Jenny-O's Boneless Turkey Breast.
The menu also has instructions for the glazed and carved options.
Hy-Vee's non-traditional sides are Bread Sticks and Marinara Sauce, and Pepperoni Pinwheels and Marinara Sauce.
They're quick and easy to heat up. Just pop them for a few minutes in your oven or microwave until they're warm enough. They have other options for Easter Dinner too.
Those are their Traditional and Hickory House Sides which include vegetarian options like Sage Dressing, Creamed Spinach, and Brussels Sprouts with Spicy Honey Butter.
If you're craving something cheesy, you can order their Cheesy Corn Bake with Cheddar or their White Cheddar Macaroni for dinner this Easter.
It's not a proper Easter dinner without potatoes. Hy-Vee's got you covered. They offer Sweet Potato Casserole as well as Au Gratin Potatoes.
They also have Turkey and Beef Gravy to pair with your traditional entrées and Buttered Sweet Corn.
Make sure you heat up the sides as well, and you have a complete and easy-to-prepare Easter Dinner.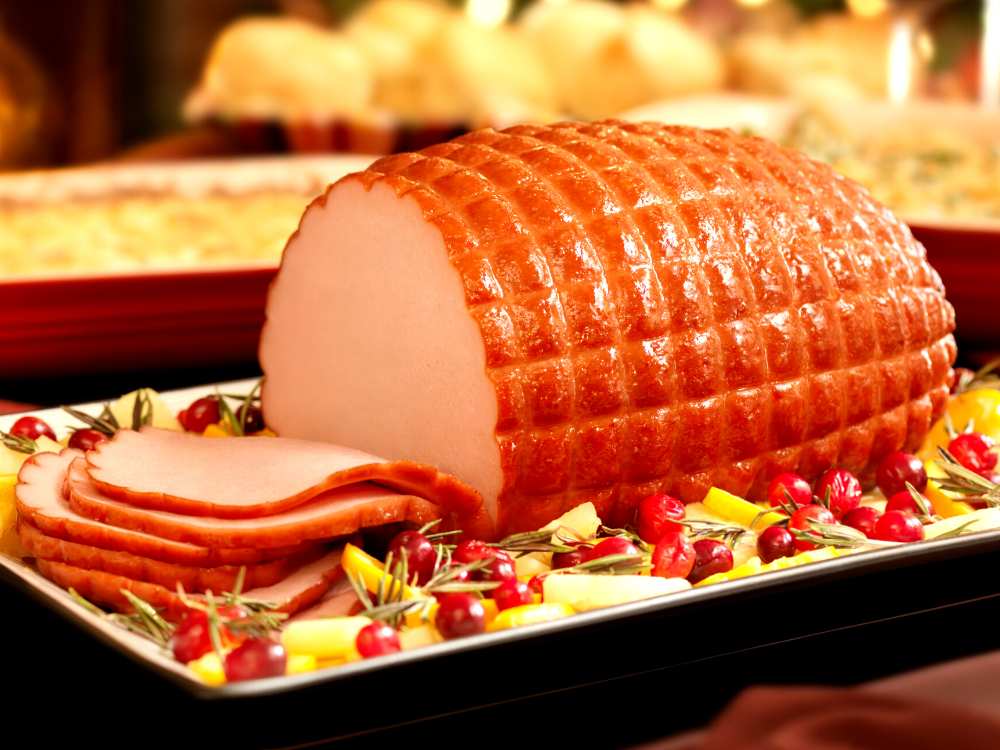 HyVee Easter Dinner Menu (Traditional Entrées)
Items
CarveMaster Applewood Pit Ham
Brown Sugar Spiral Ham
Hormel USDA Select Prime Rib
Hy-Vee Honey Glazed Ham
Jennie-O Boneless Turkey Breast
Butterball Turkey
Non-Traditional Entrées
| | |
| --- | --- |
| Items | Serves |
| Lasagna | |
| Marinara Vegetarian | 6 |
| Alfredo Vegetarian | 6 |
| Three-Cheese Meat | 6 |
| Chicken Alfredo Dinner | 6 |
Non-Traditional Sides
Items
Pepperoni Pinwheels and Marinara Sauce
Bread sticks and Marinara Sauce
At a Glance HyVee
Social Media Links of Hyvee
FAQs
What Services Does Hy-Vee Provide?
Hy-Vee stores are supermarkets with services like bakeries, florist departments, pharmacies, coffee and wine services, as well as dine-in and takeout food services.
Does Hy-Vee Offer Any Discounts on Their Easter Dinner?
You can check out all of Hy-Vee's discounts and deals on their website.
They have deals, weekly ads, coupons, a Perks Program, and a Hy-Vee Plus Membership. Moreover, standard delivery is free for orders over $30.
How To Order a Pre-Made Easter Dinner From Hy-Vee?
It's incredibly easy to order Hy-Vee's pre-cooked Easter dinner items. All you have to do is go to their website and pick the food items of your choice.
They're available for pickup and delivery, but not for curbside pickups or drive-thrus.
When Did Hy-Vee Open Up?
Charles Hyde and David Vredenburg started the Hy-Vee's first branch in 1930 in Beaconsfield, Iowa.
The name "Hy-Vee" came up in 1952 and is a mixture of the names of both co-founders.
Final Words
Order this year's Easter dinner from Hy-Vee and make this holiday a stress-free event that you can actually enjoy with your family.
From flower arrangements to lasagnas to drinks, Hy-Vee is the place to go.
Celebrate this year's Easter by ordering their famous glazed ham and mashed potatoes.
They come in oven-ready containers so that you can pop them in and you're done!
https://www.delish.com/holiday-recipes/easter/g81/easter-dinner-ideas/