Marie Callender's Easter Dinner To Go 2023
Treat your family to a homey meal with Marie Callender's easter meals this year.
Marie Callender's Restaurant serves 5+ holiday feasts for you to enjoy.
Prime rib, ham feast, two turkey feasts – turkey breast and the ultimate whole turkey meal, and a mixed protein meal with ham and turkey breast are to name a few.
There's always the option to order some delicious salmon if you need additional protein on the table.
You don't have to worry about sides and other essentials as each of these meals comes complete with mains, desserts, and sides.
As for the prices of Marie Callender's easter dinners, the family meal platters may cost around $50.
Yet, if you order by the dish, the price tags may come down to roughly $30 or lower.
Depending on your choice of dinner meals, the serving sizes massively vary. Generally speaking, the dinners can feed 6-8 guests at a time.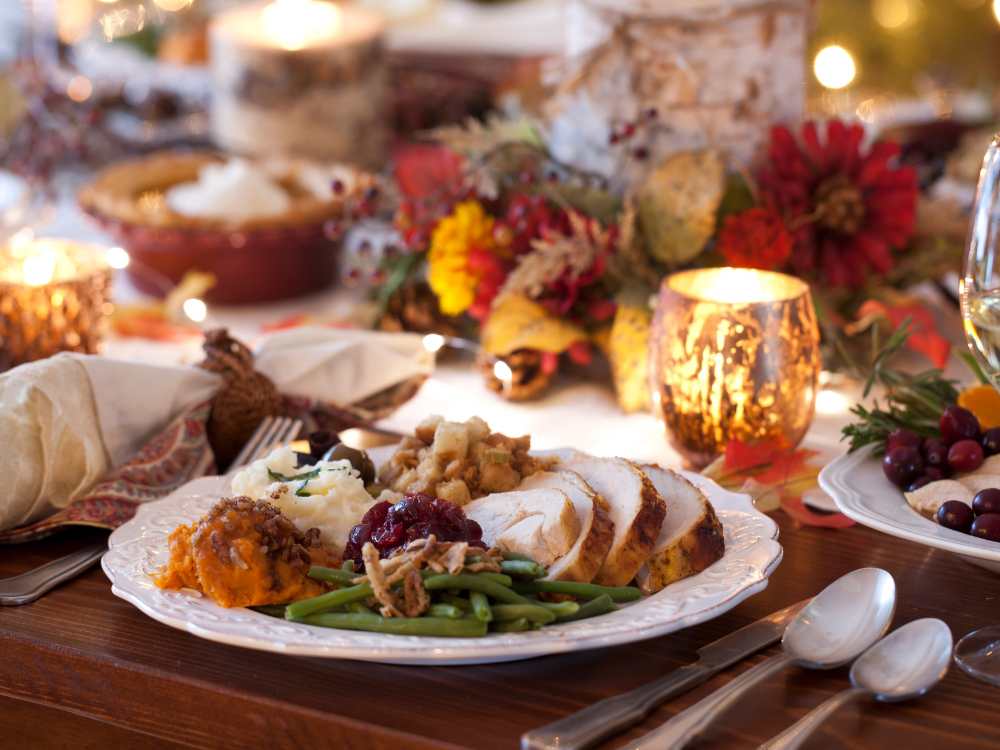 Marie Callender's Easter Menu Items
Let's talk holiday mains first. Marie Callender's serves a variety of easter mains that go from juicy prime rib and turkey breasts to bone-in ham -spiral cut and more.
You could happily have two types of meat on your table by having the combo – ultimate turkey and ham feast at this restaurant.
Up next are the hassle-free easter sides that Marie Callender's is infamous for.
These sides consist of irreplaceable mashed potatoes, delicious yam that's fire-roasted, stuffing, chef's vegetables, moist cornbread, turkey gravy with mushrooms, and more.
If you have any dietary restrictions of being gluten-free or vegetarian, they might be able to accommodate them.
Vegetarians will find multiple dishes to enjoy with Marie Callender's while the options for gluten-free people are limited.
Desserts are included in Marie Callender's easter meals as well. They've got a solid menu of homey pies and other sweet items.
Marie Callender's Easter Dinner Menu
| | | |
| --- | --- | --- |
| Items | Serves | Calories |
| Feast | | |
| Ham | 4-6 | 4580 |
| Turkey Breast | 4-6 | 3810 |
| Ham & Turkey Breast | 6-8 | 3630 |
| The Ultimate Whole Turkey | 6-8 | 3090 |
| Prime Rib | 6-8 | 4930 |
| The Ultimate Whole Turkey & Ham | 6-8 | 3700 |
Holiday Sides – Serves 6-8
| | |
| --- | --- |
| Items | Calories |
| Turkey Gravy | 20 |
| Fresh Mashed Potatoes | 340 |
| Fire-Roasted Yams w/ Cranberry Streusel Topping | 350 |
| Chipotle Pineapple Glaze | 60 |
| Apple-Sage Stuffing | 290 |
| Cranberry Sauce | 150 |
| Five Cheese Macaroni Casserole | 350 |
| Chef's Vegetables | 90 |
| Bleu Cheese Almonds & Field Greens Salad | 190 |
| Fresh Baked Cornbread & Honey Butter | 410 |
| Mushroom Burgundy Gravy | 30 |
| Creamed Corn | 680 |
| Creamed Horseradish | 110 |
| Cabernet Au Jus | 15 |
| Pumpkin Pie | 460 |
| Apple Pie | 630 |
3 Course Dinner Specials
choice of lemon meringue or chocolate cream pie and salad or soup, slice of apple, cranberry sauce, mashed potatoes and seasonal vegetables.
Items
Price
Roasted Turkey Dinner
topped with giblet gravy and Served over apple-sage stuffing.
$23.99
Braised and Slow-Roasted Pot Roast
Cabernet beef, Tender chunks of chuck roast and tenderness
$24.49
Marie's Meatloaf
green peppers, Angus ground beef, onions, special seasonings and carrots. with mushroom cabernet gravy as topping
$23.99
Honey Ginger Glazed Salmon
A house-made honey ginger glaze, Grilled salmon fillet, atop rice
$26.99
Shrimp and Chicken Carbonara
Sautéed rich, creamy sauce + crispy bacon, Grilled chicken breast & tender shrimp, egg yolk, green peas, fresh garlic and parmesan.
$24.49
New York Strip Steak
10 oz. steak + roasted garlic butter.
$29.99
Chicken & Broccoli Fettuccine
Fresh broccoli, fettuccine pasta and Grilled chicken breast, romano, asiago alfredo sauce and parmesan.
$24.49
Family Meals
Served with Honey Spread & Cornbread, seasonal vegetables & mashed potatoes. For 4-6 people
Items
Price
Dinner Platter
Home-Style Meatloaf
Green peppers, carrots, 100% Angus ground beef, onions and special seasonings and mushroom cabernet gravy.
$54.99
Roasted Turkey
served over apple-sage stuffing and house-made giblet gravy.
$54.99
Pot Roast
Mushroom gravy and Tender chuck roast
$54.99
Platter
Chicken & Broccoli Pasta
penne pasta, broccoli, + creamy parmesan, Grilled chicken breast, romano
$54.99
Home-Style Beef Stroganoff
Tender beef + fresh mushrooms, red wine beef sauce, carmelized onions and Grey Poupon Dijon. Served over fettuccine needles + sour cream.
$54.99
Family Pot Pie Meal
Choice of 4 shepherd's pies, 4 mini chicken pot pies, or 2 of each. Includes cornbread and fresh salad.
$54.99
Choice of Pie
| | |
| --- | --- |
| Items | Price |
| Apple Pie, Pumpkin Pie | $16.99 |
| Apple NS, Double Cream Blueberry Pie, Double Cream Lemon Pie, Razzleberry NS, Razzleberry Pie | $19.99 |
| Cherry Pie, Custard Pie, French Apple Pie, Peach Pie, Rhubarb Pie | $17.99 |
| Banana Cream Pie | $19.49 |
| Chocolate Satin Pie, Cream Cheese Pie, Key Lime Pie | $21.99 |
| Chocolate Cream Pie, Coconut Cream Pie | $18.99 |
| Kahlua Cream Cheese Pie, Lemon Cream Cheese Pie | $20.99 |
| Lemon Meringue Pie | $10.99 |
How to Place an Order at Marie Callender's
Ordering Marie Callender's easter dinner is pretty easy. You could either give them a phone call or order online at mariecallenders.com. if you're nearby, you could also visit the store to place an order for the easter dinners.
Is customization available for easter dinners? – the shortest answer is yes. You could pick your choice of protein to go with the easter meals. Similarly, feel free to make a unique meal by picking any side dishes that you would love to have alongside any desserts of your choice.
Pay for your Marie Callender's easter meal with credit cards, cash, debit cards, and gift cards.
Marie Callender's Pick Up and Delivery Options
Pick-up is available in any of Marie Callender's restaurants.
You would be relieved to know that Marie Callender's does offer delivery for their easter dinners.
The delivery fee may highly vary based on mileage, the bill, and the time it would take.
Easter dinners are available for both delivery and pick-up.
Our Recommendation for Marie Callender's Easter Dinner
So far, to our knowledge, the best Marie Callender's easter dinner is their holiday ham feast.
Serving up to six hungry bellies at a time, this comes with the most delectable sides and desserts that are sure to leave you happy and sated this easter.
Important Links
https://www.sheknows.com/food-and-recipes/slideshow/5339/easter-dinner-ideas/