Slow Cooker Jambalaya is a spicy and flavorful family comfort food classic hardly requiring any effort at all. So unbelievably easy to make you WILL find yourself making this again and again.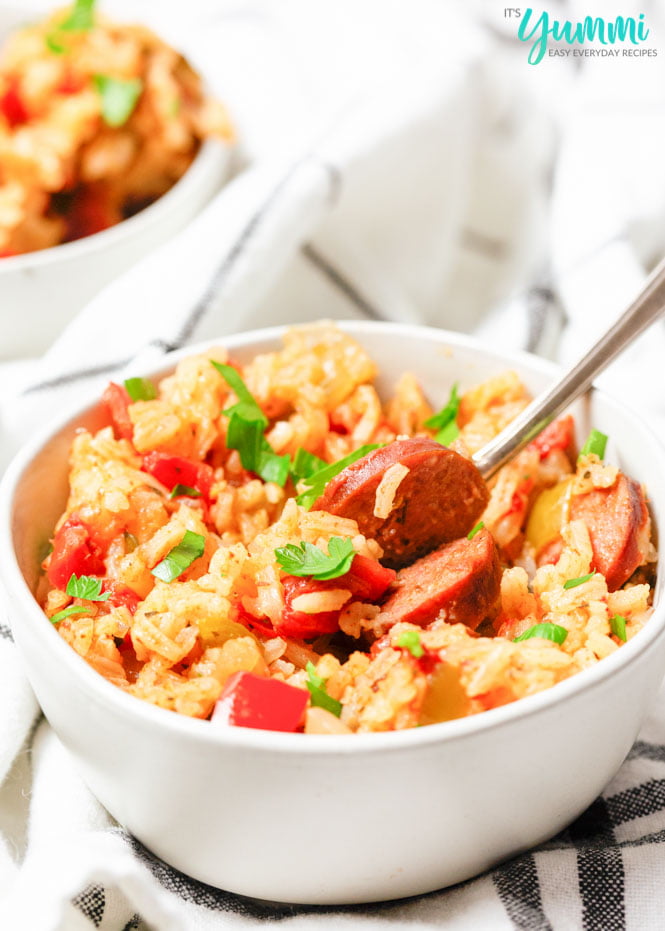 We've been making this dish for years now. It's the recipe the family asks for because really… this slow cooker jambalaya recipe is THE BEST.
We are huge fans of the less dishes the better. So it is a given that slow cooker dinners are right up there in our favorites and why this recipe and I have become such good friends. Nothing better than throw it all in the pot and letting the delicious flavors do all the work.
Is this jambalaya spicy?
I'll say it again. I love this jambalaya recipe and the reason I love it so much is that it is SO adaptable. You can make this mild or as spicy as you'd like.
We start with about 1/2 teaspoon of cayenne pepper. It gives it a rather medium heat. So if you are pretty low on the tolerance of spice I would recommend starting at 1/4 teaspoon. Once the dish is cooked you can taste and add more if you'd like. It is however always smart to start low with the heat and build yourself up to it.
We generally use the 1/2 teaspoon and then the rest of the family adds some extra hot sauce onto their dishes for additional heat. If you'd like a good extra kick of spice you can use a whole 1 teaspoon of cayenne pepper. Be brave. 😉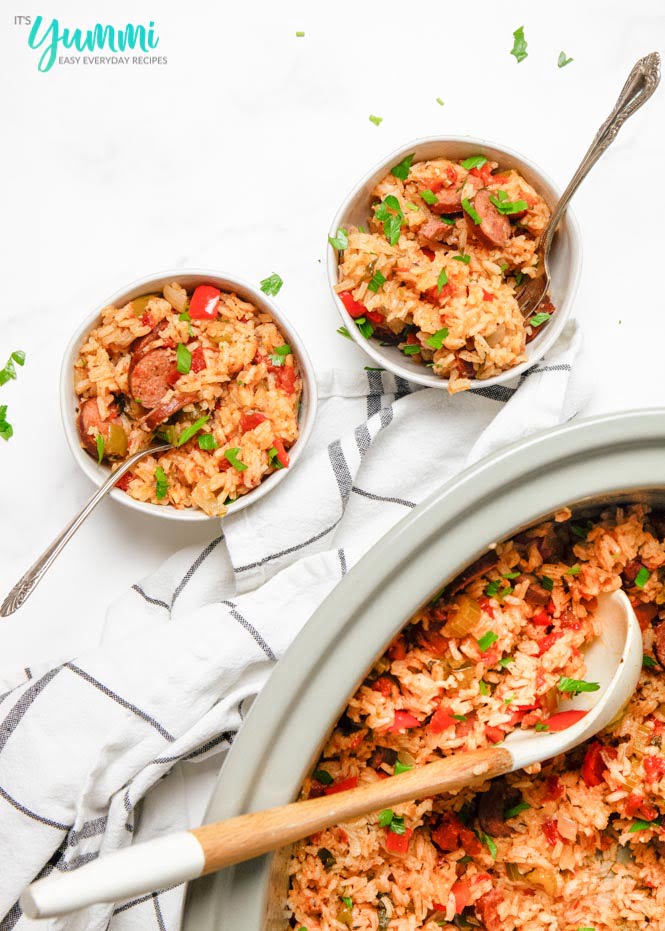 Slow Cooker Jambalaya on a budget
One of the reasons we absolutely adore this recipe is that is makes a TON of food. There are leftovers for at least a few days. This dish is a dinner in itself.
We like to pair it with some veggies like our easy cucumber salad to get some extra vegetables in our diet but plenty of times we don't since there are already so many veggies packed and hidden in this jambalaya!
The most expensive bit is the sausage. But it is the main reason we opt for just one protein in this dish. Many traditional jambalayas call for shrimp, sausage AND chicken. Well… thats expensive in the end and you truly are not missing any flavor when using just one of the proteins.
Ingredients needed for our easy jambalaya
As I mentioned we've been using just one protein in our jambalaya. Smoked Sausage.
We just found that not only is it expensive to add three meats to this dish but it really wasn't necessary. So if you are more keen towards shrimp or chicken feel free to add these to the mix. We are all about making our lives and budget easier though. Smoked sausage is a favorite of ours.. so thats what we chose for our protein.
You'll also need. Celery, Onion, Garlic, Bell Peppers, Seasoning, Tomatoes, Rice and Vegetable Broth.
Overall, this dish is so easy to make with so much flavor it is constantly made in our household. We can't wait for you to make this. Between our Slow Cooker Chicken Stuffing Casserole and this.. I think we are set for fall.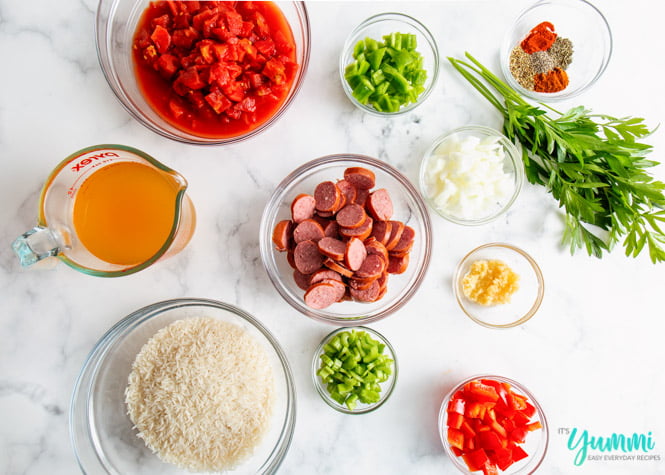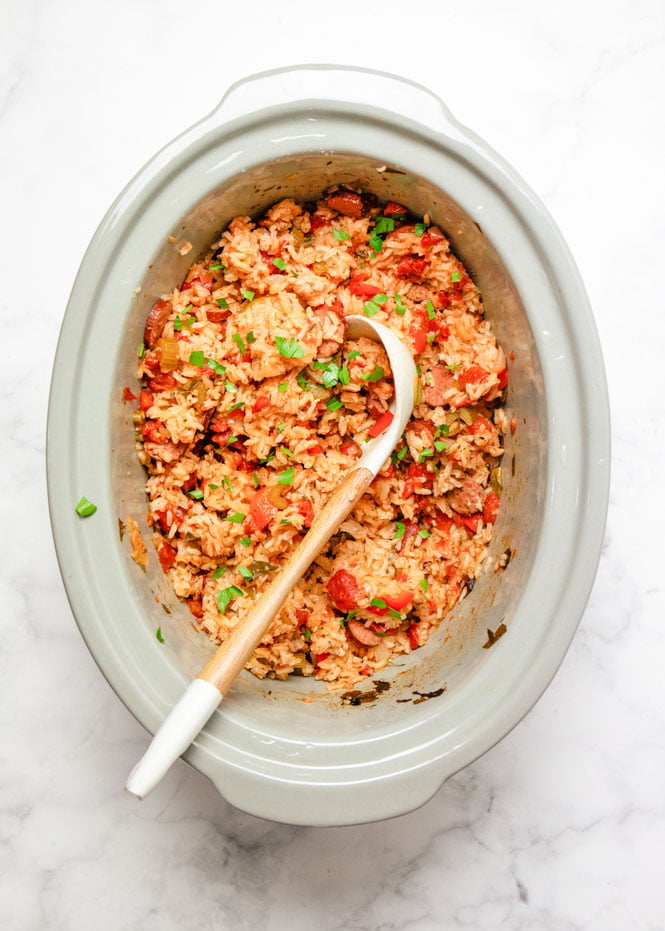 Can we freeze this jambalaya?
Yep! As I said, this recipe makes quite a bit of food. If you are a smaller family like ours you'll find yourself eating leftovers for up to 4 days. Sometimes frankly we are alright with that but other times you are ready to eat some shrimp creole or veggie stuffed meatloaf instead.
So freeze in an airtight freezer friendly bag or container up to 4 months. Allow it to dethaw and simply reheat in the oven or microwave. Use within 2 days after defrosting.
How would I go about Meal prepping this slow cooker recipe??
Chop all your vegetables and smoked sausage. Add to a freezer friendly or airtight container. Add your spices. It's actually more of a reason why I like using just smoked sausage in the recipe. It's already cooked so just one less step to worry about.
Then when you are ready to make it dump it into the slow cooker, add your vegetable broth and start Step#2 and follow the remaining instructions accordingly.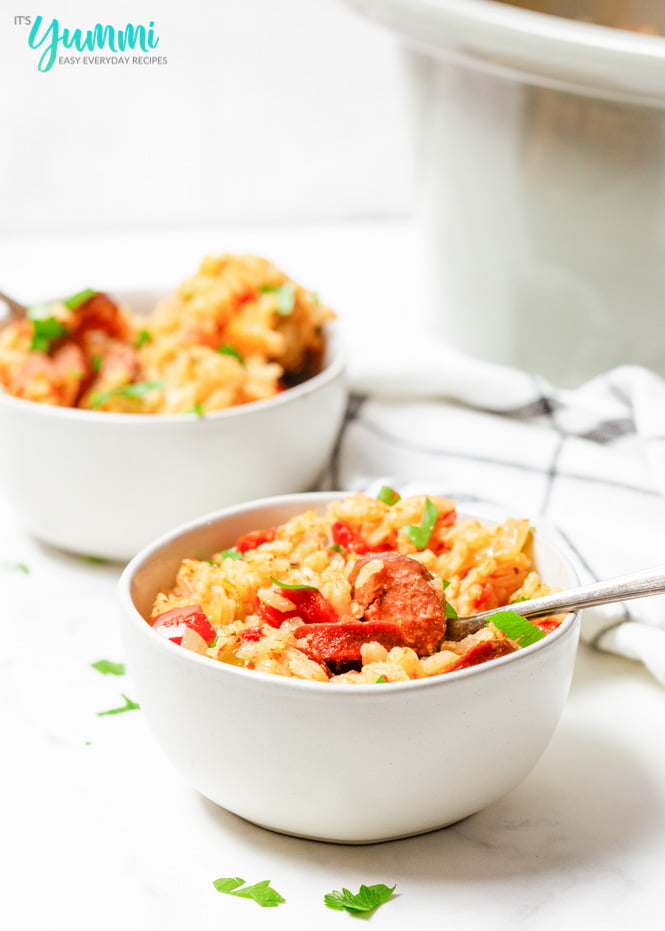 Other slow cooker recipes you might like: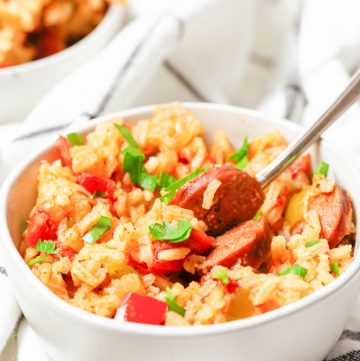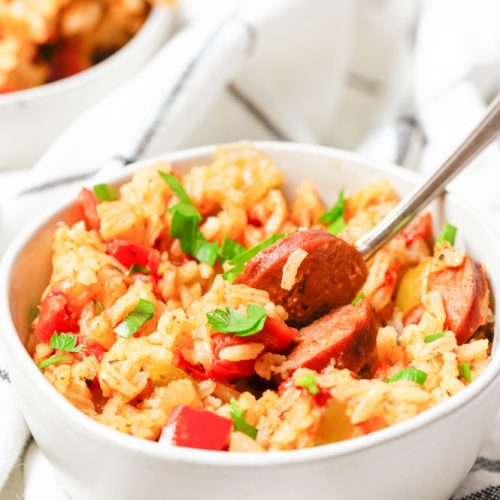 Slow Cooker Jambalaya
Slow Cooker Jambalaya is a spicy and flavorful comfort food classic hardly requiring any effort at all. So unbelievably easy to make you WILL find yourself making this again and again. 
Ingredients
2

large

celery stalks

, diced

1

small

onion

, diced

4

cloves

garlic

, minced

1

green bell pepper

, diced

1

red bell pepper

, diced

16

ounces

smoked sausage

, chopped

1

teaspoon

dried oregano

½

teaspoon

dried thyme

½

Tablespoon

smoked paprika

½

teaspoon

cayenne pepper

( or more for extra spice)

½

Tablespoon

freshly ground black pepper

2

(15 oz)

canned diced tomatoes

½

cup

fresh parsley

, roughly chopped

2

cup

vegetable broth

( chicken broth works as well)

2

cups

uncooked white rice
Instructions
Add all ingredients into slow cooker EXCEPT the uncooked white rice.

Stir everything together. Place lid on slow cooker and cook on high for 3-4 hours. The liquid should be boiling at this point.

Very quickly stir uncooked rice into slow cooker. Quickly cover with lid and continue to cook on high for another 20-25 minutes, or until rice is cooked and has absorbed most of the liquid.

Serve hot with freshly chopped parsley and some hot sauce, if desired. Enjoy!
Nutrition
Serving:
1
serving
Calories:
361
kcal
Carbohydrates:
43
g
Protein:
11
g
Fat:
16
g
Saturated Fat:
5
g
Cholesterol:
40
mg
Sodium:
724
mg
Potassium:
272
mg
Fiber:
2
g
Sugar:
2
g
Vitamin A:
1229
IU
Vitamin C:
37
mg
Calcium:
34
mg
Iron:
2
mg