Spinach Artichoke Dip is a yummy addition to your chip or bread dipping selections, offering a delicious way to get more vegetables in your diet. A crowd favorite for sure, there's nothing wrong with enjoying it all to yourself.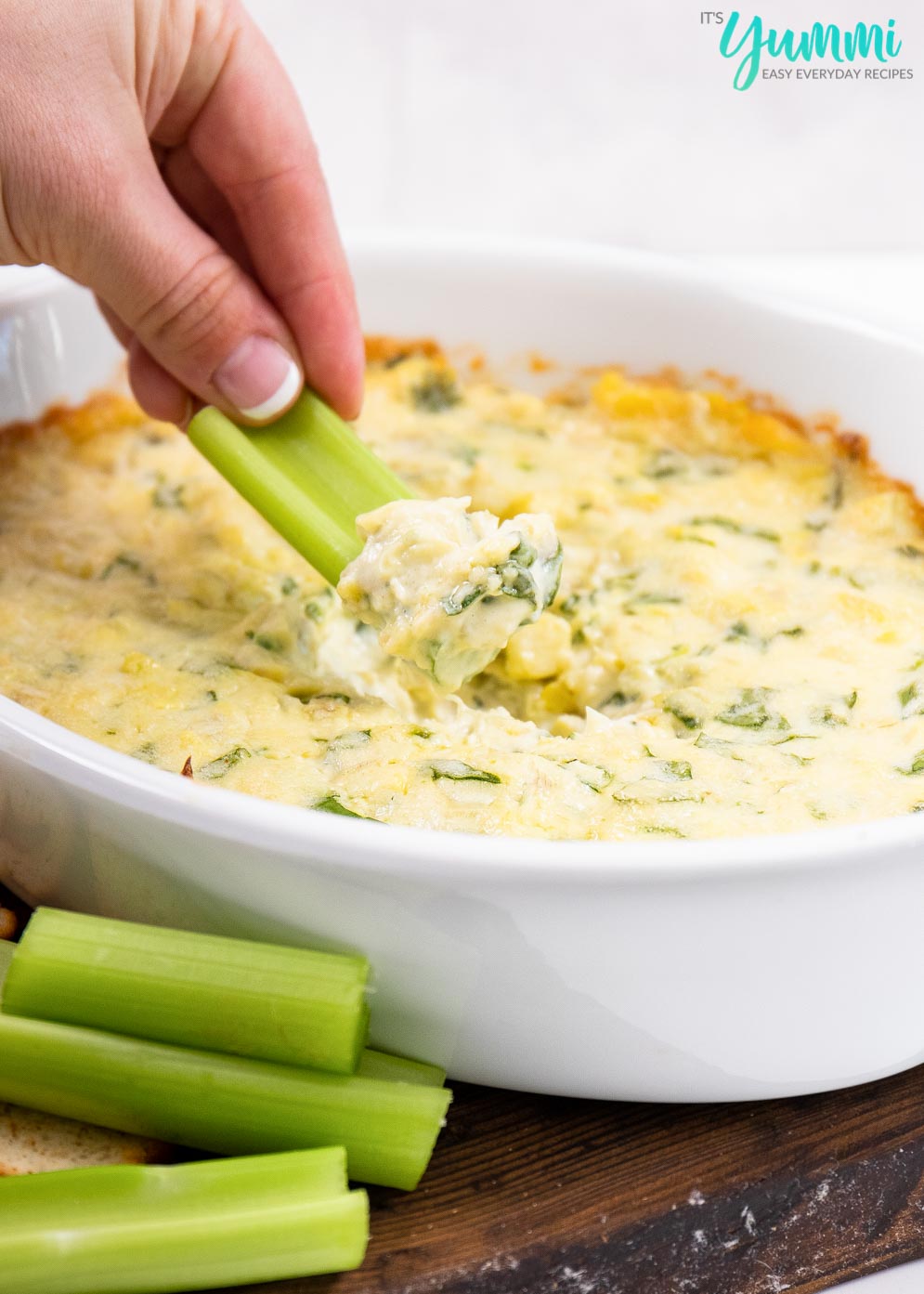 Spinach Artichoke Dip is one of our absolutely favorite appetizers (that we strongly feel can be upgraded to meal with no shame whatsoever.)
Warm, creamy and flavorful, it is one of those dishes that even picky eaters enjoy.
The best kind of appetizers can bring people together in agreement despite our differences and this is one of them.
What is Spinach Artichoke Dip made of?
We do appreciate simple recipes here and this recipe falls under that category. Just 5 ingredients for this creamy goodness.
You'll need: artichoke heart, mayonnaise, Parmesan cheese, minced garlic and, of course, chopped spinach. All you have to do is place your ingredients in a bowl and stir to combine, place in a baking dish or pie plate and bake until bubbly.
It really is that easy.
Don't forget to check out our Hot Artichoke Dip, which also offers creamy deliciousness sans the spinach.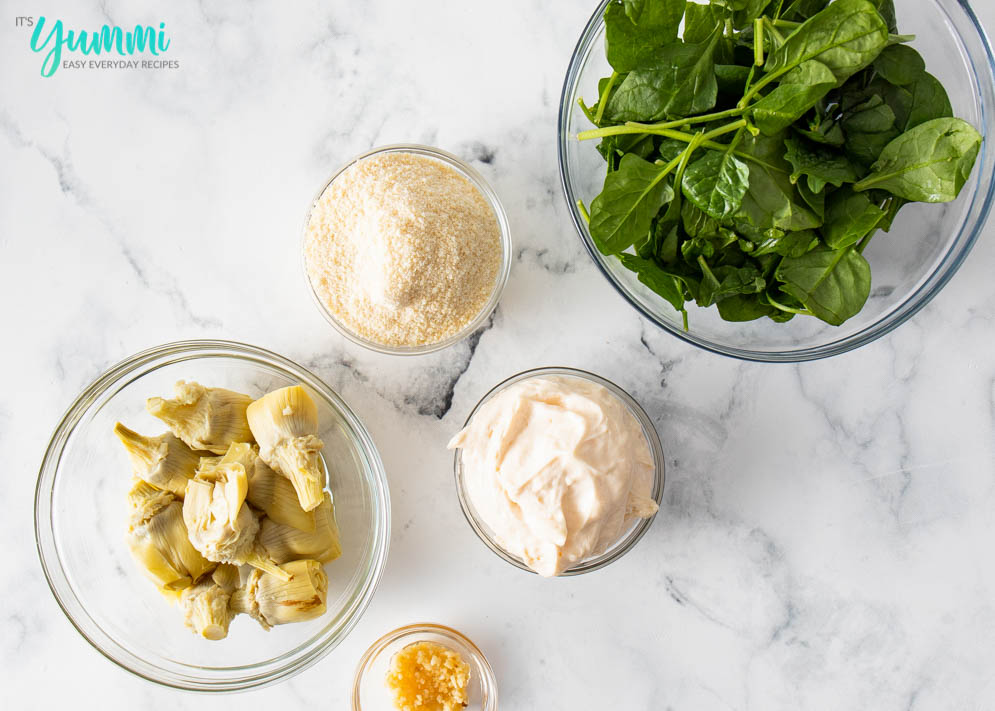 Can Spinach Artichoke Dip be frozen?
Whether you are looking to make this mixture ahead of time to bake at a later date or if you are making a few ready to go batches, you can freeze this spinach artichoke dip.
Mix your ingredients and place into a pie plate, cover and freeze. It's that easy. When it comes time to heat up your dip, you'll place in the over for 40 minutes at 350 degrees or until it is warm and bubbly.
You can store your spinach artichoke dip in the freezer for up to 3 months.
How long does Spinach Dip last?
It's important to keep your dip refrigerated after your initial dip session. Your dip will last up to 4 days when properly stored in an airtight container.
To reheat, make sure to only scoop out what you plan to eat, then reheat in the microwave.
If you'd really like to kick it up a notch, you can get a little more involved with your reheating. Sometimes we like to put a little extra shredded Parmesan on top and rebake the portion we plan to eat. Or, if you're looking for a quick heat and crispy cheesy crust, an air fryer can make quick work of it.
To reheat in an air fryer, you can use steel, glass, ceramic or silicone containers. Really … anything you can use as a container in an oven will also work in the air fryer. We love Instant Vortex by Instant Pot for these opportunities to quickly heat up or put a crisp on foods.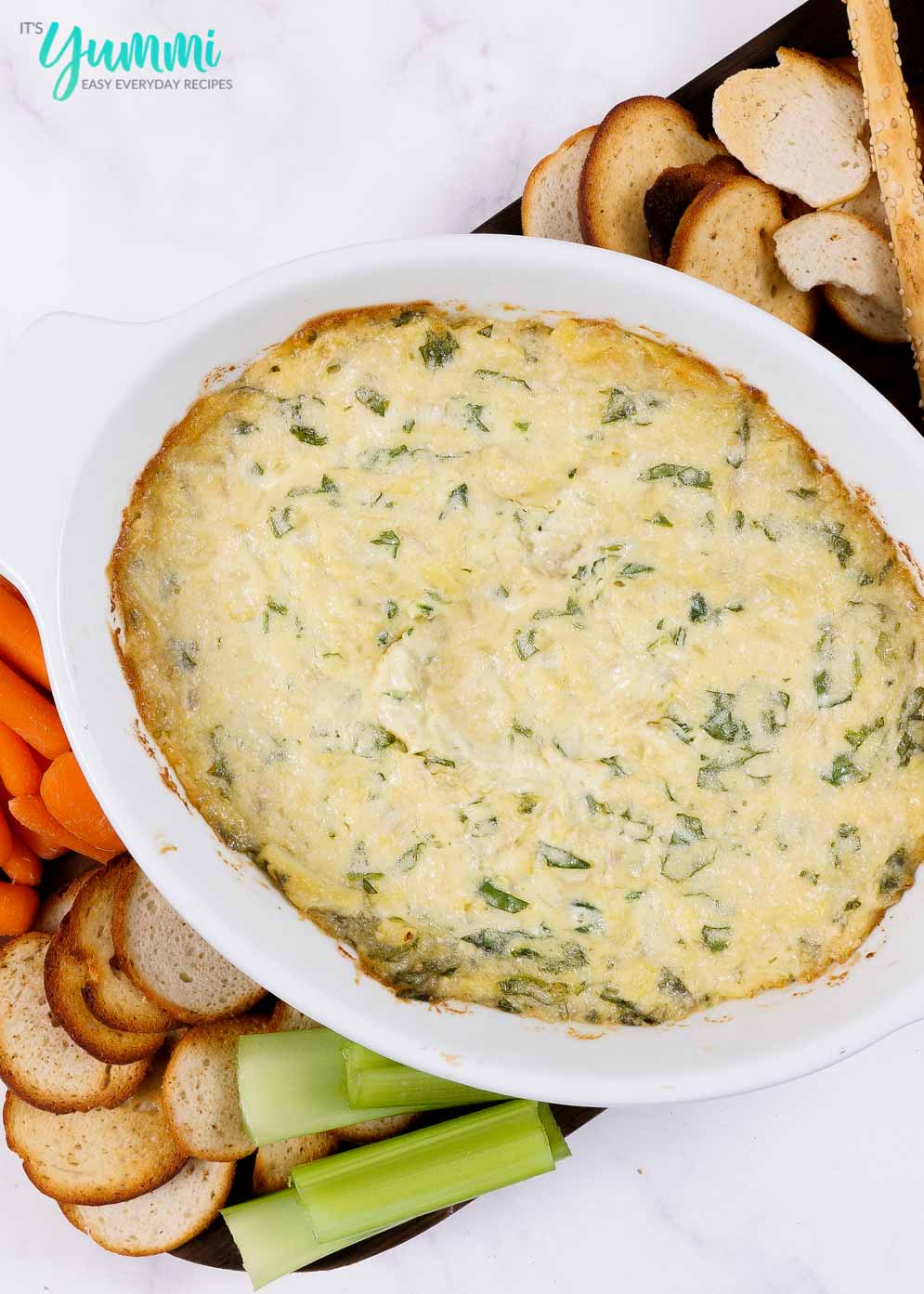 What to serve with Spinach Artichoke Dip
This spinach artichoke dip goes nicely a variety of dipping options. Some of those options include: chips, crackers, flatbread, bread, Nan, carrots, celery or other fresh vegetables.
You also can get a little fancy with your dip with some simple add-ins. Our personal favorite is bacon. The kind of bacon bits that are still soft and chewy – or if you make your own, bacon that is just shy of crispy cut into little bits.
If you like a little bit of complementary flavor, onions (particularly caramelized onions) go wonderfully as well.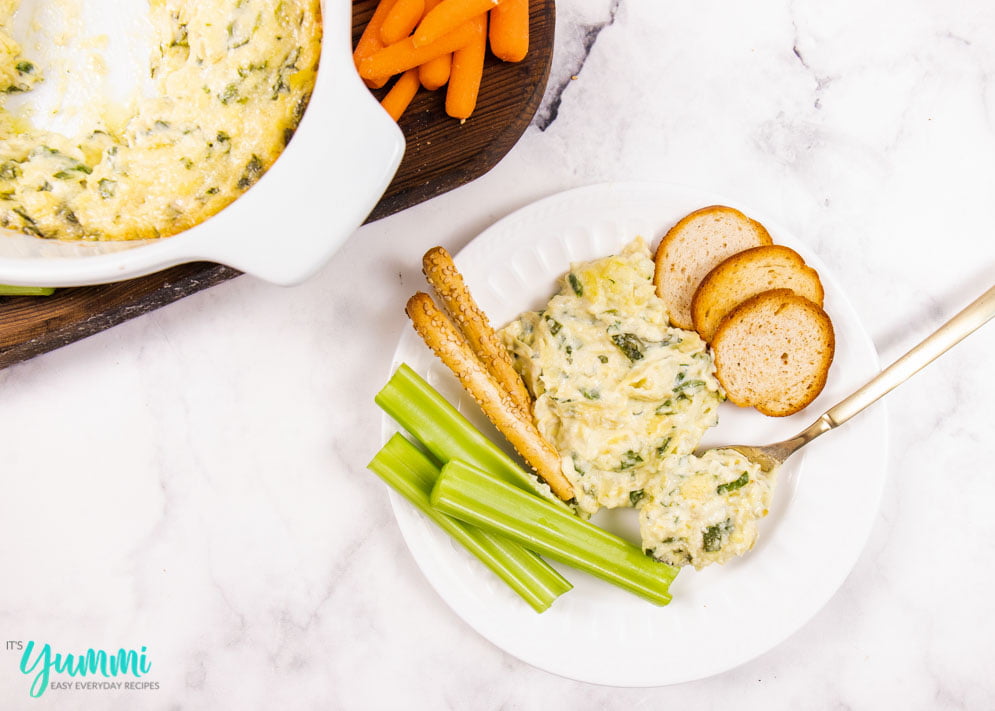 Is Spinach Artichoke Dip healthy?
Everything in moderation, this dip does offer some healthy benefits (along with the deliciousness) – those are the best kind of recipes. Let's call them healthy-ish. 🙂
Artichokes, for example, are low in calories as well as fat. They pack in some fiber and vitamins, considered to be an antioxidant–rich vegetable. Spinach is more than Popeye's favorite go-to vegetable. It is a great source of vitamin K, A, C, folate, magnesium, iron and B2.
So creamy, dreamy goodness and good-ish for you? That's definitely winning the appetizer game.
Other recipes you might enjoy: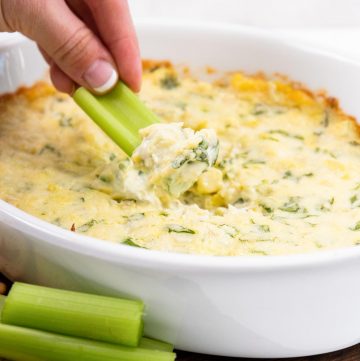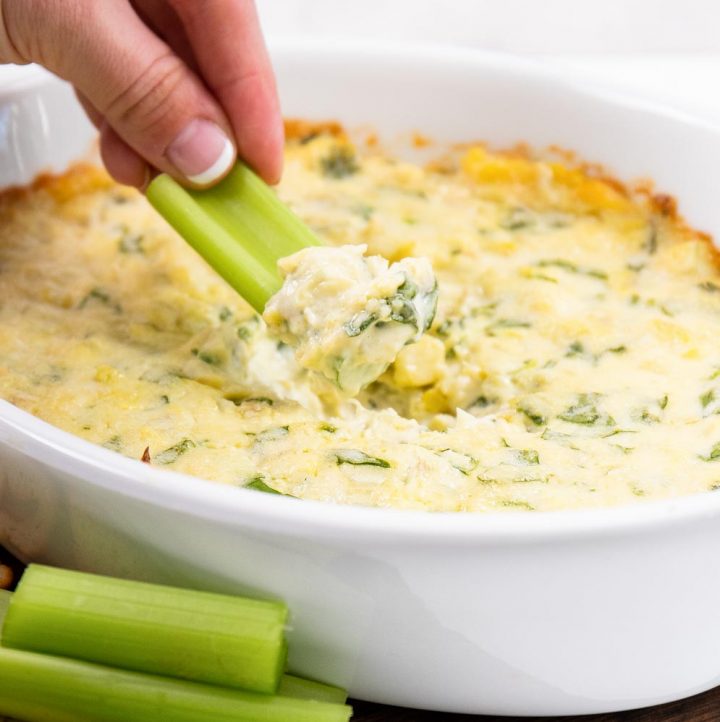 Spinach Artichoke Dip Recipe
Creamy hot spinach artichoke dip is a crowd favorite enjoyed by the family … or solo. So. Yummy!
Ingredients
14

ounces

canned artichoke hearts

drained and chopped

1

cup

mayonnaise

1

cup

Parmesan cheese

1

clove

garlic

minced

1

cup

spinach

chopped
Instructions
Heat oven to 350 degrees F.

Place all items into a large bowl and stir to combine.

Spread into a 9-inch pie plate or similar baking dish.

Bake for 18-20 minutes, or until hot and bubbly.

Serve with chips, flatbread, or raw veggies.

Refrigerate any leftovers for up to 4 days and reheat in oven or microwave before consuming.
Nutrition
Serving:
2
tbsp
Calories:
197
kcal
Carbohydrates:
2
g
Protein:
4
g
Fat:
19
g
Saturated Fat:
4
g
Cholesterol:
14
mg
Sodium:
380
mg
Potassium:
25
mg
Fiber:
1
g
Sugar:
1
g
Vitamin A:
642
IU
Vitamin C:
8
mg
Calcium:
109
mg
Iron:
1
mg