Taco Bell Catering Menu & Price in 2023
Are you hosting Taco Tuesday at your place this week? Well, make your life easier with Taco Bell's party packs.
There is a variety of options you can order for a big party. They have 8 customizable party packs.
The first pack on their website is a Taco & Burrito Cravings Pack that consists of four Crunchy Tacos filled with flavorful beef, lettuce, and cheese and four juicy Beefy Burritos (5 Layer) that have a delicious cheesy nacho sauce in them.
The second pack on their catering menu is a deal of twelve Tacos. You can order Crunchy Tacos or Soft Tacos in packs of six for this deal.
The next deal on their menu is their Supreme Taco Party Pack. Just like the last one, you can order either soft or crunchy Taco Supremes in groups of six.
In total there are twelve tacos in this deal. These customizable tacos have seasoned beef, diced tomatoes, lettuce, cheese, and reduced-fat sour cream, and are delicious either way.
The catering menu also offers a Soft Taco Party Pack which includes two packs of six soft tacos.
There is a Supreme Soft Party Pack as well with the same amount of Soft Taco Supremes as above.
There are also group meals with the famous nacho cheese tacos. They have their Variety Taco Party Pack where you can order six tacos.
Crunchy or soft, that's your choice. This pack also includes six more tacos, namely the Nacho Cheese Doritos Locos.
There is a Supreme version of this group meal on their menu too.
The Supreme Variety Party Pack has the exact same things as the last group deal, but everything is "supreme" in it.
Lastly, there is a Drinks Party Pack where you can order four medium fountain drinks of your choice.
Taco Bell Menu, Taco Bell Happy Hour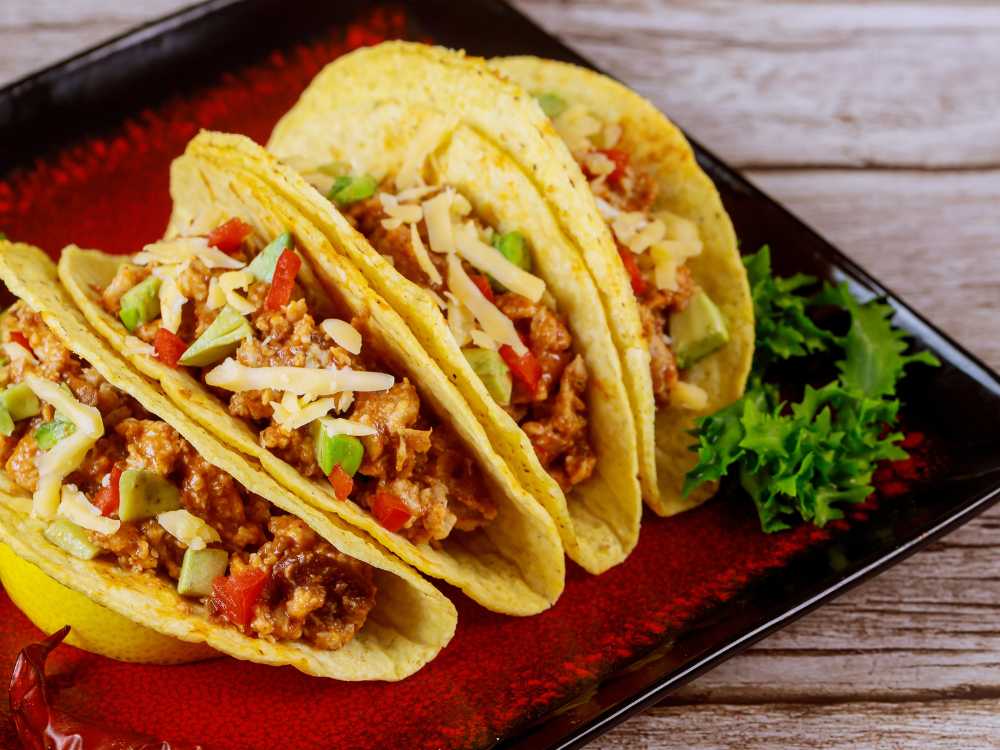 Taco Bell Catering Price (Party Pack)
Items
Calories/ Item
Price
Taco & Burrito Cravings Pack
4 Crunchy Tacos / 4 Beefy 5 Layer Burritos
170-490
$11.99
Party Pack
Taco
6 Crunchy Tacos
170
$18.99
Supreme Variety Taco
Crunchy Taco Supremes / Nacho Cheese Doritos Locos Tacos Supremes
190
$23.99
Supreme Taco
6 Crunchy Taco Supremes
190
$22.99
Variety Taco
6 Crunchy Tacos / Nacho Cheese Doritos Locos Tacos
170
$20.99
Supreme Soft Taco
6 Soft Taco Supremes
210
$22.99
Soft Taco
6 Soft Tacos
180
$18.99
Taco Bell Catering Drinks
| | | |
| --- | --- | --- |
| Items | Calories/ Item | Price |
| Pepsi | 250 | $4.00 |
| Diet Pepsi | 0 | |
| Pepsi Zero Sugar | 0 | |
| MTN DEW | 280 | |
| MTN DEW Baja Blast | 280 | |
| MTN DEW Baja Blast Zero Sugar | 10 | |
| Sierra Mist | 260 | |
| G2 Gatorade Fruit Punch | 50 | |
| Brisk Mango Fiesta | 110 | |
| Lipton Unsweetened Iced Tea | 0 | |
| Dr Pepper | 240 | |
| Brisk Dragon Paradise Sparkling Iced Tea | 80 | |
| Dole Lemonade Strawberry Squeeze | 90 | |
Taco Bell Delivery Methods
| | |
| --- | --- |
| In Store | Available |
| Drive Thru | Available |
| Home Delivery | Available |
| Curbside Pickup | Not Available |
Important Links of Taco Bell Catering
Find Taco Bell on Social Media
FAQs
What Are The Most Popular Items on Taco Bell's Menu?
The best items are their Soft Tacos, Chicken Quesadillas, and their CrunchWrap Supreme.
What is The Type of Meat Used By Taco Bell?
They use USDA premium beef in their tacos.
The beef is drained of excess fat after being simmered and then seasoned with their special mix of 7 spices and seasonings.
Are There Any Vegetarian Options Available?
Yes, all the items on the menu have a vegetarian-friendly alternative.
You can customize any of their items so that they suit your eating preferences.
When Did Taco Bell First Release Their Vegetarian Menu?
They launched their certified vegetarian menu in October 2015.
Was There a Taco Bell Mascot?
A female Chihuahua Gidget became the mascot from September 1997 to July 2000. She was nicknamed the "Taco Bell Chihuahua".
Final Thoughts
Taco Bell's party packs and group meals are great deals for an amazing value.
With these party packs, you can easily cater to a large group and make Taco Tuesdays way less of a hassle.
You can easily customize any of the items in these deals so that you can have your perfect meal.
Add anything from black beans to guacamole to steak in those corn shells and take a bite into your favorite and unique taco.