Whataburger Breakfast Menu 2023 (Top Breakfast Items To Try)
Breakfast is too important to be skipped. That's why we're exploring the ultimate Whataburger breakfast menu.
The Whataburger breakfast menu consists of everything imaginable that you wanna bite on first thing in the morning.
Whataburger has the milkiest buttermilk biscuits, which could be ordered plain or with eggs, cheese, sausage, or bacon.
They serve a pancake platter, and a breakfast platter with eggs, bacon, sausage, and biscuits in the morning.
If we go a little further, Whataburger offers breakfast on a bun, taquito with cheese, breakfast burgers, and egg sandwiches.
Some of these items are served with hash browns, and beverage options – coffee, milk, and orange juice.
They even have their uniquely delicious Whatameal breakfast bowl, complete with scrambled eggs, hash browns, biscuit and gravy, sausage, and cheese in certain locations
Yet, the most popular Whataburger breakfast items would be their honey butter chicken biscuit, egg sandwich, and egg and cheese biscuit.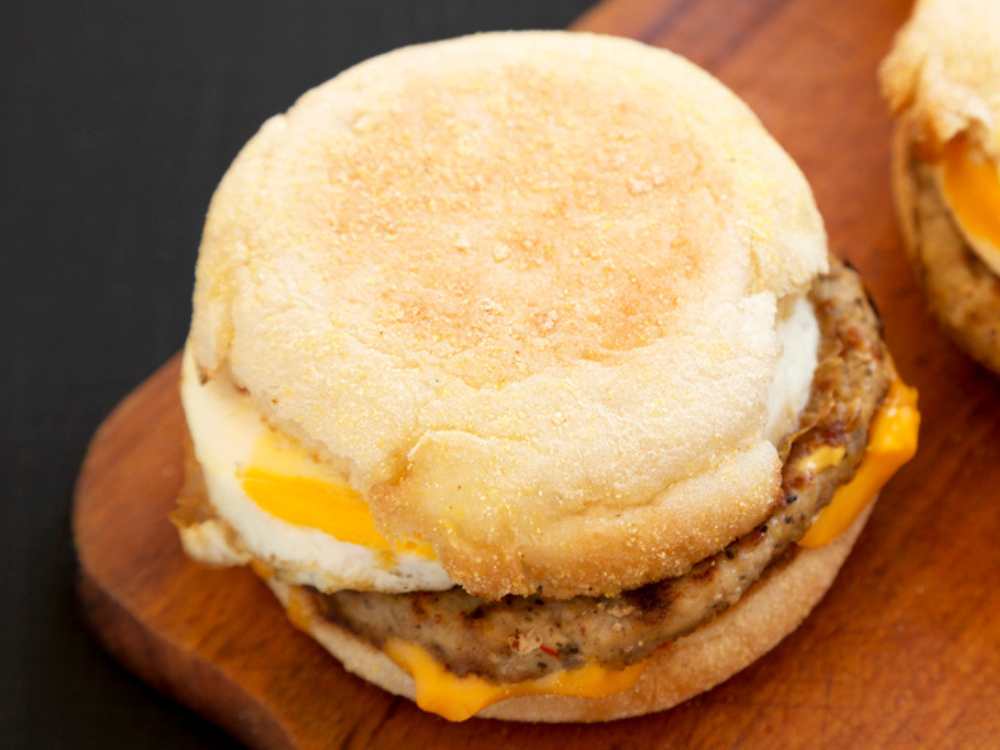 Popular Whataburger Breakfast Items
Breakfast Burger
Whataburger's breakfast burger is a true delicacy with a perfectly cooked beef patty, two strips of crispy bacon, golden hash browns (3), a fried egg, and American cheese.
These packed in a fresh bun with their in-house pepper sauce works wonders in your mouth.
Breakfast Sandwich
The breakfast sandwich at Whataburger is a classic beauty.
Their breakfast sandwich- breakfast on a bun comes to you with a classic or a brioche bun with eggs, bacon or sausage, and American or Monterey Jack cheese.
Breakfast Burrito
Whataburger breakfast taquito with cheese has the protein of your choice – bacon, chorizo, potato, sausage, and lots of cheese.
Breakfast Platter
Their breakfast platter is an assortment of breakfast goodness with biscuits, fluffy scrambled eggs, cheese, sausage, or bacon as per your choice.
Breakfast Sausage Biscuit
This is one of their all-time favorite breakfast biscuits.
Sandwiched inside the buttermilk biscuit is a thick sausage patty. You could add cheese or an extra patty for a small charge.
Honey Butter Chicken Biscuit
This is one of the ultimate hits on the Whataburger breakfast menu.
You get the crispiest chicken strip with the buttermilk biscuit and honey butter.
Whataburger Breakfast Menu With Prices
First 9 Items Includes Hash Brown Sticks, Coffee Regular
Items
Calories
Price
Breakfast On A Bun
(Sausage, Small Bun 4″, Egg, American Cheese One Slice)
720
$5.79
Taquito With Cheese
(Sausage, American Cheese One Slice)
630
$5.89
Pancake Platter
(Pancakes, Bacon)
1140
$6.19
Biscuit Sandwich
(Buttermilk Biscuit, Sausage, Egg, American Cheese One Slice)
860
$5.79
Honey Butter Chicken Biscuit
(Chicken Strip, Buttermilk Biscuit, Honey Butter Regular)
755
$5.69
Breakfast Burger
(4″ Small Beef Patty, Small Bun, Egg, American Cheese, 3 Hash Brown Sticks, Creamy Pepper Regular, 2 Bacon Slices)
865
$7.09
Breakfast Bowl
(Sausage, Buttermilk Biscuit, Scrambled Eggs, Shredded Cheese, 2 Hash Brown Sticks, Gravy)
1135
$7.59
Biscuit And Gravy
(Buttermilk Biscuit, Cream Gravy With Sausage)
665
$4.59
Breakfast Platter
(Bacon, Buttermilk Biscuit, Scrambled Eggs)
810
$6.79
Egg Sandwich
(American Cheese Slice, Small Bun. Includes Ice Regular)
310
$2.59
Biscuit with Bacon
(Buttermilk Biscuit, Bacon. Includes Ice Regular)
355
$2.39
Egg & Cheese Biscuit
(American Cheese Slice, Buttermilk Biscuit. Includes Ice Regular)
425
$2.59
Biscuit
(Buttermilk Biscuit)
290
$1.59
Biscuit with Sausage
(Sausage, Buttermilk Biscuit. Includes Ice Regular)
520
$2.39
Cinnamon Roll
580
$2.79
Pancakes
630
$3.29
Hash Brown Sticks
190
$1.89
Learn About Whataburger Breakfast Menu Calories and Nutrition
Whataburger breakfast items, though are full of flavors, and pack a lot of calories and carbs inside.
For example, Whataburger's breakfast burger has a calorie count of 670 which is significant.
All their breakfast biscuits float between the range of 310cal – 650cal with the toppings.
Whataburger's breakfast and pancake platters have a higher calorie count around 600 – 800 cal.
Suppose you make a meal out of their breakfast items, then the calorie count jumps to a record high of 1220 cal.
Always remember that these calorie counts massively vary by what you add or don't add to your items.
Nutrition vise, you will see more or less protein, dietary fiber, sugar, sodium, and trans-fat in Whataburger breakfast items.
What Time Does Whataburger Breakfast Serve and Stop?
Whataburger has a rather unique breakfast schedule. Whataburger starts serving their breakfast at 11.00 pm.
This means their breakfast menu is available all night, allowing you to enjoy a late-night breakfast.
If you wanna taste their legendary breakfast, you have to do it before noon.
This is because Whataburger stops serving breakfast sharp at 11.00 am.
This special schedule will give you about 12 hours to enjoy a Whataburger breakfast meal from 11.00 pm- 11.00 am every day.
What is Whataburger Breakfast All Day?
Unfortunately, Whataburger does not serve breakfast all day.
You might think that since most Whataburger restaurants are open 24/7, they will have an all-day breakfast menu. But that's not the case.
Whataburger only serves breakfast from 11.00 pm – 11.00 am. Outside these hours, there's no ordering breakfast at Whataburger.
So, make sure to drop by during their standard breakfast hours to enjoy a hearty morning meal.
At the same time, you better call ahead and check about the breakfast hours at your local Whataburger to make sure you got the hours right.
What is Whataburger Free Breakfast?
Whataburger's free breakfast was a part of their promotional deals.
Whataburger offered free breakfast to teachers across the States during the teacher appreciation week last year.
This free breakfast deal was valid between the 2nd – 6th of May last year and allowed educators to enjoy a free Whataburger breakfast meal.
However, please note that this was of the last year, and Whataburger has yet to announce if their free breakfast is coming back this year.
Important Links
FAQs
What Comes on a Breakfast Burger From Whataburger?
Whataburger breakfast burgers come with a four-inch plain small bun or a brioche bun and are packed tight with a juicy beef patty, golden egg, hash brown, a slice of American cheese, two bacon slices, and creamy pepper sauce.
What is a Whataburger Breakfast on a Bun?
Breakfast on a bun at Whataburger is made with your choice of protein – bacon or sausage, cheese, and egg sandwiched tight between a small bun.
What Sauce is on Whataburger Breakfast Burger?
The standard sauce for a Whataburger breakfast burger is their legendary creamy pepper sauce.
What is in a Whataburger Breakfast Sandwich?
Whataburger breakfast egg sandwich comes with classic ingredients such as American cheese, the egg, and the bun.
You could add a second egg, extra cheese, or other add-ons for a small cost.
They have a biscuit sandwich as well with bacon, sausage, eggs, and cheese.
Does Whataburger Have an Egg Burger?
Yes, Whataburger has an excellent egg sandwich.
What Comes With a Whataburger Biscuit and Gravy Meal?
Whataburger breakfast and gravy meal is served with hash browns and a drink of your choice – coffee, milk, orange juice (have to pay extra for OJ).
What's in The Whataburger Breakfast Bowl?
Whataburger breakfast bowl consists of the biscuit and the gravy, hashbrowns, eggs, cheese, and sausage/ bacon.
Does Whataburger Serve Sausage Biscuits All Day?
No. Sausage biscuits are part of their breakfast menu and therefore are not available all day.
What Burger Meat Does Whataburger Use?
Fresh beef is used for all the Whataburger burgers.
Final Thoughts
Whataburger is known to carry the most delicious breakfast items ever.
The Whataburger breakfast menu consists of warm, delectable food, sold for an affordable price.
All their items including the honey butter chicken biscuit are uber-famous, made from scratch, and ultimate filling.