I hope you're having/had an amazing day! I'm still away on staycation, and probably having the time of my life out boating on the lake or chasing a little white ball around on the golf course today.
I worry that you won't eat when I'm gone, so I invited my friend Christina from It's a Keeper over to share her recipe with you for Beer Braised Slow Cooker Short Ribs.  Please be sure to give her a warm welcome and share her recipe with everyone you meet, m'kay?  Thanks bunches, and I'll be back to cook for you in a few days!
Hi there! I'm Christina from It's a Keeper, a food and cooking blog where I test recipes to see if they're (you guessed it…) keepers! Becca has graciously let me take over her blog today and share one of my favorite summer recipes with you; beer braised slow cooker short ribs.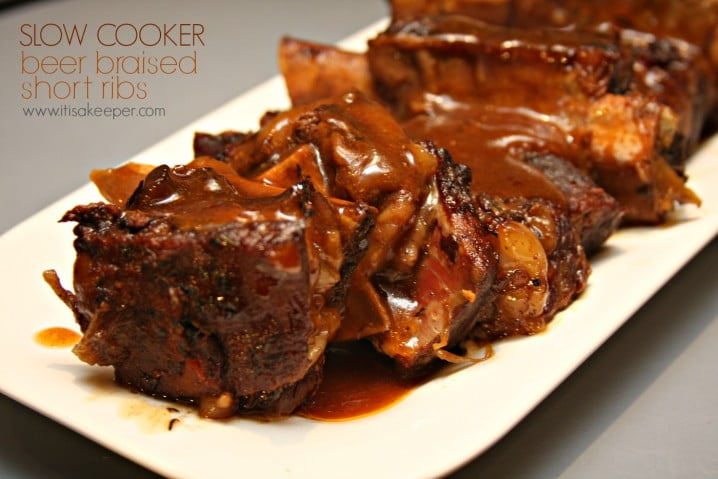 One of the most popular recipes on my blog, It's a Keeper are these slow cooker short ribs. It's no wonder. They are obscenely delicious, incredibly easy to make, and it's virtually impossible to them mess up.
If you've never had slow cooker short ribs before, you are missing out on one of the most decadent meats of all time. Seriously. They are meaty and rich and fall-off-the-bone tender. Short ribs are not fussy. Rather they are rustic and homey and surprisingly flexible when cooking them. Oh, and they taste even better the next day.
You may think you can get away with substituting spare ribs in this recipe, but don't be tempted. Short ribs are tougher and meatier than spare ribs. And, as the name implies, they're shorter too. But the best part is, they require very little hands-on time and they're fairly inexpensive.
While the ribs may be the star of this recipe, the sauce is equally delectable. When I make this recipe (and I make it often), I combine all of the sauce ingredients, minus the beer, the night before. Then, in the morning, all I have to do is place the ribs and onions in the slow cooker and pour the sauce mixture and beer over the top. Could it get any easier?
Fast forward eight to ten hours and you have perfectly tender ribs nestled in a rich, decadent sauce. You won't even need a knife to eat these slow cooker short ribs – they simply fall of the bone. To soak up all of the deliciousness, I usually serve them with my easy go-to Parmesan Orzo, or if I have the time, my 18-Minute Risotto.
If you love slow cooker recipes, you have to check out my new Slow Cookin' Summer series (link to: . Each week there will be one or two new slow cooker recipes posted to give you inspiration and help build your collection of easy crock pot recipes. There's everything from healthy easy dinner recipes to quick easy dessert recipes to crock pot breakfast recipes. You can get them all here, all summer long!So what are you waiting for? You know you want to make these slow cooker short ribs! Here's the recipe:
Becca's note: I love carbs like those orzo and risotto dishes of Christina's!  If you're carb crazed like I am, check out my recipes for Asiago Vegetable Risotto or Jasmine Rice Pilaf.  OR you can use my recipe for DIY BISQUICK baking mix to bake up some biscuits to serve with Christina's ribs!  My Tarragon Potato Salad would be fabulous served with them, too!  OKAY… back to Christina's delicious recipe!
Recipe for beer braised slow cooker short ribs
Beer Braised Slow Cooker Short Ribs Recipe
Recipe Category:
main dish
Prep time:
Cook time:
Total time: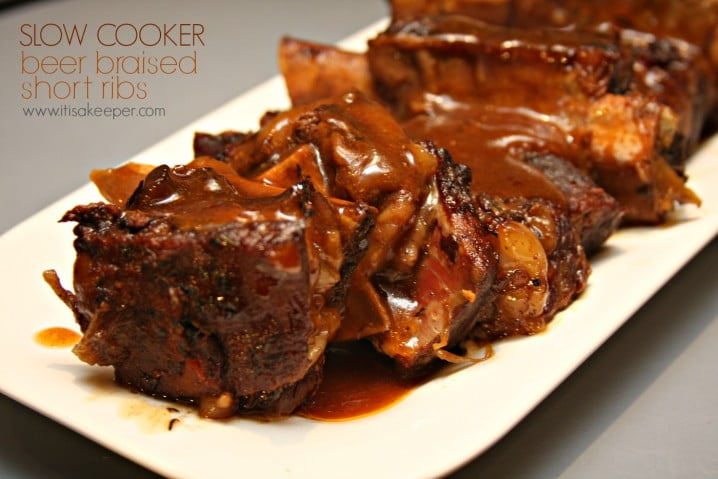 Beef short ribs have been braised in beer and slow cooked until they're juicy, tender, falling off of the bone, and downright delicious!
INGREDIENTS
3 medium onions, cut into wedges
3 to 3-1/2 pounds bone-in beef short ribs
1 bay leaf
1 bottle (12 ounces) light beer or nonalcoholic beer
2 Tbsp brown sugar
2 Tbsp Dijon mustard
2 Tbsp tomato paste
2 tsp dried thyme
2 tsp beef bouillon granules
1 tsp salt
1/4 tsp pepper
3 Tbsp all-purpose flour
1/2 cup cold water
INSTRUCTIONS
Place onions in a 5-qt. slow cooker; add ribs and bay leaf. Combine the beer, brown sugar, mustard, tomato paste, thyme, bouillon, salt and pepper. Pour over meat. Cover and cook on low for 8-10 hours or until meat is tender.
Remove meat and vegetables to a serving platter; keep warm. Discard bay leaf. Skim fat from cooking juices; transfer juices to a small saucepan. Bring liquid to a boil. Combine flour and water until smooth. Gradually stir into the pan. Bring to a boil; cook and stir for 2 minutes or until thickened.
If you loved Christina's recipe, be sure to hook up with her on her social media channels!