Butternut squash gratin is a healthy fall side dish, loaded with flavor and packed with veggies! It reheats well, so it's a great recipe to make ahead and serve for Thanksgiving.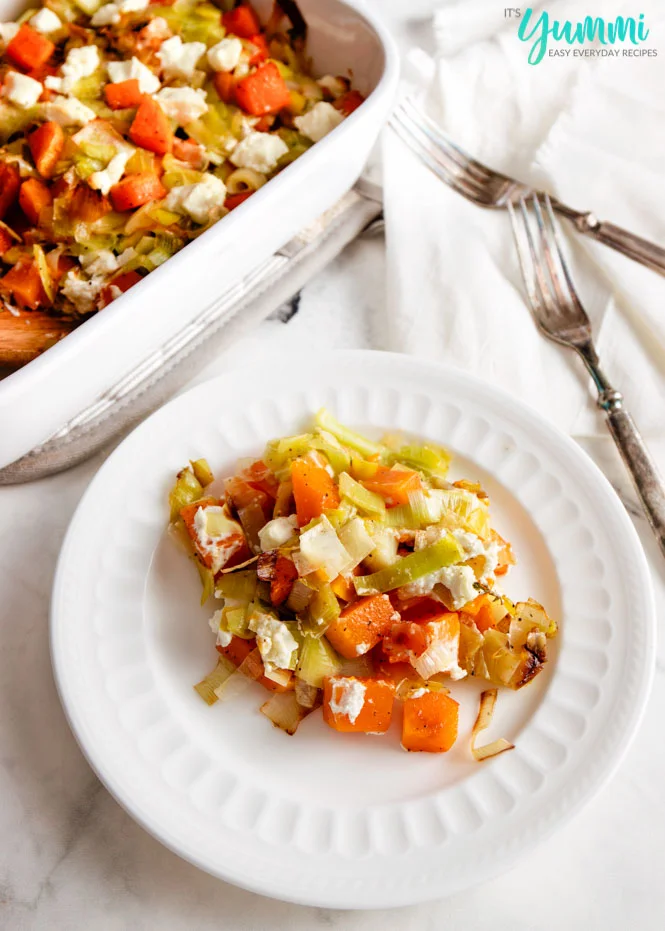 I'm thrilled to share this butternut squash gratin with you today! It's a great balance of flavors. It's filled with earthy butternut squash, oniony leeks, and creamy tangy goat cheese, all wrapped up in a lovely hot gratin.
So many veggies that perfectly pair together and make a healthy and complete side dish. We love to bump up the herb flavors in this gratin even more by using some Roasted Herb Oil if you've got it!
How to serve this Butternut Squash Gratin
This gratin is delicious and can be served on its own OR be made for this years Thanksgiving.
It doesn't need to be just for Thanksgiving though, Serve it with grilled fish and a lovely glass of wine, and dinner's all set! It's also a great dish to take to a potluck or family dinner. Just prep it the day before, and once you get to the party, add the milk and bake it up.
In case you aren't familiar with leeks, here's how you handle them
The tasty parts of the leeks are the white and about 1 to 2 inches of the light green parts. The dark green part is very tough, and not really good to eat, but it can be added to broth or stock. I always save the dark green parts, wrap them in freezer bags, and use them to make vegetarian broth.
Leeks are grown in sandy soil, and need to be cleaned thoroughly. Cut the dark part (the part you aren't going to use) and the root end off the leek, then cut the leek lengthwise. Now you will see that there are layers. Rinse the muddy part that's between the layers out, rubbing with your fingers if necessary. Shake off the excess water, and the leeks are ready to be chopped and cooked.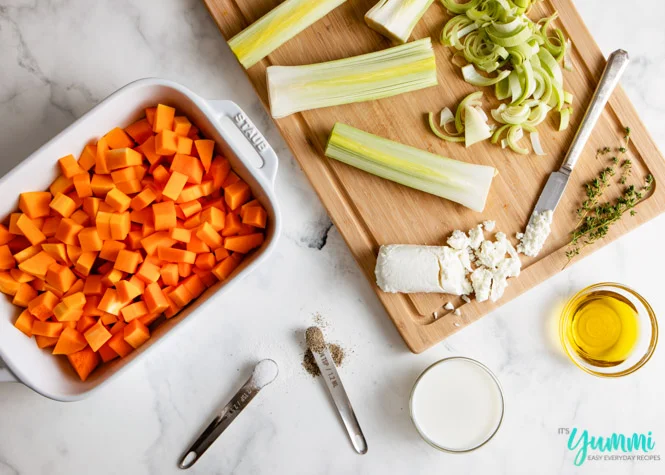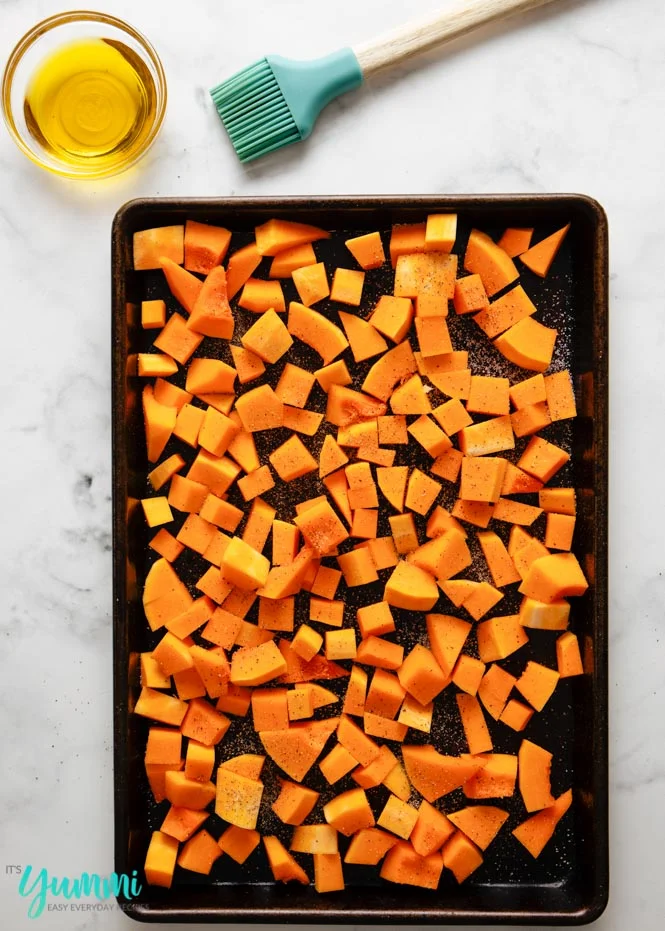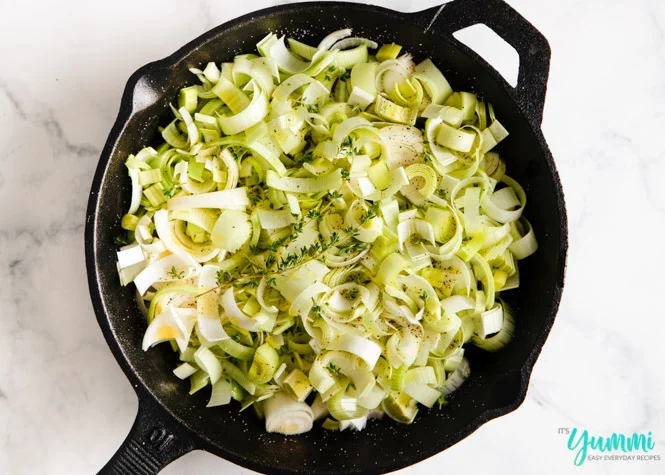 Can you meal-prep and freeze it?
This is actually a fantastic dish to make ahead of time. We are all about prepping dishes before Thanksgiving and this one fits that bill.
Prep everything up until Step #4 of the recipe card instructions. Cover and chill au gratin in the refrigerator until you are ready to serve it in 30-40 minutes.
Simply pop it in the oven at 375 degrees F and bake for 30-40 minutes uncovered and the rest it history!
We've tested freezing out as well. Freezing leftovers is 100% doable as well. I found that it's easiest to prepare the dish fully and freeze as a completed dish. Simply defrost in the refrigerator and bake at 375 degrees F for 30 minutes, or until dish is heated through. I personally prefer to add some fresh goat cheese on top just because you can never go wrong with some extra cheese. 😉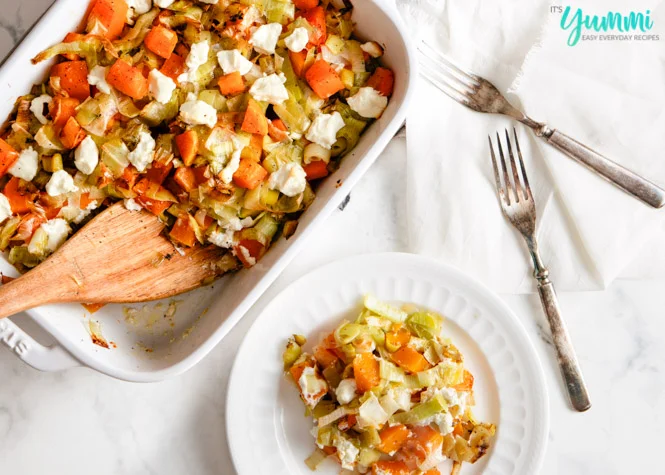 Is butternut squash gratin low carb?
This is definitely low in carbs comparatively to the traditional potato au gratin or sweet potato casserole. A traditional au gratin is around 20-25 Net Carbs per serving.
Butternut squash is still a little carb high when compared to vegetables like zucchini or spaghetti squash but overall it's not that high! If you'd like to switch this out with spaghetti squash it is possible as well. Kind of like we did with our Low Carb Chicken Casserole.
1 Serving is 12 Net Carbs. What you see on the plate above is 1 serving.. so she's a hefty serving for sure. Now if you are eating this with a TON of additional food like generally is done in the Thanksgiving world you can easily cut this serving in and it would be under 6 Net Carbs per serving.
And honestly if you are pairing this with some protein like turkey, chicken or fish this can become a complete dinner and staying under the 12 Net Carbs mark really easily.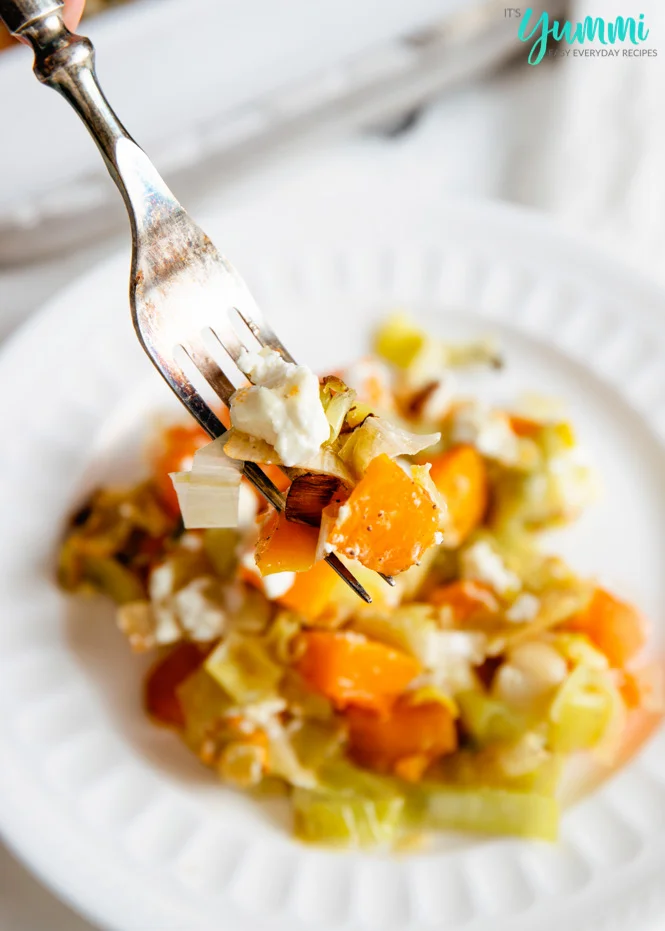 Other Thanksgiving / Autumn Recipes you might like: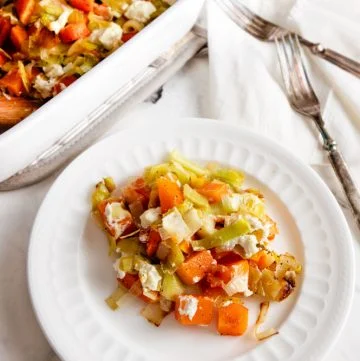 Butternut Squash Gratin
Butternut squash gratin is a healthy fall side dish, loaded with flavor and packed with veggies! It reheats well, so it's a great recipe to make ahead and serve for Thanksgiving.
Ingredients
1

large butternut squash

peeled, seeded, cut into 3/4- to 1-inch cubes

3

tablespoons

olive oil

divided use

½

teaspoon

kosher salt plus 1 pinch salt

½

teaspoon

freshly ground pepper

divided use

4

leeks

white and pale green parts only, cleaned and sliced

1

tablespoon

fresh thyme leaves

4-

ounce

log soft fresh goat cheese

⅓

cup

whole milk

Additional fresh thyme for garnish
Instructions
Preheat oven to 400°F. Place butternut squash cubes in large bowl, and drizzle with oil, 1/2 teaspoon salt, and 1/4 teaspoon pepper, and toss to coat. Spread squash cubes onto a large rimmed baking sheet, and roast until just tender and beginning to brown, stirring occasionally, about 35 minutes.

Meanwhile, in a large heavy skillet over medium-low heat, add oil. Once oil is hot, add leeks and thyme, and sprinkle with a pinch of salt and 1/4 teaspoon pepper. Sauté until tender but not brown, about 15 minutes.

Coat 13×9-inch baking dish with a light drizzle of oil or cooking spray. Spread half of leek mixture over bottom of baking dish. Sprinkle with half of squash and half of goat cheese. Repeat layering with leeks, squash, and goat cheese.

The gratin can be made one day ahead to this point, cover and chill until ready to bake.

Preheat oven to 375°F. Pour milk evenly over gratin. Bake, uncovered, until gratin is heated through, about 30 minutes (40 minutes if previously chilled). Enjoy.
Nutrition
Serving:
1
g
Calories:
149
kcal
Carbohydrates:
15
g
Protein:
4
g
Fat:
9
g
Saturated Fat:
3
g
Cholesterol:
8
mg
Sodium:
69
mg
Potassium:
429
mg
Fiber:
3
g
Sugar:
4
g
Vitamin A:
10912
IU
Vitamin C:
26
mg
Calcium:
106
mg
Iron:
2
mg