Everything Bagels without Yeast
Homemade Everything Bagels without yeast is the perfect substitution for your morning coffee shop cravings. These bagels are quickly baked, not boiled, and require only simple ingredients you have at home. No more fighting over yeast in the bread aisle.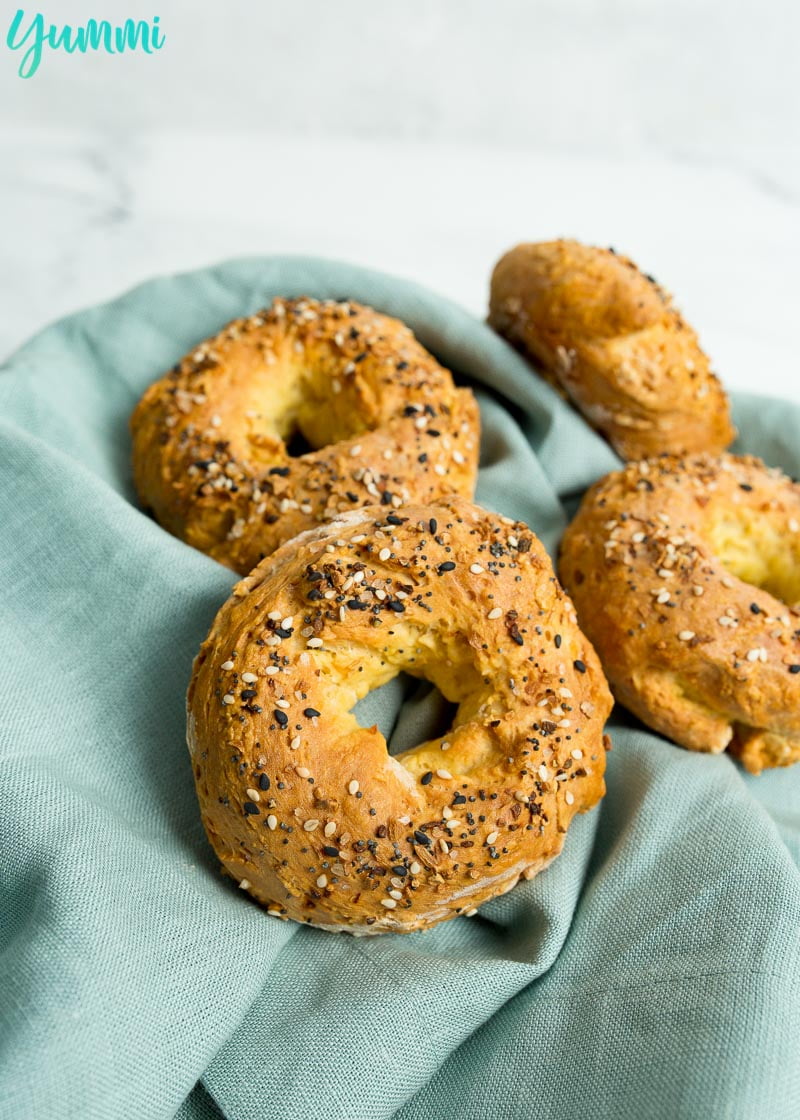 Homemade Everything bagels without yeast are quick and easy to make during the week or as a special treat on the weekends. Add some tomato sauce, cheese, and pepperoni and you can easily turn this recipe into pizza bagels that all the kids will enjoy.
The game-changer about these bagels? No yeast is needed! Baking powder, an egg, and yogurt do their job in plumping up these Everything Bagels. So there is no need for yeast nor boiling them before baking.
Where to get Everything Bagel Seasoning
While we love Trader Joe's Everything But the Bagel seasoning, if craving strikes and you don't have it, we've got you covered. You can make your own Everything Bagel seasoning using simple ingredients such as Poppy Seeds, Sesame Seeds, Black Sesame Seeds, Minced Dried Garlic, Minced Dried Onion, and of course Flaked Sea Salt.
Substitutions for our Everything Bagels
Whipping up a batch of bagels for all the members in your home, regardless of diet preference, is part of the reason we love this recipe so much.
You can easily swap out the all-purpose flour for gluten-free flour, the plain whole yogurt for a dairy-free alternative, the egg wash for dairy-free butter, and of course change up the seasonings on your bagel.
Not a fan of Everything Seasonings? Try dusting with some cinnamon sugar or plain sesame seeds only.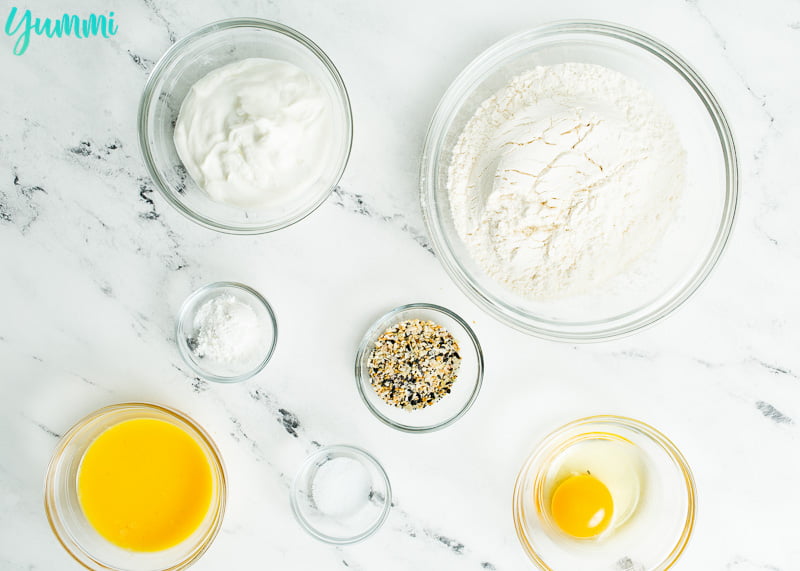 How to store your homemade bagels?
This recipe yields 4 bagels. We did this for a couple reasons. Because homemade bagels don't have the same preservatives as store-bought, they don't last as long.
They're best kept only for a few days (3-4) in a plastic bag on your countertop or frozen.
Contrary to popular belief, you don't want to put these in the refrigerator as it will cause them to go stale much more quickly.
Can I freeze my homemade bagels?
Yes! Make multiple batches of these yummy bagels with a variety of toppings and then pop them in the freezer.
Taking completely cooled, sliced bagels and wrapping them in an airtight plastic bag will actually keep your bagels good in the freezer for up to 4 months! Frozen bagels can go right into the toaster oven when you're ready to consume.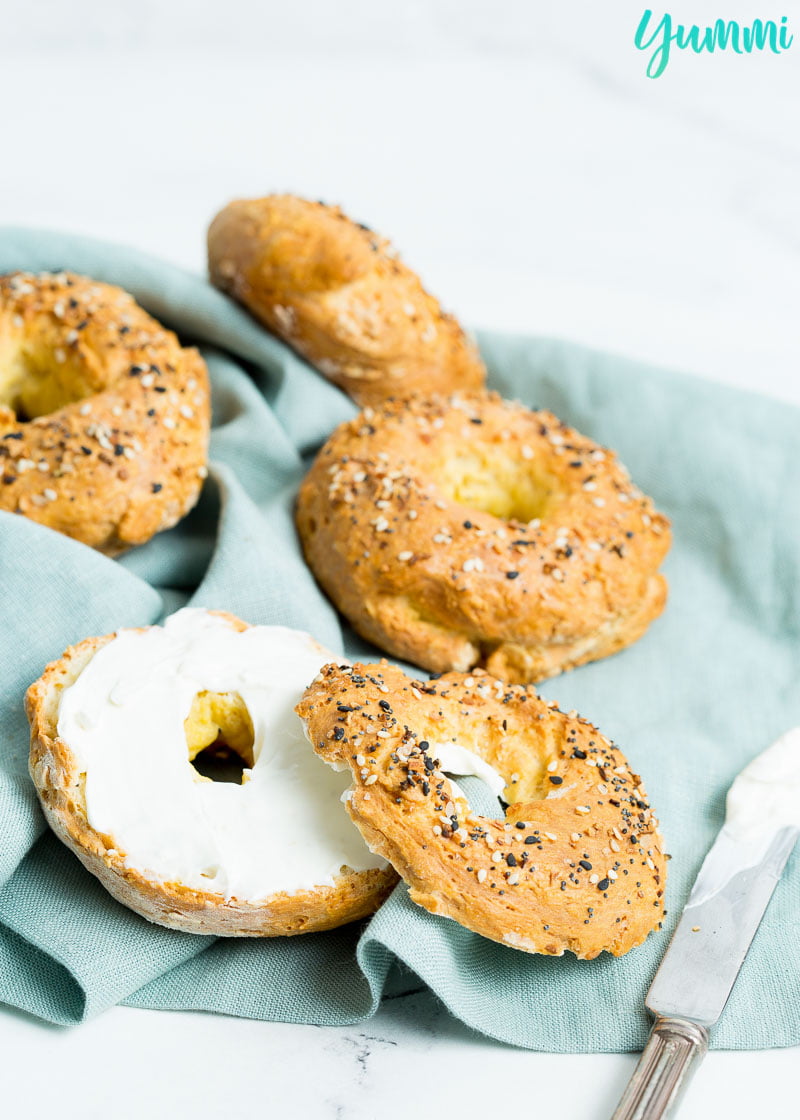 How to make Everything Bagels without yeast?
To make your bagels for immediate enjoyment, first gather all your ingredients. You'll need flour, baking powder, salt, yogurt, eggs, water, and seasoning.

Next, preheat your oven to 375 degrees F. These whip up quickly so do this before assembling. Then in a medium bowl, whisk together flour, baking powder, and salt.

Then stir in your yogurt and 1 whisked egg. Gently fold with a rubber spatula until the dough starts to come together.

Turn the dough out onto a well floured surface. Knead dough, occasionally adding additional flour to keep the dough from sticking. Then form the dough into a ball and cut into four sections.

Shape the dough into your bagels using your desired method. Place them onto a baking sheet and lightly coat with the egg wash. You can make egg wash with an egg and splash of water.

Sprinkle with everything seasoning or your choice of toppings.

Bake for 25 minutes. Turn heat down to 350 degrees F and bake for additional 10-15 minutes, or until bagels are browned and cooked through. Allow to cool slightly before splitting and enjoying.
How to shape our bagels…
The easiest way to shape a bagel with this dough recipe is to form a large ball with the entirety of the dough.

Then divide that dough into four equal balls.

Take your thumb and press through the center of each ball. Use your thumb and forefinger to gently work the center hole into a larger opening while squeezing the bagel into an "O" shape.

When your bagel is to the thickness and size you desire, they're ready for the egg wash and baking.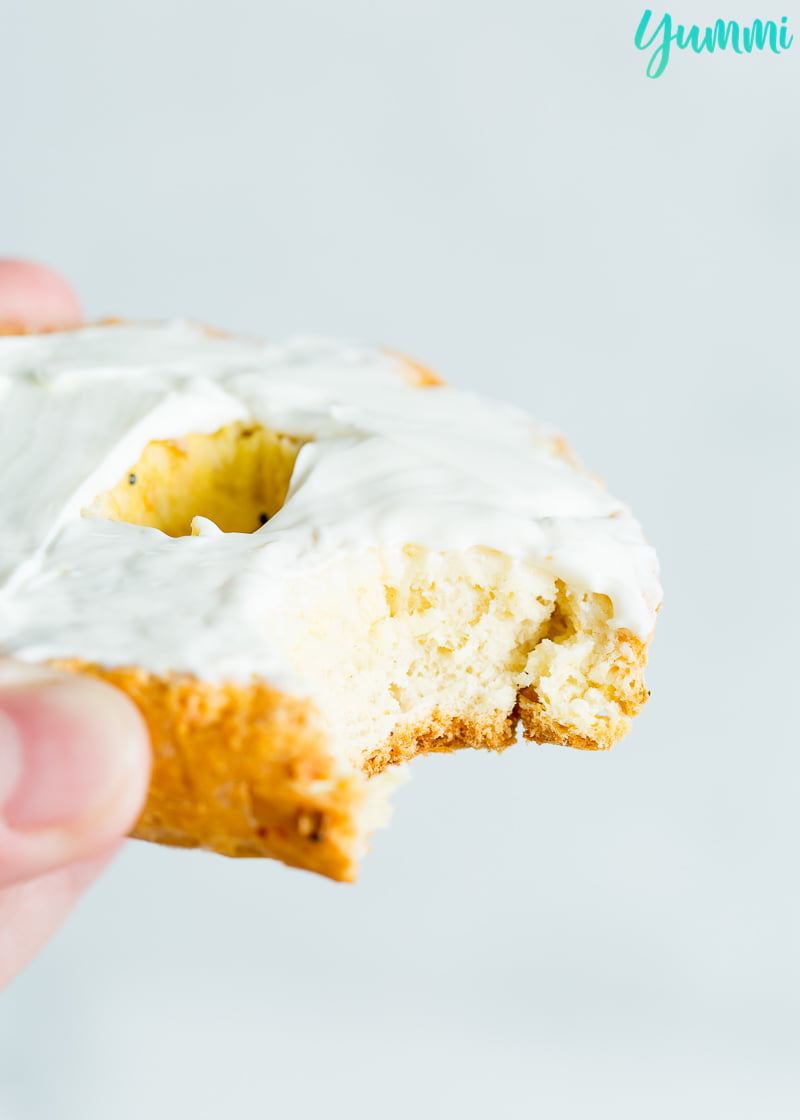 What to serve with our bagels without yeast
Weekends are the perfect time for brunch boards! Grab a large serving platter or a clean cutting board and arrange your brunch items on it for easy munching.
Breakfast for those that like to sleep in and snack or lunch items for the early risers that want to pick throughout the early morning. Here's a list of our favorites to include: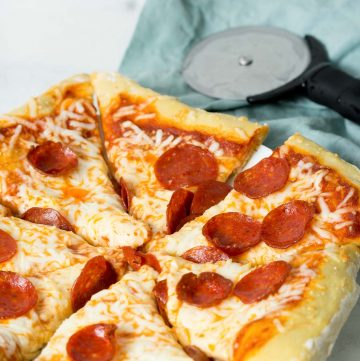 Pizza Dough without Yeast
Homemade Pizza Dough without yeast is entirely possible and we'll show you how. It is incredibly easy to make and is super versatile. Pizza is for dinner tonight!
Ingredients
1 ½

cups

all-purpose flour

+ more for rolling

2

teaspoon

Italian seasoning

1

teaspoon

baking powder

½

teaspoon

garlic powder

½

teaspoon

sea salt

¾

cup

plain yogurt

(I personally like full-fat yogurt but greek works too)

1

egg

1

Tablespoon

olive oil

marinara sauce, pizza toppings
Instructions
Preheat oven to 375 degrees F. Prepare a pizza pan with nonstick parchment paper.

In a medium bowl, whisk together gluten-free flour, baking powder, salt. Stir in yogurt and 1 whisked egg. Gently fold until dough forms.

Pour dough onto a well floured surface and knead dough a few times for it to form into a ball.

Roll out dough into a 12-inch circle. You can roll it out larger if you desire a thinner crust. Brush pizza crust with olive oil. Add marinara sauce and toppings of your choice.

Place dough onto prepared pan. Bake for 20-25 minutes, or until crust is cooked and toppings are done to your liking.
Nutrition
Serving:
1
pizza
Calories:
1001
kcal
Carbohydrates:
158
g
Protein:
32
g
Fat:
26
g
Saturated Fat:
8
g
Cholesterol:
188
mg
Sodium:
1319
mg
Potassium:
1001
mg
Fiber:
7
g
Sugar:
9
g
Vitamin A:
488
IU
Vitamin C:
1
mg
Calcium:
512
mg
Iron:
11
mg