Ruth's Chris Easter Dinner 2023
There's nothing fancier than celebrating your holidays with Ruth's Chris easter dinners.
Ruth's Chris Steakhouse has come up with a lip-smacking easter dinner with everything you want to have on your dinner table.
That's their easter celebration feast with a super juicy roasted beef tenderloin.
This amazing feast comes with a starter, and two other sides of your choice and you get to pick your desired sides from the list on their website.
Of course, you don't have to pay extra for dessert as this meal is served with desserts included.
The meals are served hot for your convenience as well. Each meal carries ample food to feed a petit family of four.
Talking of the cost of Ruth's Chris easter dinners, they are priced at $195.00 for a single tenderloin meal.
The price gets progressively higher when you add a second or third tenderloin. ($260 – $390)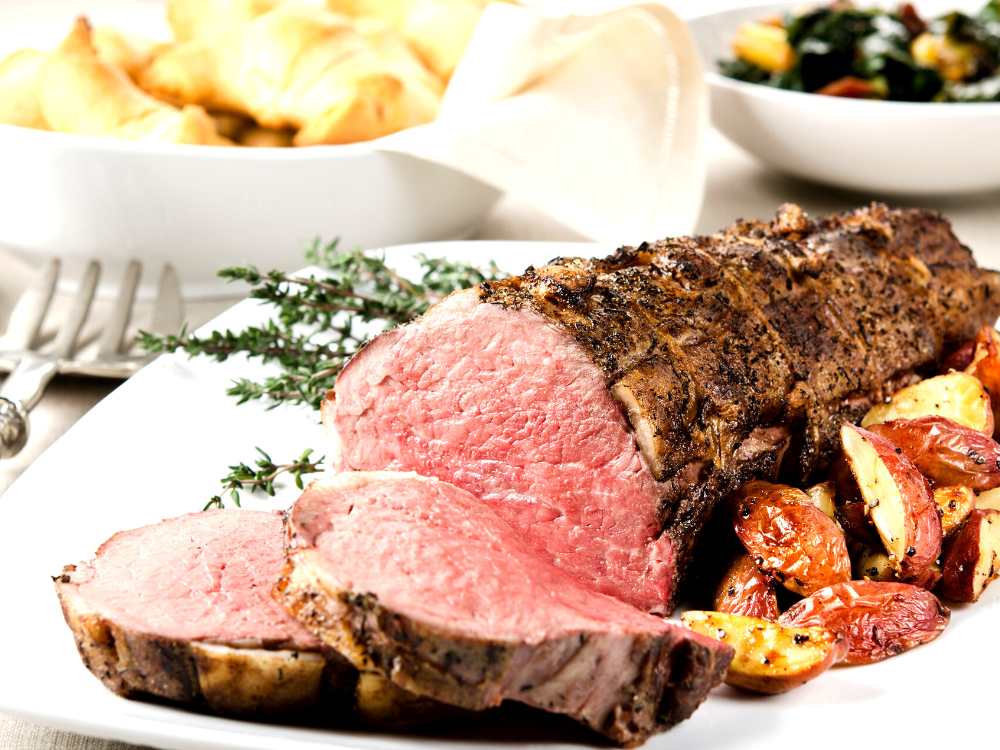 Ruth's Chris Easter Menu Items
Mains in Ruth's Chris easter dinners are on the next level. Roasted beef tenderloin is the main for their easter feast you will order online to be picked up.
Nevertheless, you could still order a filet & shrimp, and a surf & turf dish with a filet and lobster tail if you opt to dine in.
Then, there's the option to add a second or a third tenderloin to feed up to twelve people, when ordering online.
One thing to remember while exploring Ruth's Chris easter sides is that they may vary depending on your choice for pick-up or dine-in orders.
Yet, the common easter sides include garlic mashed potatoes, creamed spinach, and lobster mac and cheese.
The meal does come with a salad of your picking from the list of steak house salads, and Caesar salads with your desired dressing.
The selection of dressings ranges from ranch to balsamic vinaigrette.
Heading towards the vegetarian options in Ruth's Chris easter dinner, you could eat pretty much everything except the heavily meat-based entrées.
As for the gluten-free people, you may ask for their gluten-sensitive dishes, only if you dine in for easter dinner.
Since there's no forgoing of the desserts, you get four chocolate sin cakes for the online orders while the dine-in desserts may change according to the location.
Easter Sunday Reservations
Open for Easter Sunday Lunch & Dinner Dining
Ruths Chris Easter Dinner Menu
Pick-Up Times: Saturday, 4/16: 12 pm – 4pm, Sunday, 4/17: 12 pm – 4 pm
Items
Price
Celebration Feast
A starter, Roasted Beef Tenderloin, 4 chocolate sin cakes and 2 sides. Serves 4. Picked up Hot & ready to enjoy.
$195.00
Salad
(Caesar or Steak House) Choice of Dressing: Ranch, Caesar, Bleu Cheese, Vinaigrette, Lemon Basil, Balsamic Vinaigrette
Entrée
Served with a Horseradish Cream sauce.
Sides
Creamed Spinach & Garlic Mashed Potatoes
Dessert
Roasted Beef Tenderloin
A great option if preparing to serve more than 4 guests.
One Tenderloin (Serves 4)
+$130.00
Two Tenderloin (Serves 8)
+$260.00
Three Tenderloin (Serves 12)
+$390.00
Easter Dinner Order Process
You could place an order online for Ruth's Chris easter dinner at their official website. Additionally, the dine-in easter dinner reservations could be done online, too.
The customization is available online with their different sides, entrées, and salad options. You get to leave additional instructions in your order to make it even more customized.
Ruth's Chris accepts all the main cards (credit and debit) and cash for their orders.
Pickup and Delivery Options
Select the closest Ruth's Chris to pick up your Easter dinner order.
Since delivery is not available for easter dinners, you only get to pick it up from the selected restaurant.
Our Recommendation for Ruths Chris Easter Dinner
If you wanna have a luxuriously decadent easter dinner, our recommendation is to try Ruth's Chris easter celebration feast.
It's a true feast indeed with juicy tenderloin, heavenly sides, healthy salads, and sweet desserts.
After all, our favorite thing about this meal is that you get to add more entrées to feed a larger crowd.
https://www.food.com/ideas/easter-dinner-ideas-no-ham-7149#c-927577