Raley's Christmas Dinner Menu & Price in 2023
Raley's Christmas Dinner menu is full of surprises! It not only offers some delicious foods to make your Christmas evening more delightful but also provides discounts on wine bottles with each dinner order.
You can now enjoy bottles of good wine with your holiday dinner at a reduced price, Isn't it wonderful?
Yes, it sounds great. What is even greater is the wide range of dinner menus it offers during the holiday season.
Keeping in mind the festive vibe and your taste, Raley's menu is decked with 4 platters, 2 main dishes, 5 sides, and 7 dessert items to choose from.
You can plan a perfect meal from all these menus and serve the most scrumptious foods for your loved ones during the holidays.
Because they are just for the holiday season, the platter items on its menu are versatile.
Besides the traditional turkey, Raley's also offers ham and rib items to give you versatile options.
All these dishes are accompanied by their signature sides to make them the perfect options to host an amazing holiday party.
Moreover, as they are pre-made, you don't have to spend hours in the kitchen to prepare them completely.
Just heat the meals in the oven and serve them to your guests. These are as easy and quick!
That's not all. If you choose to skip the meal deals and try just the mains, you have options to pick any sides from the A-la-carte menu that Raley's has.
With these single menus, you have the freedom to create your own meal deal for an ever-satisfying dinner.
These options are also best if you are celebrating the eve alone or just the two of you!
Besides the mains, Raley's also has some amazing cakes on its holiday dinner menu to make your Christmas even sweeter.
From all the delicious options, pick the one that you think would fit the vibe of the eve.
Raley's Christmas Holiday Dinners Menu
| | | |
| --- | --- | --- |
| Items | Serve | Price |
| Bourbon Pineapple Glazed Ham | 6-8 | $89.99 |
| Prime Rib | 5-6 | $119.99 |
| Butterball Turkey | 6-8 | $89.99 |
| Diestel Turkey | 6-8 | $149.99 |
| Bourbon Pineapple Glazed Ham (Main Dish Only) | 6-8 | $49.99 |
| Pre Cooked Butterball Turkey (Main Dish Only) | 6-8 | $45.99 |
Extras
| | | |
| --- | --- | --- |
| Items | Serve | Price |
| Raley's Cranberry Sauce (12 oz.) | 8 | $5.99 |
| Raley's Gravy (24 oz.) | 6-8 | $7.99 |
| Mashed Potatoes, Cedar Lane | 6 | $10.99 |
Raley's Christmas Desserts Menu
| | |
| --- | --- |
| Items | Price |
| Butter & Egg Rolls (9 Ct) | $4.29 |
| Family Pack Rolls (12Ct) | $4.29 |
| 9" Apple Pie | $9.99 |
| 9" Pumpkin Maple Cake | $34.99 |
| Chocolate Cherry Forest Cake | $36.99 |
| 9" Pumpkin Pie | $9.99 |
| 9" Fruit Cheesecake | $29.99 |
| Fruit Tart | $22.99 |
| Raspberry Rose Cake | $36.99 |
Serving Start and Closing Date of Raley's Christmas Dinner
Raley never wants to disappoint its customers, especially when it is a special occasion like Christmas.
It starts and closes orders for holiday dinners pretty quickly so that it can serve you the best foods right on time.
| | | |
| --- | --- | --- |
| Menu | Start | Close |
| Raley's Christmas Menu | December 21 | December 24 |
How To Order Raley's Christmas Dinner?
If you want to enjoy the most scrumptious dinner on Christmas eve, make an order at Raley's beforehand.
You can visit your nearest location to make an order in person or call their number for a quick order. You can also make online orders to save time.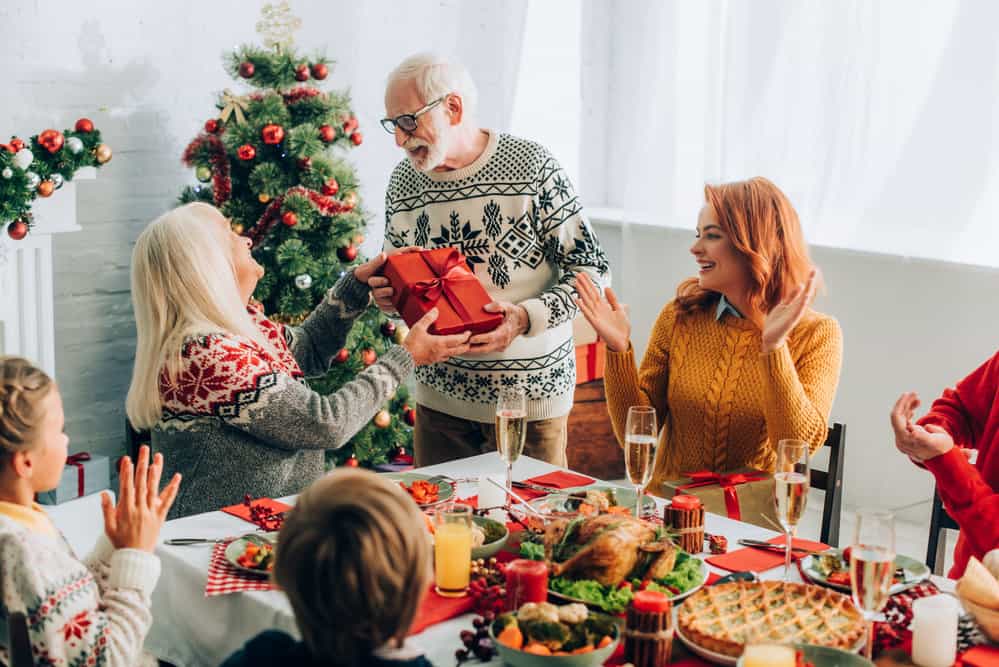 What Are The Most Popular Raley's Christmas Dinner Menus?
Raley's has decked up their holiday dinner menu with some amazing delicacies. Here are some of the most popular items to try this holiday season.
01. Yummy Butterball Turkey Dinner
This turkey platter will be the "shining star" of your Christmas dinner table.
Consisting of a 10-12 lb. perfectly-cooked butterball turkey as the main protein, this dish is enough to serve up to 8 guests easily.
Also as it comes with sides like traditional mashed potatoes, turkey gravy, yummy stuffing, scrumptious cranberry sauce, and bean Almondine, it never fails to fulfill your hunger completely.
02. Tasty Diestel Turkey Dinner
For a change in taste on your holiday eve, serve this mouthwatering Diestel Turkey dinner to your friends and family.
This meal deal not only comes with a 10-12 lb. Diestel Turkey also has soft egg rolls with butter, sautéed baby broccoli, and Raley's regular sides to make it every bit of a holiday platter.
If you have a crowd of 6-8 people to serve, this dish deserves a try this Christmas season!
03. Everyone's Favorite Bourbon-Glazed Ham Dinner
If you want to serve something other than a turkey on Christmas eve, this Bourbon-Glazed Ham Dinner is your thing.
Having a 7-9 lb. ham with bourbon and pineapple glazing, potato gratin, and its signature sides, this meal deal is ever so satisfying and festive.
You would never be disappointed serving it to the guests.
04. Delicious Prime Rib Platter
There is no doubt that the prime rib dinner menu is tasty.
Besides a perfectly-cooked prime rib and the signature sides, this platter has rolls, sweet potatoes, and baby broccolis too to fill your and your guests' tummies in no time.
All You Need To Know About Raley's
We have gathered all the information about Raley's here so that it's easier for you to know what you want to know.
Frequently Asked Questions
What is Raley's Diestel Turkey Dinner?
The Diestel Turkey Dinner is made from 100% vegetarian-fed turkeys that are raised sustainably for safety.
Also, even though these turkeys are antibiotic- and hormone-free, they are incredibly tasty. You won't be able to tell the difference at all.
Are Raley's Thanksgiving Dinner and Christmas Dinner the Same?
Because both Thanksgiving and Christmas are holidays, Raley's usually serves the same dinner menus for both of them.
How Long Should You Cook Raley's Christmas Dinner Turkey?
Even though each Christmas menu comes with an instruction booklet, in general, it is advised to cook the turkey for 3 hours straight.
How Much Does Raley's Christmas Dinner Costs?
Raley's Christmas Dinner costs between $45.99 and $149.99 depending on the size and type of the meal you are ordering.
Final Words
With all these Raley's Christmas Dinner items, you don't have to think about your holiday meals anymore.
Because these foods are freshly-made upon your order with fresh ingredients, you don't have to think about their safety too.
All you need to do is plan your dinner and get your favorite meal, and you are set for the holidays.
https://www.bhg.com/christmas/recipes/christmas-dinner-menus/