In and Out Catering With Prices (Updated: September 2023) 6 Popular Menu to Arrange a Burger Party
In And Out Catering has broken onto the scene like a freight train, changing how people look at food trucks.
The company does not use a freight train, but they have a fleet of semis that have a trailer converted into a fully mobile restaurant that is fully staffed and prepares its famous burgers from scratch.
In And Out Catering is an aspect of the business that is a recent accomplishment for the company. One that will surely blow all competitors out of the water. Why?
Because they converted a semi-tractor trailer into a mobile restaurant operated by employees of the company that know what they are doing.
In-N-Out Burger has made itself famous for the delicious burgers that they make.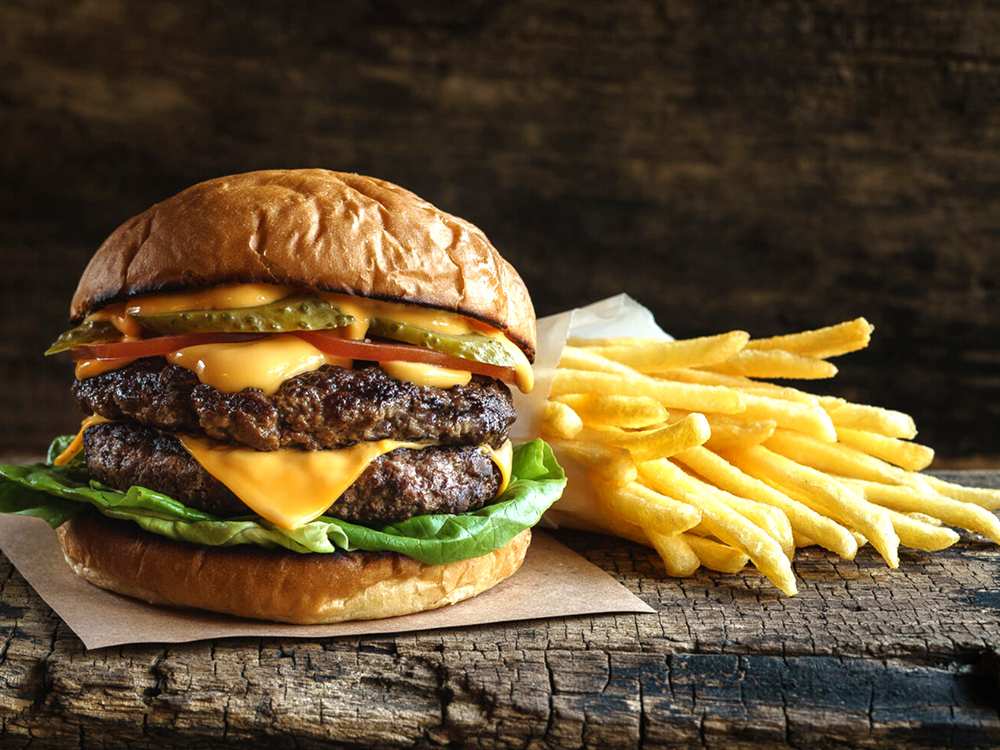 IN and Out Catering Prices
The basic menu items of the In-N-Out Menu for catering trucks are similar to those in 300+ restaurant locations, minus fries and shakes.
You can get soda instead of a milkshake and a bag of chips to replace fries, and it is a fair trade-off when you consider that they come to you.
| | |
| --- | --- |
| Items | Price |
| Cheeseburger | $5.65 |
| Hamburger | $5.35 |
| Double-double burger | $6.70 |
| Milk | $0.99 |
| Coffee | $1.35 |
| Large Soft Drink | $1.85 |
The basic prices on the menu are for those who walk up to a restaurant or truck, but not when you are using their catering service.
In-N-Out catering cost includes food for a set amount of people, with the option of ordering extra at their own expense. Let's take a look at cost of renting a truck for your event.
| | |
| --- | --- |
| No. of Food Items | Price* |
| 168 burgers | $2,100 |
| 200 burgers | $2,380 |
| 500 burgers | $4,950 |
| 1000 burgers | $9,400 |
*This is based on location in San Gabriel, so it may vary depending upon the city you are in and where you want the truck to drive to.
This innovative way to cater raises the bar and will ensure that the business serves customers for decades to come.
Let's take a look at six menu items that make the catering truck such a great deal.
01) Hamburger
The main reason that In-N-Out is so famous is the burgers they make. The basic hamburger is created with 100% beef patties on a freshly baked sponge-dough bun.
For condiments, their special sauce is added unless opting for mustard and ketchup, along with lettuce, tomato, and the choice of adding an onion.
All the ingredients are fresh daily, with nothing frozen or microwaved.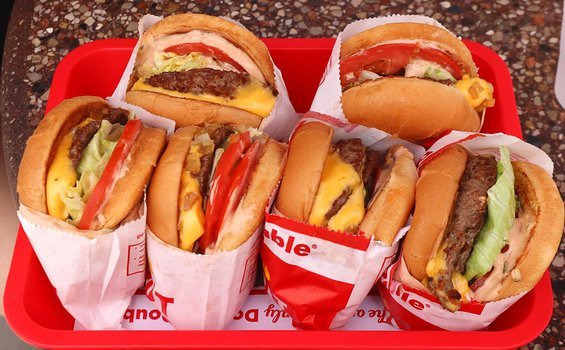 02) Cheeseburger
The cheeseburger is perhaps one of the most mouth-watering foods money can buy.
The cheeseburger that can be ordered from the catering truck begins with a beef patty that is 100% natural.
A slice of American cheese is melted on top and then placed onto a fresh sponge-dough bun smothered in spread (special sauce).
If the spread is not wanted, it can be replaced with ketchup and mustard before the condiments are piled on top. Lettuce and a slice of tomato are included, as well as onion if wanted.
03) Double-Double Burger
The Double-Double is precisely what it sounds like, but better. This combination has two 100% beef patties with one slice of American cheese per patty, making two slices of cheese total.
They are both cooked to perfection and then placed on a freshly cooked bun made from slow-rising sponge-dough bread.
Spread, or mustard and ketchup can be added before the lettuce and tomato are stacked on. Onions are an option but not required.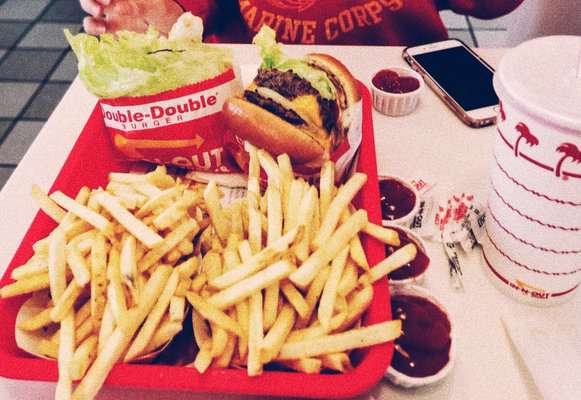 04) Grilled Cheese
For those that do not like to eat meat, the catering truck offers its nationwide famous grilled cheese.
It all starts out with a fresh bun with two slices of melted American cheese placed on top. The spread is added next, or mustard and ketchup, if preferred.
A piece of lettuce and a slice of tomato then piled on top. If onions are wanted, they can also be added to the top of the melted cheese.
05) Fountain Drink
In-N-Out Burger partners with Coca-Cola, which means that they offer a wide selection of fountain drink flavors. They can come in four different sizes, from small to extra large.
The catering truck will offer original Coke, Diet Coke, 7-Up, Dr. Pepper, Root Beer, and Minute Maid in any size.
06) Chips
Since the catering cookout trucks are not equipped to cook french fries, they offer a small personal-sized bag of chips instead.
It may not be the best trade-off, but at least they have something to go along with the drink and main course.
How To Order IN and Out Catering
The world is in the middle of the technological age, so it is expected to be able to complete all types of business transactions online.
Fast food is not any different. A company must have an online platform to order food to compete in today's market.
In-N-Out offers a great online ordering platform, or you can go old-school and use your phone.
You can also go to the location, but when trying to get an In-N-Out Truck rental, you will need to opt for one of the first two options.
They do not deliver unless you use the In-N-Out Catering option, so if you are just looking for a quick meal for the family, you will have to pick it up after ordering.
Nutritional Information of IN and Out Catering Foods
People worldwide have been put into the mindset of counting calories to improve their health and watching the carbs that are ingested and the amount of fat a product has.
This is especially true when you are talking about eating at a fast food restaurant.
| | | | | |
| --- | --- | --- | --- | --- |
| FOOD | CALORIES (g) | FAT (g) | PROTEIN (g) | CARBS (g) |
| Cheeseburger | 480 | 27 | 22 | 39 |
| Hamburger | 390 | 19 | 16 | 39 |
| Double-double burger | 670 | 25 | 37 | 39 |
| Milk | 180 | 6 | 12 | 18 |
| Coffee | 0 | 0 | 0 | 0 |
| Large soft drink | 270 | 0 | 0 | 101 |
The primary nutritional information for In-N-Out Catering and restaurants is based on burgers with nothing but onion. The soda is a large regular coca-cola from a fountain pop machine.
The calories and fat are not as much as you would think coming from a fast food joint, but remember that everything is fresh without packing fillers or chemicals for storage.
In N Out Truck Rental Cost
The In-N-Out cost of the catering truck can be expensive if you need to feed a small number of people.
The more people you have, the more expensive the truck gets, but then it makes it worth the expense of the truck because it is feeding more people, which would be next to impossible by yourself.
The in n out truck cost is $500 on average straight off the top. This pays for time, fuel, and wear and tear associated with driving and cooking.
The labor cost is $100, and if your event goes over the time a truck is rented, it will cost you another $100 bucks. For more details their cookout truck service, browse https://www.in-n-out.com/cookout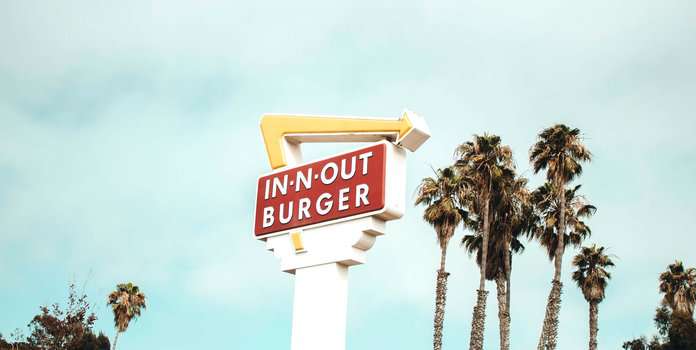 Management Style of In N Out Catering
The management style across catering service industries has changed significantly over the last decade.
The style that In-N-Out has decided to adopt is one of servant leadership.
This means that a manager is a servant to the associates, customers, owners, and the leading management team.
The bottom line is that the management style caters to the people of this generation, working alongside the lower-level associates without batting an eye.
As you would expect from any form of management style, there are good and bad points.
Advantages
Always provide fresh & quality foods with proper taste
Good time management process of ordering & delivering of foods
Efficient & unique management technique to in with order & Out with food
Proper space management of vehicles in the outlet (proper parking facilities)
Disadvantages
Sometimes it's not possible to maintain timing to provide food on time
During rush hour traffic congestion occurs outside of the outlet
Not enough entrees on the menu
The management teams ensure that the work environment is optimal for all the associates. The food is of the highest quality possible.
That costs are cut wherever needed to improve the bottom line. And the customers are all kept happy and content.
History of IN and Out
In 1948 hamburger scene in the Southwestern part of the nation changed forever. The First In-N-Out Burger restaurant was opened for business.
To this day, they refuse to use anything frozen like the other competitors, such as Mcdonald's.
They make their hamburgers and fries from scratch to ensure their customers get a burger worth every penny they pay.
The original owners, Harry and Esther Snyder, started the first drive-through burger stand in California, right around the corner from their home.
Esther took care of all the books and accounting while Harry went through all meat and vegetable stands to bring fresh food to the business. Nothing but the best for their customers.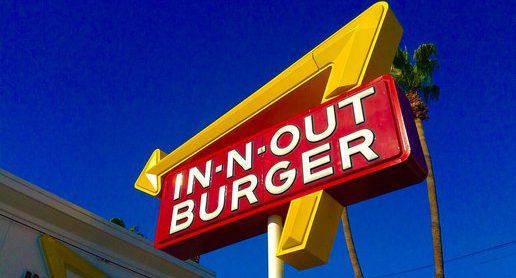 Frequently Asked Questions
What Are Animal Style Burgers?
Animal-style hamburgers and cheeseburgers are simply ones loaded with all the fixings.
They also get some extra pickles and a substantial amount of the In-N-Out special sauce that completes the burger. Be warned, they can be messy but are beyond delicious.
What Are Animal Style French Fries?
If you like french fries plain without any condiments, this is not the style you want.
Animal-style fries come smothered in cheese, the In-N-Out special sauce, and grilled onions. Very messy but beyond satisfying.
Can You Order Bacon on Any of The in N Out Burgers?
Unfortunately, In-N-Out does not offer bacon on any of its products.
They have many other options available, allowing you to customize your burger in almost any way you want.
Can You Order The Catering Truck For a Small Crowd?
You can order the In-N-Out Catering truck for any number of people, but they have a minimum order amount to make the trip worthwhile. Check with your local restaurant to find your area's specific details.
Are The Fries Cooked in Traditional Deep-Fat Friers?
In-N-Out no longer promotes the idea of cooking fries in a ton of grease because of the health ramifications that it causes.
Instead, the company has switched everything to air fryers that give the same great taste without harmful oils.
Final Thoughts
Not many of the burger restaurants from the past have been able to keep their doors open for business today, especially ones that refuse to convert over to frozen foods.
Obviously, fresh food is better tasting, especially when it is made with care and perfection by a company that screams out to consumers how everything is made fresh by hand.
In-N-Out Burger is a great restaurant to visit, but it is even better when the catering truck comes to you and your event.