Raising Cane's Catering Prices & Complete Menu of 2023 [Popular Chicken Finger-Combo-Drinks]
Raising Canes catering makes it on the list of the popular top-notch restaurants across the United States that provide delicious chicken finger meals and the best side items.
The restaurant started as a college dream that seemed doomed right off the bat.
However, Todd Graves breathed life into the whole idea by taking it upon himself to prove everyone wrong and bring Raising Cane's chicken fingers restaurant into existence.
Today, Cane's catering provides one of the best catering menus for small, large, or special events.
Aside from the juicy and crunchy chicken fingers offered at Cane's catering, other items on the catering menu include drinks, french fries, coleslaw, Texas toast, etc.
You can rest assured that Raising Canes will always have something that fits the bill.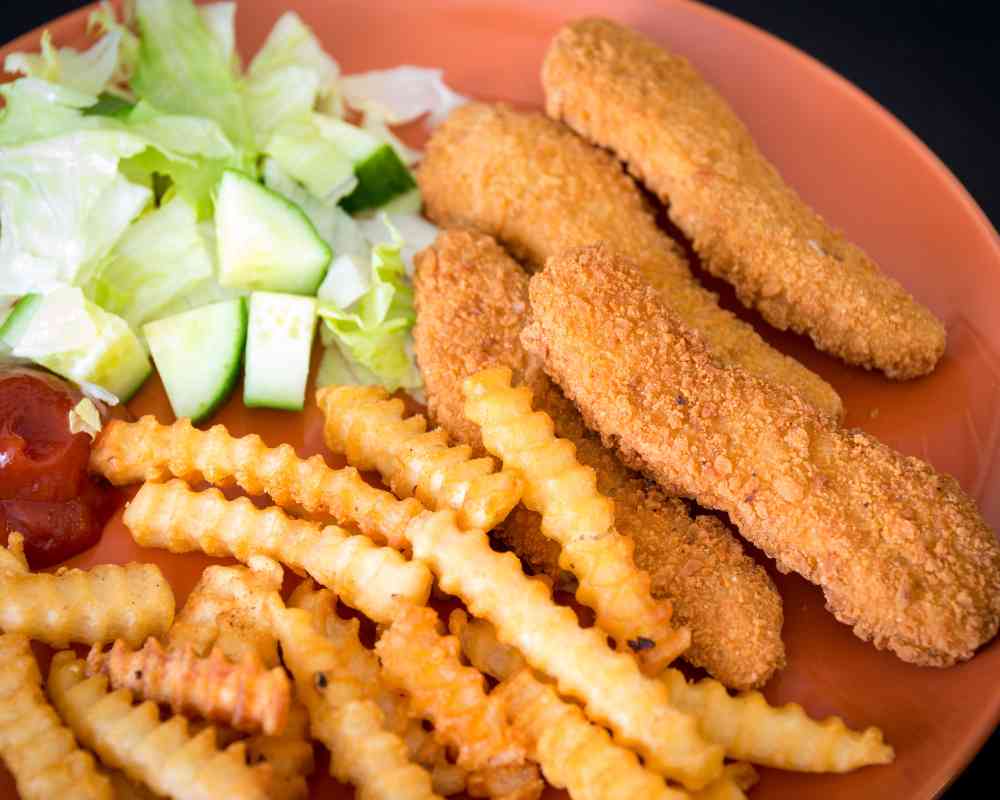 "Easter dinner meals of 2023 with the latest price.
Raising Cane's Catering Entire Price List
There are various items on the Raising Canes Catering menu, all for different prices. Some items include catering combos, drinks, chicken fingers, extras, tailgates, and gear.
Raising Canes catering has everything you need if you are planning for an event or want the best deals. The prices for combos range from$4 to $7 per order; extras cost from $0.29 to $1.49.
Tailgates range from $27 to $90 depending on the number of pieces you order, drinks range from $0.99 to $9, while Cane Gear costs $9 to $12.
The prices are modest, and the meals served are bountiful. However, the prices vary based on the restaurant you get your order from.
Due to the quality of the meals Raising Canes is bound to increase their prices in September by 5% with an argument that the price increase will help maintain the quality of services and food offered by the company.
That said, Cane's catering items and prices in 2023 are shown in the tables below.
Combos Chicken Fingers
| | | |
| --- | --- | --- |
| Items | Serves | Price |
| The 4 Chicken Fingers Box Combo | 1 Person | $6.98 |
| The 3 Chicken Fingers Box Combo | 1 Person | $6.38 |
| The Caniac Box Combo | 1 Person | $9.98 |
| The Chicken Sandwich Combo | 1 Person | $5.98 |
| The 2 Chicken Fingers Kids Combo | 1 Person | $4.58 |
Extras
| | | |
| --- | --- | --- |
| Items | Serves | Price |
| Chicken Finger | One person | $1.09 |
| Cane's Dipping Sauce | One Person | $0.29 |
| Crinkle Fries | One Person | $1.49 |
| Texas Toast | One Person | $0.69 |
| Coleslaw | One Person | $0.69 |
Tailgates With included Raising Cane's Sauce
| | | |
| --- | --- | --- |
| Items | Serves | Price |
| Chicken Fingers | 25 Pieces | $27.49 |
| Chicken Fingers | 50 Pieces | $48.99 |
| Chicken Fingers | 75 Pieces | $69.99 |
| Chicken Fingers | 100 Pieces | $89.99 |
| Additional Chicken Fingers (each) | 100 Pieces | $84.99 |
Drinks
| | | |
| --- | --- | --- |
| Items | Serves | Price |
| One Fountain Drink | Small | $0.99 |
| One Fountain Drink | Regular | $1.59 |
| One Fountain Drink | Large | $1.79 |
| Sweetened/ Unsweetened Tea | Small | $0.99 |
| Sweetened /Unsweetened Tea | Regular | $1.59 |
| Sweetened/ Unsweetened Tea | Large | $1.79 |
| Sweetened/ Unsweetened Tea | 1 Gallon | $4.99 |
| Fresh Lemonade Kids Drink | Small | $0.99 |
| Freshly Squeezed Lemonade | Regular | $1.84 |
| Freshly Squeezed Lemonade | Large | $2.09 |
| Freshly Squeezed Lemonade | 1 Gallon | $8.99 |
Cane's Gear
| | |
| --- | --- |
| Items | Price |
| The Logo Hats/Visors | $9.99 |
| The Short Sleeve T-Shirts | $9.99 |
| The Long Sleeve T-Shirts | $11.99 |
Why Choose Canes For Catering Services?
If you are looking for amazing catering services, look no further. Raising Cane's is the place for you since it's a company that specializes in catering.
Raising Canes catering offers award-winning luscious crispy chicken fingers with the best sides that will leave you and your guests drooling for more.
The company provides platters suitable for big events, and they can customize your order according to your liking.
Raising Canes offers several combos, which is already a pretty nice deal there, but you can easily get more than what you bargained for by ordering the box combos.
The box combo includes chicken fingers, coleslaw, fries, texas toast, and the Cane's famous dipping sauce, which is so good for you not to get it.
Additionally, whenever you choose Canes for catering services, you get value for your money. The catering prices are reasonably fair for the quality plus quantity you get for every order.
Similarly, if you make bulk orders, the costs decrease. Into the bargain, you don't have to stress about the freshness of the meals because the food is always fresh.
The company has a team of accommodating, helpful and friendly staff. It is the most appropriate choice to help fulfill your catering needs.
Moreover, the catering services are flexible and reliable. Besides, Canes catering offers the best party trays, perfect for big events, since they make serving food tidy, organized, and easier.
In addition, the catering team at Cane's always strives to meet customers' expectations, hence why the company's catering services are popular.
Most Popular Items of Raising Cane's
Raising Canes has popular items or rather choices in its catering menu.
Whether you are looking for a catering menu for an office party, a private party, or a picnic event, Canes got you covered with various popular mouth-watering meals.
The varieties range from full-blown fried chicken with salads to savory sandwiches.
Apart from the box combos, Raising Canes offers a dipping sauce that will make you want to do a backflip, plus a freshly squeezed lemonade that will gratify your taste buds.
That said, the most popular catering choices at Raising Canes are as shown.
01. The Caniac Combo
This popular Raising Canes combo comes with 6 crispy and fresh chicken fingers.
It contains other items, which include coleslaw, crinkle-cut fries, two Canes sauces, a large drink, and a Texas toast.
It is popular because it contains a generous amount and costs $9.98, which is a pocket-friendly price.
02. Raising Cane's Lemonade
Cane's lemonade is a big deal. If you visit Raising Canes, best believe you'll need only one drink, the freshly squeezed lemonade, to wash down all of your meals.
Nothing can beat the Cane's signature lemonade. It is made daily and sweetened with cane sugar.
The lemonade is surprisingly fresh and not overly sweet, which makes it a perfect drink to have with your meal.
03. Cane's Dipping Sauce
Apart from the box combos, Raising Canes offers a dipping sauce that will leave you craving more. However, the sauce is a must-have since it sums up half of the meal.
This is because the chicken fingers are meant to be dipped since they are lightly seasoned hence why you need the sauce to give them that kick of spice and zest.
The sauce is always more than worth it because it pushes everything over the top.
The texas toast in this combo has retained moisture with a mixture of garlic and butter that makes the bread melt in your mouth nicely.
04. The 3 Chicken Finger Combo
This is another popular catering choice at Raising Canes costing $6.38. This combo contains a regular drink, three chicken fingers, fries, Texas toast, and one Cane sauce.
The chicken tenders have a juicy texture and crispy skin making them enjoyable.
Also, the added coleslaw is meant to beef up the entire combo. It is not just an average coleslaw but a fresh plus delicious one.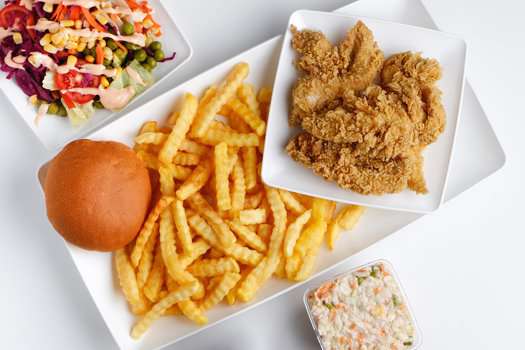 05. Crinkle Fries
The Raising Cane's crinkle fries are very simple and not overly salty. They are not too thick, which gives you a good combination of soft and mushy with a touch of crispness.
They are really long and have moistness in the middle. The fries soak up fancy fries sauce, Cane's sauce, and any other dipping sauce you choose. They are naturally tasty, and they smell heavenly.
06. Texas Toast
Cane's toast is not just an afterthought but a thought-through perfect addition to the box combo.
The toast comes with a mix of butter and garlic, which makes the bread melt in your mouth nicely.
Ways of Ordering
Ordering from Canes is an easy-peasy process. There are different techniques for ordering from Canes catering.
You can either order online via their website or contact the nearest local Raising Canes restaurant. Below are the processes you need to follow when making your order.
Placing Your Order Via The Canes Website
Visit Raising Cane's official website to create an account if you don't have one.
After creating an account, browse through the provided menu on the website to place your order.
Provide the required details, such as your contact information, payment, or delivery information.
Select the favorable delivery date plus time.
A confirmation email will be sent to you, followed by a call from Cane's agent to confirm your order and the delivery time.
After receiving a confirmation email, you can wait for your order to be delivered.
Placing Your Order At a Local Raising Canes Restaurant Near You
Visit the Raising Canes official website to search for a restaurant near you.
Once you have located a Cane's restaurant, scroll to find the restaurant's address, phone number, or other contact details.
Drive to the restaurant or call them using the contact information you found on the website to request home delivery.
History Overview
With its headquarters in Houston, Texas, Raising Canes is a food chain company founded by Todd Graves and Craig Silvey in 1996.
Todd Graves, the company's founder, had to work a series of blue-collar jobs to get capital for starting the company.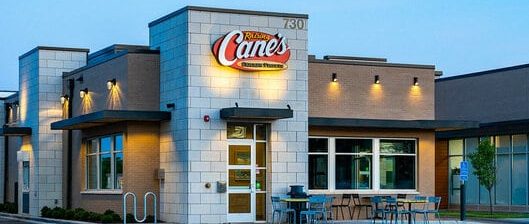 After earning enough money, Todd Graves acquired an SBA loan which helped him start the restaurant.
He had initially thought of naming the restaurant Sockeye's Chicken Fingers, but his friend convinced him to name the company after his Dog, Raising Cane.
Today, Raising Cane's gets a lot of hype because it is one of the food chains that actually specializes in catering, unlike others that take catering as an afterthought.
Although people didn't believe that a company specializing in one meal would become successful, Raising Cane's has proven everyone wrong by its gradual rise to stardom.
The Cane's carefully well-marinated chicken breasts that are hand-battered and fried in canola oil have gathered so much buzz and a vast following across the globe causing loyal fans to come up with a name, the 'Caniacs.'
To sum it up, Canes catering has grown to be the best option for people that like crispy and toothsome chicken fingers made from premium chicken breast tenderloins.
Management Practices and Service
As a food chain company, Canes comes with its set of management practices and catering services.
The management practices may differ from those of other food chains, which is typical for every business.
Some management practices at Cane's include layers of support offered to employees to succeed at work, culture appreciation, provision of enough resources to employees, compensation, benefits, and establishment of world-class leadership.
Like any other catering business, the services at Cane's catering include the preparation and creation of finger-licking chicken finger meals and a menu that meets customers' catering needs.
The company is always ready to deliver whether the customer needs an order prepared for a small gathering or a big group.
Although Canes may have many pros, the company has its cons. Both pros and cons of Canes catering are as listed below.
Pros of Canes Catering
Catering prices at Cane's are reasonable, fair, and affordable
Ingredients used for meal preparation are fresh and high quality compared to others
Always try to satisfy customers by providing good customer service
Cons of Canes Catering
Cane's specializes only in chicken fingers; therefore, there is no option for food variety
Essential Links to Raising Cane's
Frequently Asked Questions About Raising Cane's
Does Raising Canes Open During Holidays?
Raising Canes does not open during holidays. The restaurant is always closed on all major holidays, including Christmas, July 4th, Thanksgiving, New Year, Memorial Day, and Easter.
Can I Make an Order Online At Raising Canes?
Yes, you can make an order online at Raising canes. To make an order online, you have to first create an account on Cane's official website, then start browsing through the menu to place your order.
However, ensure your area is among Raising Cane's verified locations.
Who is The Founder of Raising Canes?
Todd Graves is the originator and owner of Raising Canes. He started the company in 1996, and since then, Raising Canes has grown to be one of the best food chains specializing mainly in chicken fingers.
Does Raising Canes Offer Coupons To its Customers?
Unfortunately, Raising Canes does not give coupons to customers. However, the company normally sends offers to customers through their Caniac Club.
What's The Usual Opening Time For Raising Canes?
Raising Canes Opening time varies from one location to another, but Cane's restaurants in most locations open from 10:30 am-10:00 pm.
What Type of Payments Does Raising Canes Accept?
Raising Canes accepts different forms of payment. They include American Express, Raising Canes Gift cards, Visa, Mastercard, Cash, and Discover.
Please note that the accepted credit cards may differ based on the restaurant's location.
Final Thoughts
Raising canes catering is a popular option for special functions, home parties, and corporate events, with various menu options suitable for every occasion.
It is a suitable choice for anyone looking for a fast, reliable, convenient, and affordable catering option.
The chicken fingers offered at Cane's are delicious and fresh without forgetting the variety of sides that come with each order you place.
Most importantly, Canes catering strives to deliver outstanding services, which is why you should consider giving them a shot the next time you need catering services for an event.