Cheddar Herb Biscuits are fluffy buttermilk biscuits baked with butter, fresh herbs and cheddar cheese. They taste just Red Lobster Cheddar Bay Biscuits!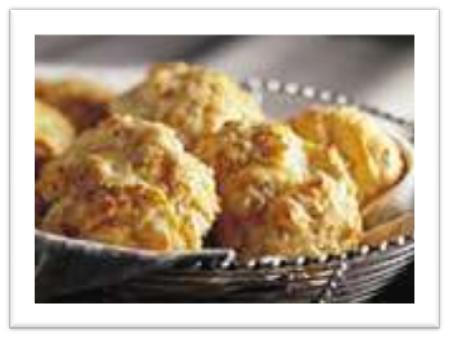 If there's anything tastier in the world than a warm slice of homemade bread schmeared with butter, it would have to be these cheddar herb biscuits. Flaky, cheesy, and downright yummi!  Step into my virtual kitchen and I'll show you how to bake up a batch for dinner tonight!
How Cheddar Herb Biscuits Came to Be
So this week in culinary school, I began a new cooking rotation: Soup and Stock Production. For people who don't enjoy cooking, I suppose that may sound like a big yawner of a class, but I can attest to the fact that it's anything but boring!
It's been simultaneously challenging and fun, which is the PERFECT learning combination for me! The class is taught by Chef Gary Lyons. For those of you who are like me and are into audio and visual stimulation, I've decided to try and incorporate more of that fun into my blog posts each week. So without further ado, here's what "Chef G" looks like! (photo courtesy of FVTC)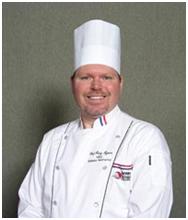 It's clear (to me, anyway) that Chef G loves to teach…and it's also CRYSTAL clear that he has the patience of a saint. No matter how often his students make mistakes in the kitchen or repeat the same ones over and over (and the good Lord knows that we do that a LOT!), Chef G patiently explains ONE MORE TIME how it's done. Incidentally, he manages to do that with huge amounts of enthusiasm, a smile on and his face, and with NO grumbling. Even during the 7:00am rotation. Oh my GOSH… I do believe I'll put him up for teacher of the year!
This week, I learned how to make a bunch of different varieties of soup. French onion, chicken corn chowder, and beer brat and cheese. Oh…and 50 gallons (no, that's NOT a typo) of chicken stock. Hmm…maybe I shouldn't have confessed about making those soups until AFTER the satisfaction surveys have been tabulated!
Since I don't have much time to cook at home anymore, cooking at school has been serving double duty for me. For three hours, I get to combine my loves of food and learning, and make some wonderful meals to serve to the hundreds of people who walk the halls of this awesome school. Ahh…PURE BLISS!
This week, I will leave you with one a "tried and true" recipe: Cheddar Herb Biscuits. I never EVER thought I'd find a cheddar biscuit that tasted better than Red Lobster's… then I came across this recipe during my vegetarian cuisine rotation class.
I'm now in buttery, cheddar herb biscuit Heaven! This buttermilk biscuits recipe is so easy to make, a kindergartener could probably handle it (with the exception of running the food processor). They're a savory delight for my inner carb addict, and I hope that you'll love them as much as I do.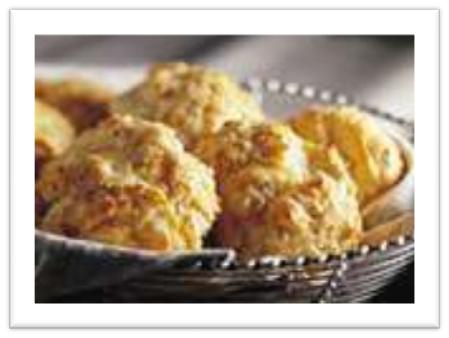 How to Make Easy Cheddar Herb Biscuits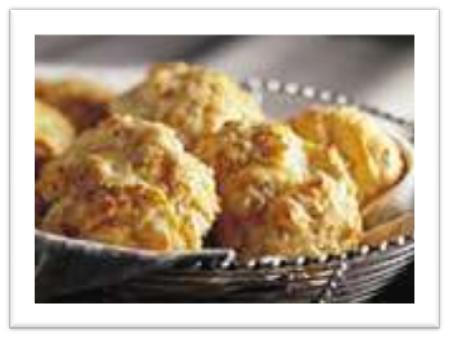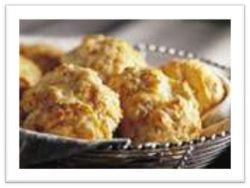 Easy Cheddar Herb Biscuits
Flaky buttermilk biscuits, seasoned and stuffed with cheddar cheese and herbs. Baked up until buttery and golden.
Print
Pin
Rate
Ingredients
3 1/2

Cups

All-Purpose Flour

2

tsp

baking powder

1

tsp

baking soda

1

tsp

salt

16

tbsp

(1 cup) COLD unsalted butter

,

cut into cubes

1

cup

shredded cheddar cheese

2

scallions

,

minced

2

tbsp

flat leaf parsley

,

chopped (or 1 Tbl dried parsley)

1 1/2

cups

buttermilk

Flour for dusting

Egg wash

,

(1 beaten egg plus 1 tbsp. water) for brushing tops of biscuits
Instructions
Preheat conventional oven to 425 F (400 F if using convection oven)

Sift together flour, baking powder, baking soda, and salt into a food processor (or large bowl).

Add cubed COLD butter and pulse 7-8 times (or cut into flour with pastry blender)

Stir in cheese, green onions, and parsley. Add 1 cup of buttermilk slowly, adding remainder as necessary, until dough comes together into a nice ball. DON'T USE IT ALL IF YOU DON'T NEED IT!

Turn dough out onto lightly floured surface. Form ball and roll out to 3/4 inch thickness. Cut with 2.5 inch biscuit or cookie cutter. Brush tops with egg wash and bake for 12-15 minutes, or until browned.
Recipe Nutrition
Nutrition Facts
Easy Cheddar Herb Biscuits
Amount Per Serving (1 biscuit)
Calories 326
Calories from Fat 171
% Daily Value*
Fat 19g29%
Cholesterol 53mg18%
Sodium 392mg17%
Potassium 186mg5%
Carbohydrates 29g10%
Protein 7g14%
Vitamin A 690IU14%
Vitamin C 1.2mg1%
Calcium 151mg15%
Iron 1.9mg11%
* Percent Daily Values are based on a 2000 calorie diet.
Well, that's it for the week, Folks. I'm off to do some apple picking tomorrow so that I can make a country apple galette and some homemade cinnamon apple sauce. What's that? You don't know what a galette is? Hmm….then check out that post and learn what it is, and see the results of my baking! Until then, may you always have a heart full of love and a stomach full of good eats!