What is McDonald's Dollar Menu $1 $2 $3 in 2023 – Which Items are Included, How Does Work?
McDonald's $1 $2 $3 dollar menu is an affordable meal option that lets customers get creative and mix their favorite items from a special selection.
The McDonald's Dollar Menu has been around in the US since 2018.
This popular menu can be found at multiple participating locations in the United States, so prices for individual items may vary, but orders are placed similarly.
Furthermore, some items listed as $1 are actually in the $1-$2 category depending on the location.
The appetizing sandwiches, biscuits, chicken dishes, and refreshing beverages are divided into 3 categories based on their price: $1, $2, or $3, accessible to all budgets. Here are some examples:
$1: McChicken, Cheeseburger, Sausage Biscuit, Sausage Burrito, beverages
$2: Bacon McDouble, 2-piece Crispy Tenders, Sausage McGrinddles, Bacon McChicken, a small beverage from the McCafe, 4-piece Chicken McNuggets
$3: Triple Cheeseburger, Happy Meal, Sausage McMuffin, Chicken Sandwich
The offer, along with other unique deals, is available in-store and on McDonald's app.
You can choose between McDonald's classics like the famous McChicken and McNugggets, or dare to try new items like the tempting Sausage Burrito.
Add some fries and one of eight beverages and create a full menu at an incredible price.
Other popular names in the fast-food industry like Burger King, Del Taco, and Wendy's have added a dollar menu throughout the years, but they haven't managed to reach McDonald's fame.
McDonald's $1 $2 $3 Menu
Not only are Mcdonald's dollar menus too profitable to be true, but they are also incredibly delicious.
Here is a list of all the items included in this deal:
Sausage Biscuit
McDonald's is famous for its original breakfast options.
Containing 460 kcalories, the Sausage Biscuit offers the perfect boost of energy to start your day. All it needs is coffee!
Sausage McMuffin
The Sausage McMuffin is made out of 4 magic ingredients: a juicy sausage patty, American cheese, soft, rich butter, and of course, a toasted muffin.
Sausage Burrito
This heavenly food item offers a spark of creativity to the classic McDonald's meal options.
It offers scrambled eggs combined with sausage, vegetables, and melty cheese, all served in the shape of a tasty burrito.
Hash Browns
If there's an ingenious way to serve potatoes, McDonald's has found it.
The Hash Browns are a soft potato side dish with only 140 kcalories covered in a flavorful crispy layer.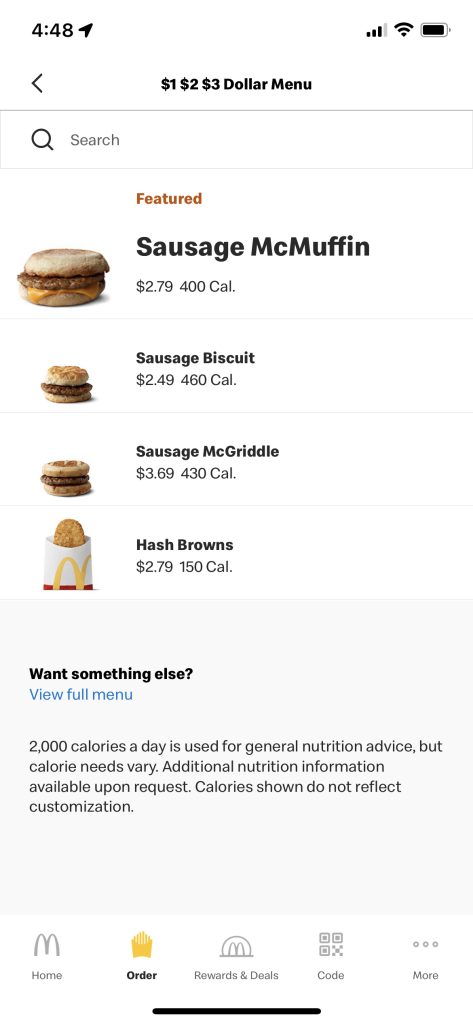 McDouble
When one patty isn't enough to satisfy your appetite, the McDouble saves the say.
With 400 calories, this burger will surely put a smile on anyone's face.
Two beef patties, chopped onions, cheese, and pickles are the star ingredients for the perfect taste.
McChicken
The perfect chicken patty covered in a creamy sauce and with green, fresh lettuce on top sounds like a divine combination.
No wonder this is one of McDonald's most-ordered items!
Chicken McNuggets
McNuggets are an all-time favorite, for both kids and adults. Simple, yet so delicious, these can be savored at any time of the day.
World Famous Fries
And as we were just talking about McDonald's famous items, these fries are the perfect side dish for any order and can also be enjoyed by vegetarians.
Beverages
To complete the meal, McDonald's dollar menu offers 8 types of beverages: Fanta, Dr. Pepper, Coca-Cola, and, of course, Diet Coke, Sweet or Unsweetened tea, and the fruity flavored Hi-C Orange Lavaburst.
McDonalds Dollar Menu $1 $2 $3
Items
Calories
Sausage McMuffin
(English Muffin, Topped With A Slice Of Melty American Cheese & A Sausage Patty)
400
Sausage Biscuit
(Made With Sizzling Hot Sausage On A Warm Buttermilk Biscuit Topped With Real Butter)
460
Hash Browns
(Shredded Potato Hash Brown Patties)
140
Sausage Burrito
(Pork Sausage, Scrambled Egg, Green Chiles, Melty Cheese, & Onion, Wrapped In A Soft Tortilla)
310
McChicken
(Chicken Patty, Topped With Shredded Lettuce & Creamy Mayonnaise, All Served On A Perfectly Toasted Bun)
400
McDouble
(2 Beef Patties Seasoned with Just a Pinch of Salt & Pepper. Topped With Chopped Onions, Tangy Pickles, Ketchup, A Melty Slice Of American Cheese & Mustard)
400
World Famous Fries
(Made With Premium Potatoes)
110
Chicken McNuggets
(All White Meat Chicken & No Artificial Colors, Flavors Or Preservatives)
170
Beverages
| | |
| --- | --- |
| Items | Calories |
| Sprite | 140 |
| Coca-Cola | 150 |
| Dr Pepper | 40 |
| Fanta Orange | 150 |
| Hi-C Orange Lavaburst | 160 |
| Diet Coke | |
| Sweet Tea | 100 |
| Unsweetened Iced Tea | |
McDonald's Dollar Menu in Terms of Nutrition and Health
Regarding the health aspect of McDonald's dollar menu, the company has added a nutritional chart for all its products.
From cheeseburgers to beverages, a nutrition summary, as well as an allergy guide is listed at the bottom of the website page.
Anyone is free to choose the perfect food item, with more or fewer calories.
Total carbs, as well as grams of proteins, fiber, saturated and trans fat, are mentioned for all meal options.
We all want to be healthy and still eat that yummy fast food. A cheat meal is ok from time to time.
You can take care of your body even while enjoying McDonald's burgers simply by choosing items with less fat and less salt.
What are the payment options at McDonald's, do they accept EBT?
Are There Any Vegan Or Vegetarian Menus on The Mcdonald's Dollar Menu?
Unfortunately, McDonald's does not have any vegan or vegetarian meals on the dollar menu; they do not have any separate vegetarian or vegan menu in the USA; in California and Texas, they have a few meals for vegan in a few restaurants, McPlant burger is one of them.
Mcdonald's clearly stated on the footer of their website that currently, they do not promote any vegan, vegetarian, or gluten-free menu in the US. Check here.
However, all ingredients for the available food items are listed on the official website, so it's always a good idea to check them yourself.
Hash Browns, as well as fries, only contain potatoes, wheat, and hydrolyzed milk, so these are not vegan or vegetarian fully.
Frequently Asked Questions
How Does The $1 $2 $3 Menu Work?
The $1 $2 $3 McDonald's menu is easy to order.
Simply access the McDonald's app, find your favorite items in the $1, $2, or $3 category, and mix them to create a customized meal that fits your needs.
What is Mcdonald's 2 For $2?
McDonald's 2 for $2 means two fast-food items for only $2. You can choose 2 items between the Sausage Biscuit, Muffin, and crispy Hash Browns.
Two of these are actually enough to make a full breakfast! 
What is Mcdonald's $3 Special? 
McDonald's $3 special is a bundle that includes a small side of fries as well as 3 main dish options: A double cheeseburger, 6 pieces of chicken McNuggets or the delectable Hot'n Spicy McChicken.
A triple Cheeseburger, Happy Meal, or the classic Chicken Sandwich can also be ordered for $3 each.
What Sandwiches Are 2 For $3 At Mcdonald's?
In McDonald's 2 for $3, there are 3 sandwiches available for the offer, and you can choose two of them for $3.
Your choices are the Big Mac, fish sandwich, and grilled chicken.  The downside is you may not find this deal at all McDonald's locations.
What is $1 At Mcdonald's?
The $1 menu from McDonald's includes any of the following: the classic cheeseburger, a soft drink, or a flavorful sausage burrito.
The items may vary depending on the location.
Are Mcdonald's Drinks $1?
Yes. Drinks from McDonald's come in different sizes, and the small soft drinks usually cost around $1, while the price for specialty coffees starts at around $2.
When Did Mcdonald's Dollar Menu End?
McDonald first introduced the Dollar Menu in 2002. Soon after, its popularity spread worldwide.
In 2018, the $1 $2 $3 dollar menu took the place of the old $1 menu.