Popeyes Catering Menu Prices (Updated 2023)
If you're thinking of organizing an event soon and have no ideas for catering, Popeyes Catering menu is certainly the place to look.
After all, from all the possible meat on this planet, chicken is the one that will never fail to delight.
While a catering menu isn't available directly on Popeyes' website, catering can be accessed on other delivery sites partnered with the company, like Grub Hub.
Popeyes Catering Menu Prices include multiple options to choose from, covering both small and large events, as well as two main types of catering packages: the chicken lovers and the party pack plus.
On the official Popeyes website, other small catering packs can be ordered from the classic menu in the Family Meals section: Signature Family Meals, Tenders, and Nuggets Family Meals.
The catering packs from Grub Hub are both of 8 different sizes, from 8 pieces of chicken to 100 pieces.
For the Chicken lovers pack, each size contains an approximately equal number of wings, breasts, thighs, and legs.
This way, everyone gets to enjoy their favorite chicken meal, and even if you order chicken only, there will still be a variety to choose from.
The Party Pack Plus brings even more variety to the table, as the chicken is served with up to 8 sides (for the 100 – chicken party pack plus) and a generous number of delicious biscuits to leave your guests as a sweet memory of the event.
Popeyes directly don't provide any catering services. Through Grubhub & EZ Cater, you can order catering from Popeyes.
Here, prices are taken from Grubhub. You may find price differences between Grubhub & EZ Cater.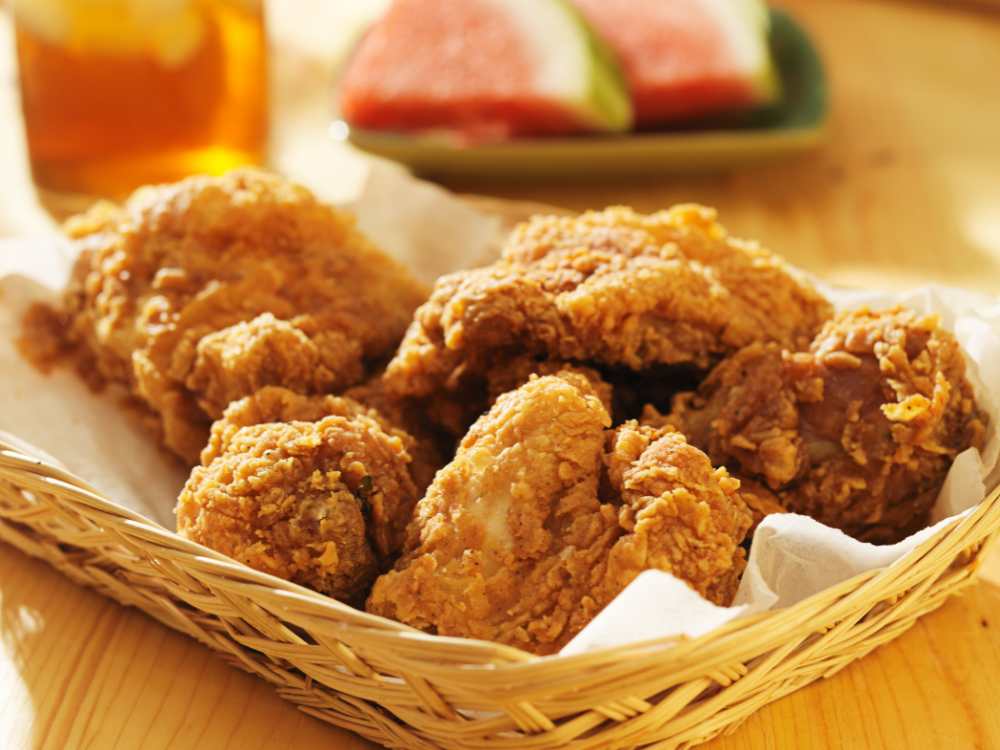 Popeyes Chicken Catering Prices (Mild or Spicy)
| | |
| --- | --- |
| Item | Price |
| 100 pcs Chicken (25 pcs of legs, thighs, wings, breasts) | $169.99 |
| 75 pcs Chicken (19 pcs of legs, thighs, wings, 18 breasts) | $139.99 |
| 50 pcs Chicken (12 legs, 13 thighs, 13 wings, 12 breasts) | $94.99 |
| 30 pcs Chicken (8 legs, 8 thighs, 7 wings, 7 breasts) | $58.99 |
| 24 pcs Chicken (6 pcs of legs, thighs, wings, breasts) | $47.99 |
| 16 pcs Chicken (4 pcs of legs, thighs, wings, breasts) | $31.99 |
| 12 pcs Chicken (3 pcs of legs, thighs, wings, breasts) | $24.99 |
| 8 pcs Chicken (2 pcs of legs, thighs, wings, breasts) | $17.99 |
Popeyes Catering Party Pack Plus (Mild or Spicy)
| | |
| --- | --- |
| Item | Price |
| 100 pcs Chicken (40 pcs Biscuits + 8 Large Sides) | $239.99 |
| 75 pcs Chicken (36 pcs Biscuits + 6 Large Sides) | $165.99 |
| 50 pcs Chicken (24 pcs Biscuits + 4 Large Sides) | $119.99 |
| 30 pcs Chicken (12 pcs Biscuits + 4 Large Sides) | $77.99 |
| 24 pcs Chicken (12 pcs Biscuits + 3 Large Sides) | $66.99 |
| 16 pcs Chicken (8 pcs Biscuits + 3 Large Sides) | $49.99 |
| 12 pcs Chicken (6 pcs Biscuits + 2 Large Sides) | $38.99 |
| 8 pcs Chicken (4 pcs Biscuits + 1 Large SideS) | $28.99 |
Popeyes Sides Menu
| | |
| --- | --- |
| Item | Price |
| Coleslaw | $4.99 |
| Cajuan Fries | $4.99 |
| Potatoes (Mashed) and Gravy | $4.99 |
| Red Beans and Rice | $4.99 |
| Dipping Sauces | $0.99 |
| jalapenos | $0.50 |
| Biscuits | $1.49 |
Popular Items From Popeyes Catering Menu
While the classic Popeyes menu offers an impressive variety of food items, including shrimp and other delicacies, their catering menu mainly focuses on simple, delicious chicken seasoned in a mild or spicy way, as you prefer.
So, in this section, we are going to talk about the most popular sides to choose for your catering order, as they are rated by customers.
01. Mashed Potatoes With Cajun Gravy
If you want to keep the classic potato servings that satisfy everyone but still give it an original twist from commonly ordered fries, this is the way to do it.
Popeyes Mashed Potatoes are well known for their unique taste that delights your taste buds.
While the soft, buttery cream is a pleasure for your taste, the blended bell peppers give it just the perfect spice that makes it unforgettable.
02. Red Beans and Rice
Another signature side of Popeyes, the Red Beans, and Rice, is quite an unusual, surprising choice that Popeyes managed to perfect.
The Beans are slowly cooked with a mix of tasty ingredients, including bell peppers, onion, and garlic, and seasoned with a variety of interesting spices.
Finally, they are placed on top of rice and served hot.
03. Biscuits
Last but not least, this item is the perfect addition to any catering order.
Already proclaimed as the best Popeyes dessert by customers, the biscuits are buttery, soft, and warm, not at all similar to any rock-hard biscuit you've tasted before.
While covered in a crispy crust, the center is a soft delight for the taste.
How Do You Order Popeyes Catering Online?
A catering order from Popeyes can be placed physically, on the phone, online, on the official website, Ezcateter, or Door Dash for small orders.
For bigger events, Grub Hub is the preferred delivery website, as it offers packs as large as 100 chicken pieces.
The process is simple: access the website, select the restaurant, type in your address for delivery, add your favorite catering packs and a payment method, and it's done!
Popeyes Delivery Methods
Here is a list of the delivery methods available for catering orders.
While some of these options are available if you order from the official website, larger orders placed on Grub Hub can only be delivered to an address.
| | |
| --- | --- |
| In-Store | Available |
| Drive Thru | Not Available for catering |
| Home Delivery | Available |
| Curbside Pickup | Not available |
Popeyes Payment Options
As Popeyes and Grub Hub are now partnered, and Grub Hub is known to be a delivery application/website that accepts multiple payment methods, there's nothing to be worried about anymore. Here are the accepted payment methods:
Android Pay
eGift
Credit cards
Cash
Popeyes History
From the start, Popeyes was all about sharing that perfectly fried chicken with the world.
It started in 1972 as a small business in New Orleans that served chicken prepared in the traditional, Southern manner.
The first suggestive, "Chicken on the Run", was changed after just a few months into Popeyes, as the restaurant started to serve its well-known spicy chicken.
What seems is a weird name choice is actually a movie-inspired idea, as the restaurant got its name from Popeye Doyle, a character from The French Connection.
12 years after its first opening, the restaurant extended globally, with a new location in Toronto, Canada.
From then on, numerous other Popeyes Fast-foods were opened as the company became more and more popular over the years.
Now, what started as a small restaurant that only served chicken became a large fast-food chain with an incredibly varied menu and delicious food items.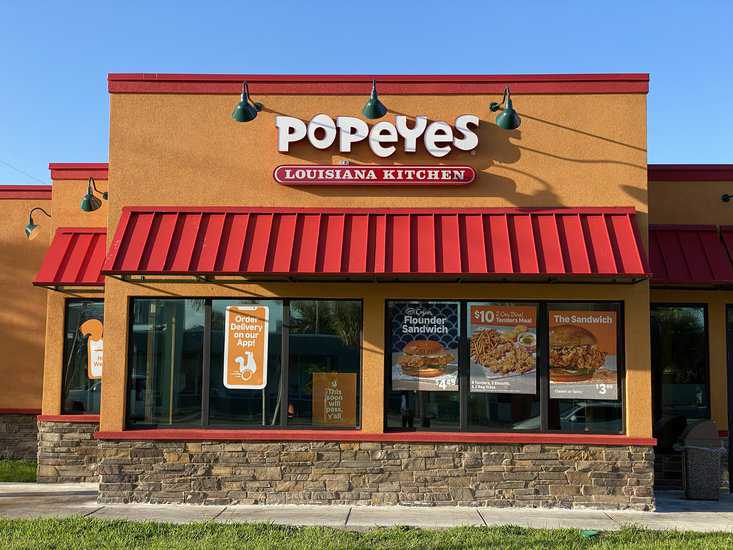 Important Links of Popeyes Catering Menu Prices
Want more official information about Popeyes? Here are some useful links that will clarify any problem:
Find Popeyes on Social Media
Dishes that are as appetizing as Popeyes specialties should certainly be shown to the world. For tempting photos and new deals, check out these pages:
FAQs
What Distinguishes The Popeyes Combination From The Popeyes Dinner?
The main difference between these options is the small drink included in the combo menu.
Apart from this, both contain the main chicken dish, the regular side, and of course, the delicious biscuit.
Are Sides Included in Popeyes Chicken Family Boxes?
Yes, the 8 pieces family menu from Popeyes comes with a large side dish and four heavenly, soft biscuits
. The larger menus contain more sides and of course, more biscuits, depending on their size.
What Number of Guests Does a Popeyes Large Family Feast Feed?
The Large Family Feast from Popeyes includes 16 pieces of their tasty, signature chicken, as well as 8 biscuits and 3 large sides. With 8118 calories, this menu can feed up to 5 people in one meal.
Is Contactless Delivery a Service Offered By Popeyes Catering?
The short answer is yes. Delivery is assured by Grub Hub, and as long as the payment method is not by cash, there should be no problem in selecting a contactless delivery.
Popeyes Vs KFC
While KFC has more wallet-friendly food options, Popeyes is probably the winner regarding other points, like food quality and nutrition.
Despite its higher price range, Popeyes still has some amazing deals that are certainly worth checking out.
Final Words
Popeyes is a restaurant that serves delicious, universally appreciated dishes of any size.
Choose it as a catering option for a kid's birthday party or a business lunch, its heavenly chicken, topped with the greatest sauces and served with unique sides, will surely delight all your guests!