Panda Express Catering Menu With Prices 2023 (3 Authentic Chinese Party Bundle)
Bearing the name of an adorable and gourmand Chinese symbol, Panda Express is a restaurant that provides both catering and individual deliveries for any occasion.
For Weddings, office meetings, or birthday parties, Panda Express catering is an affordable, delicious option that will enchant your guests.
The restaurant has become popular for its creative entrees, customizable catering packages, and accessibility.
The wide variety of food items, as well as the liberty to combine them all as you please, has gathered nationwide appreciation.
Here's your opportunity to discover all about their menu, prices, and delightful dishes!
Combine the usual, American fast food with a new, exotic flavor, and you get the perfect catering idea for any event: Panda Express catering.
The restaurant comes with 5 catering menus for its clients, offering the possibility of choosing and combining your favorite dishes.
The most popular entrée choices include Orange Chicken, Broccoli Beef, and of course, Kung Pao chicken.
Add appetizers and salads to complete the meal! They are included in the menu's price.
Lastly, as a fun and delightful surprise, Chinese fast food adds fortune cookies to its larger menus. Have fun interpreting your future while filling your energy with this sweet bonus!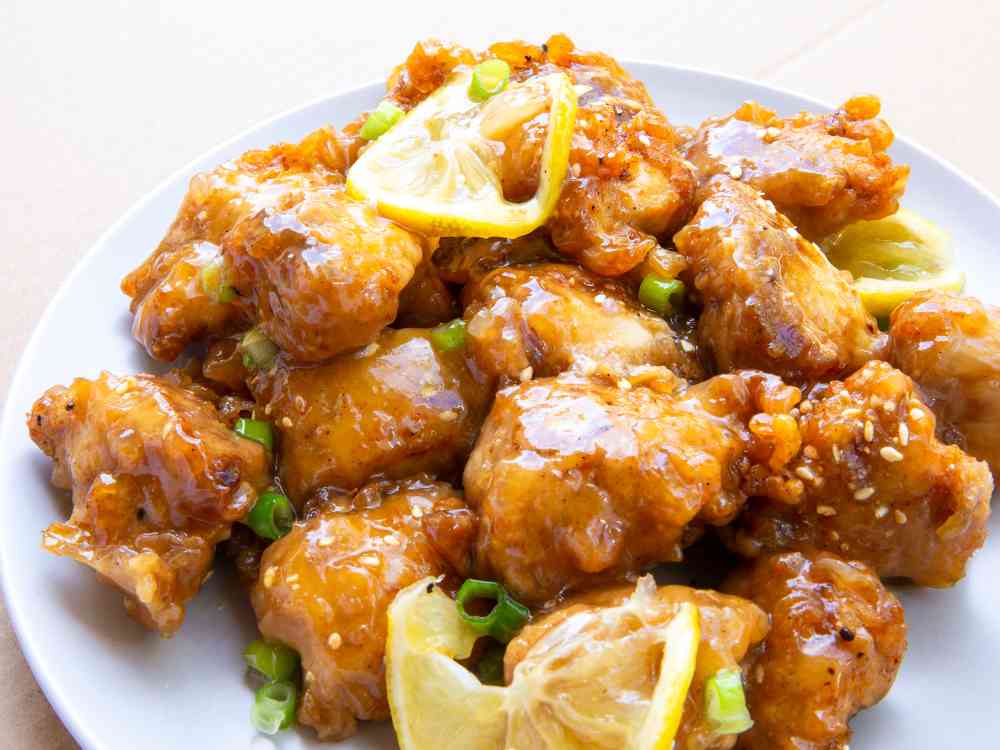 01. Panda Express Party Trays Bundle (12-16 Person Expense
Any of two sides among 5 items or half & half and 2 Entrees comes at a total cost of $108, depending on the location. Adding more sides or Entrees possibly paying extra fees
| | | |
| --- | --- | --- |
| Sides Food | Calories | Serving Per Tray |
| Chow Mein | 510 | 12-16 Persons |
| Fried Rice | 520 | 12-16 Persons |
| White Steamed Rice | 380 | 12-16 Persons |
| Super Greens | 90 | 12-16 Persons |
| Brown Steamed Rice | 420 | 12-16 Persons |
| Entries | | 12-16 Persons |
| Beyond Original Orange Chicken | 440 | 12-16 Persons |
| The Original Orange Chicken | 490 | 12-16 Persons |
| Black Pepper Angus Steak | 180 | 12-16 Persons |
| Honey Walnut Shrimp | 360 | 12-16 Persons |
| Grilled Teriyaki Chicken | 300 | 12-16 Persons |
| Broccoli Beef | 150 | 12-16 Persons |
| Kung Pao Chicken | 290 | 12-16 Persons |
| Beijing Beef | 150 | 12-16 Persons |
| Mushroom Chicken | 220 | 12-16 Persons |
| SweetFire Chicken Breast | 380 | 12-16 Persons |
| String Bean Chicken Breast | 190 | 12-16 Persons |
| Black Pepper Chicken | 280 | 12-16 Persons |
| Super Greens | 45 | 12-16 Persons |
Select 2 side dishes and 2 entrees for $108. This party bundle is large enough to feed up to 16 persons, and it even includes the popular fortune cookies we've mentioned above.
3 premium entrées that will raise by $15 each if chosen for the menu.
We are talking about the Beyond Original Orange Chicken, a plant-based version of the original signature dish of Panda Express Catering, the Black Pepper Angus Steak, and Honey Walnut Shrimps.
While pricier, these options are surely creative and add a unique taste to the tray.
02. 18-22 Person Party Bundle Cost
This is a larger version of the previous menu. It's perfect for any event that gathers between 18-22 people, allowing you to choose 3 party tray side dishes, as well 3 appetizing entrees, for $154.
Also, to add an entertaining spark to the menu, all guests will receive fortune cookies.
One detail to remember is that the food selection, as well as the prices, vary from one location to another.
03. Party Bundle For 26-30 Person Cost
For $194, depending on the location, you can choose 4 nutritious side dishes and entrees for your guests.
The advantage of this menu is its variety of food items that are brought to the party.
With 8 different options, all the guests will be delighted, and even that picky person at the event will find a serving to his liking.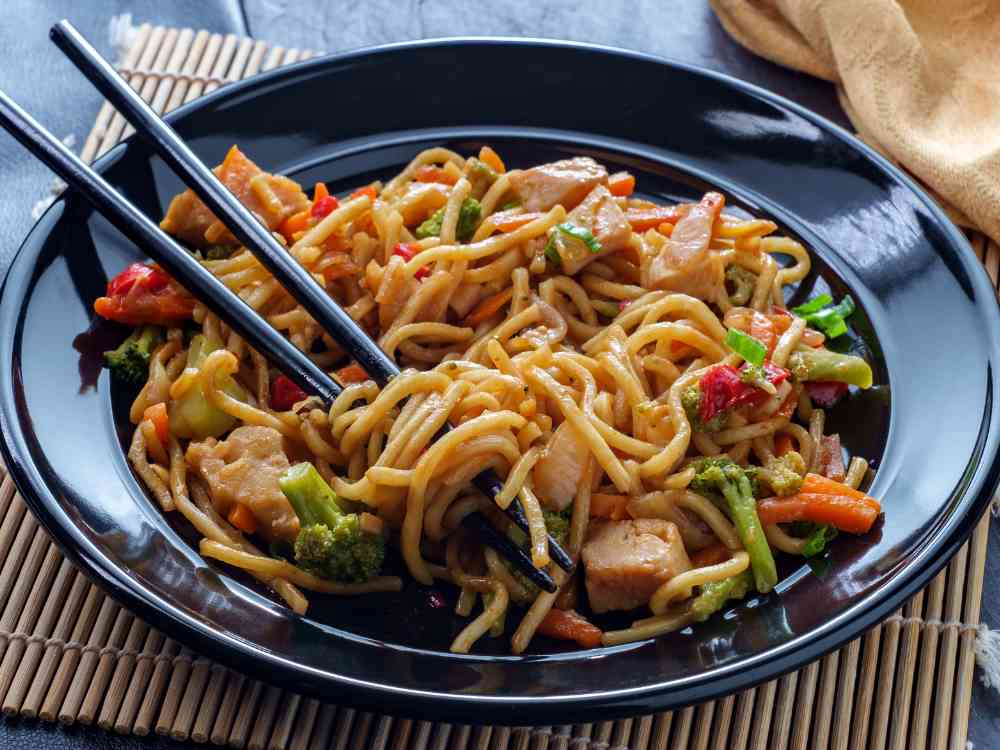 Panda Express Party Size Side Menu
| | | | |
| --- | --- | --- | --- |
| Sides Food | Calorie | Price | Serving Per Tray |
| Chow Mein | 510 | $16 | 10-12 |
| Fried Rice | 520 | $16 | 10-12 |
| White Steamed Rice | 380 | $16 | 10-12 |
| Super Greens | 90 | $16 | 10-12 |
| Brown Steamed Rice | 420 | $16 | 10-12 |
The Party Size Side Menu includes 10-12 servings per tray, allowing you to choose between 5 appetizing side dishes.
Combine this menu with the Party Size Entrée or enjoy it separately! One nice feature is that you can split the tray in half and combine 2 food items.
This will surely come in handy for undecided guests. Also, if everyone has a common favorite, you're free to order one large plate of it.
Chow Mein is the crowd's favorite in this category, but they are all worth a try.
Party Size Entrees
| | | | |
| --- | --- | --- | --- |
| Entrees | Calorie | Price | Serving Per Tray |
| Beyond Original Orange Chicken | 440 | $56 | 12-14 |
| The Original Orange Chicken | 490 | $41 | 12-14 |
| Black Pepper Angus Steak | 180 | $56 | 12-14 |
| Honey Walnut Shrimp | 360 | $56 | 12-14 |
| Grilled Teriyaki Chicken | 300 | $41 | 12-14 |
| Broccoli Beef | 150 | $41 | 12-14 |
| Kung Pao Chicken | 290 | $41 | 12-14 |
| Honey Sesame Chicken Breast | 490 | $41 | 12-14 |
| Beijing Beef | 150 | $41 | 12-14 |
| Mushroom Chicken | 220 | $41 | 12-14 |
| SweetFire Chicken Breast | 380 | $41 | 12-14 |
| String Bean Chicken Breast | 190 | $41 | 12-14 |
| Black Pepper Chicken | 280 | $41 | 12-14 |
| Super Greens | 45 | $17 | 12-14 |
Like the previous menu, The Party Size Entrée offers 12-14 servings per tray, but it adds even more options to choose from!
There are 14 possible entrees, including shrimp, chicken, Angus steak, beef, and vegan options, like eggplant tofu and super greens.
The trick here is that you are only allowed to pick one dish, so think thoroughly before ordering.
What makes Panda Express catering stand out is that all dishes come with nutritional information, as well as spicy marks.
For people who are on a diet, look at the food items marked as work smart, as they contain at least 8g of protein and less than 300 calories.
Beverages Menu
| | | |
| --- | --- | --- |
| Drinks | Service Size | Prices |
| Dasani | 16oz | $2.50 |
| Coca Cola | 20oz | $2.70 |
| Diet Coke | 16oz | $2.70 |
| Honest Tea Half Tea Half Lemonade | 20oz | $3.00 |
| Seagram's Ginger Ale | 20oz | $2.70 |
| Sanzo Lychee | 12oz | $3.00 |
| Honest Kids Apple Juice | 12oz | $1.20 |
Keep in mind that both the drinks selection and prices vary by location.
For example, this is a list of the refreshing drinks that can be added to the Panda Express Catering order if the pick-up location is First & 69th, New York, US.
Other locations include a much wider selection of beverages, both bottled and served in a glass.
How To Order From Panda Express Catering
A big event is coming up, and you have finally decided to order from Panda Express Catering.
So, what's the next step? The recommended way to place an order is online. Here are some simple, step-by-step guides to make ordering easier:
Ordering Online
Step 1
Access the site: https://www.pandaexpress.com/
Step 2
Select "Start Your Catering Order" and create a new account/sign it if you already have one.
The site will redirect you to a page with a map attached.
Step 3
Next, it's time to choose the nearest restaurant location to pick up your order.
Enable Location Services and click on "Use My Location" to see all the available options.
Select the one that's most conveniently placed. You can also enter a state/city/zip code.
Step 4
Pick a date and a time for the Panda Express Catering order.
If you want to place the order today, simply click on the button. If the event is organized on another date, click on: "Specific date" and select it from the calendar.
Next, choose a time and it's all done. Remember that the pickup time depends on the type and number of ordered menus.
It can take up to 24 hours to prepare all the food, so it's best to order it a few days before the event and pick it up just before the event starts.
Step 5
Select the menu and combine the most interesting entrees and appetizers. The site even has a nutrition calculator to help with the process.
See the menus' prices and dish selection described above. Add some extras if you wish, from entrees to desserts and beverages.
Step 6: Check out
Click on: Proceed to check out and add all the necessary contact information and payment details.
You can pay with a credit/debit card or use a gift card. Don't forget to add a promo code if you have one!
Step 7
Review and finally place the order
Offline Order
The process is similar. Find the closest restaurant using the website and head there to order the menus.
Services of Panda Express Catering
Working in a fast-food restaurant, including Panda Express requires many skills, from teamwork and communication to quickly preparing the order under the pressure of many clients, maintaining great service is not an easy task.
When it comes to catering orders, the restaurant takes care of everything, including chopsticks, plates, and other utensils.
Here are some pros and cons of Panda Express Catering services, from a customer's perception.
What We Like Most
The restaurant provides plates, chopsticks, and bonus fortune cookies for the guests, so every aspect of the catering process is covered, and you have nothing to worry about.
The site offers all the information anyone could ever request, from nutritional values to allergens and vegan/spicy options. This way, everyone's preference can be taken into consideration and there won't be any dangerous allergic reactions at the event.
While there are only 5 dishes available, the entrées page seems to be infinite. Moreover, you can add beverages, and desserts and customize the order to fit the event's specifications.
The restaurant adds a creative flavor to the usual, American fast food. Chinese kitchen is enjoyed all over the world, and with fortune cookies, specific, original, sauces, and tastes, you can even make a themed event after it!
When not sure about choosing the side dishes, splitting more of them in half is the perfect solution!
Compared to other big names in the market, the menus have affordable prices and offer a great amount of food!
What We Dislike
The website can be quite tricky to navigate and sometimes can't seem to find the best restaurant locations. Just keep trying, it will eventually work!
It's fast food, so even if the employees have the best intentions, the food will sometimes dry up, and the ingredients will never be as healthy as the ones used in a home-cooked meal. All the sauces contain high amounts of sugar and natrium which can have unwanted long-term effects.
Free delivery is not an option for Panda Express, so picking up the menus yourself is usually the best thing to do.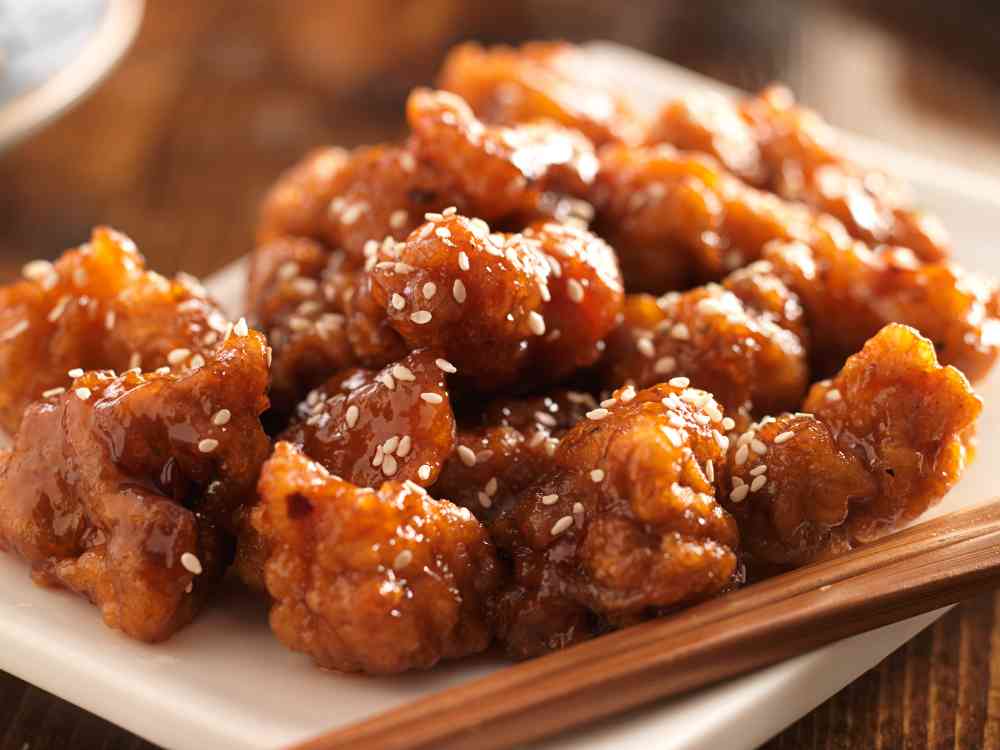 Why is Panda Express Famous?
Panda Express catering is famous for introducing the concept of fast food Chinese dishes.
Evolving from a family business, the restaurant has adapted to today's market and created its delicious entrees and appetizers, while keeping its ingredients a little fresher and healthier compared to other names in the industry.
Its signature dish: the Orange Chicken seems to be both incredibly tasty and addictive, becoming a sensation in the USA.
Due to its orange-flavored sauce and chili spice, the entrée is considered one of the best Chinese fast food options.
Next in line, their Chow Mein Menu is almost as highly rated as the Orange Chicken, having the perfect, not too dry but not too slimy noodles.
Panda Express History
The restaurant started as a family business when Ming-Tsai Cherng and his son, Andrew, two Chinese immigrants decided to transform the delicious Chinese cuisine into an American, fast food version of it.
The restaurant was initially named "Panda Inn" and as it got more and more popular, it started to expand to new locations in southern California.
This happened in 1983, and from then, the small, Chinese restaurant became the fast food giant known today as "Panda Express Catering".
The restaurant's earnings are also helping the community, as Panda Express is known to pay its employees well and donate hundred million dollars to charity.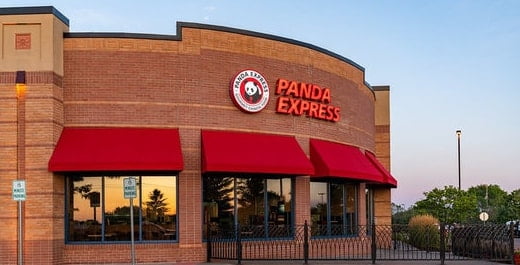 People Also Ask
Is The Food From Panda Express Catering Healthy?
The food at Panda Express is hardly comparable to any other fast food, as Chinese cuisine involves complex ingredients and unique sauces.
However, by comparing the nutritional values of all dishes to other fast foods, the results are similar.
For a healthier option, however, Panda Express added super greens and low-calorie entrées.
What Kind of Alimentary Oil is Used in Panda Express Catering Food Dishes?
To offer a short answer: 100% pure soybean oil is used in all Panda Express recipes, so the food items contain 0 grams of trans fat, at least in theory.
What is The Most Protein-Rich Menu Available For Catering?
Panda Express Catering offers a truly large range of entrées and appetizers.
As a side dish, the Chow Mein contains 13 grams of protein per plate, compared to the rice which adds 11 grams of protein to the menu.
When it comes to the entrée, the Teriyaki chicken is the best option.
Chow Mein Vs Steamed Rice, Which One is Better?
As there are only 5 side dish options available for Panda Express Catering, people usually end up asking themselves which one is truly the best.
In terms of flavor, popularity, and aspect, the Chow Mein is surely the winner!
However, the famous appetizer contains extremely high amounts of sodium (up to 1060 mg) compared to the healthier option: steamed rice, followed by fried rice.
Does PF Changs Own Panda Express Catering?
No. Panda Express Catering and PF Changs are two different restaurants, both owned by Panda Restaurant Group and founded by Andrew and Peggy Cherng.
Final Thoughts
Once a small business, Panda Express Catering has now become the perfect way to add some spice to your next important event.
With affordable prices, creative menu combinations, and an extremely wide range of food options, this Chinese fast food offers suitable dishes even for the most pretentious guests.
Super greens, vegan, high-protein, or spicy meals are just a click away, and don't forget about the mysterious, tasty fortune cookies!