Disclosure: I'm a member of the Collective Bias®  Social Fabric® Community.  Keeping in theme with my Healthy Ways Wednesday series, #WeightLossWednesday group, #LMWLchallenge, and my #FitBy50 program, I purchased some healthy meals and will be compensated for them, and for this post, as part of a social shopper insights study for Collective Bias and their client.
If you're anything like I am, your days run into your nights and you're constantly searching for extra time to prepare meals that are healthy, delicious, and yet, don't take loads of time to make.  Raise your hand if this applies to you!  Oh yeah, there are LOTS of us out there.It's easy to throw a bag of almonds into my purse to eat as PART of a healthy lunch, but it's not very substantial or filling all on its own. That's where healthy frozen meals fit perfectly into my lunch time routine. I love having the ability to eat healthy AND fix it quickly when I'm short on time, so when I was given the opportunity to try out the new Honestly Good line of frozen meals from Lean Cuisine, I jumped right on board.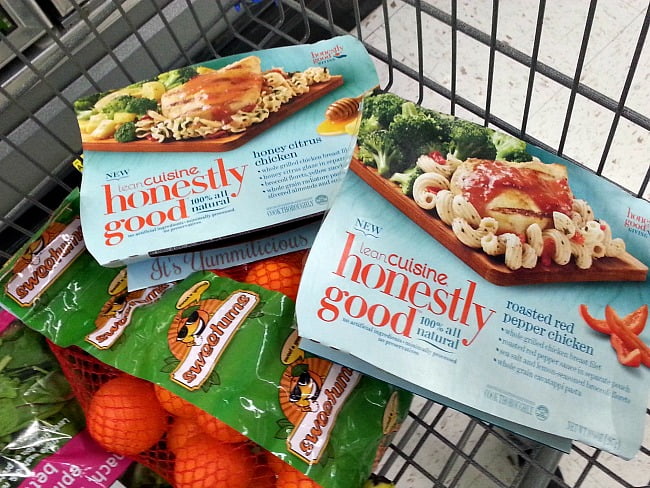 By the way, have you noticed how crazy big the healthy frozen meals section of stores have gotten?  I shopped for these dinners at Wal-Mart and oh. em. gee... the healthy dinners section ALONE was 10 cases long!  Take a look at just SOME of the variety I had to choose from!
It took a bit of hunting for me to find the Honestly Good selection, but the blue packaging did make it a little bit easier. The fact that they were located way up on the top two shelves meant that it didn't catch my eyes.. especially because, at just 5' 4", I'm vertically challenged!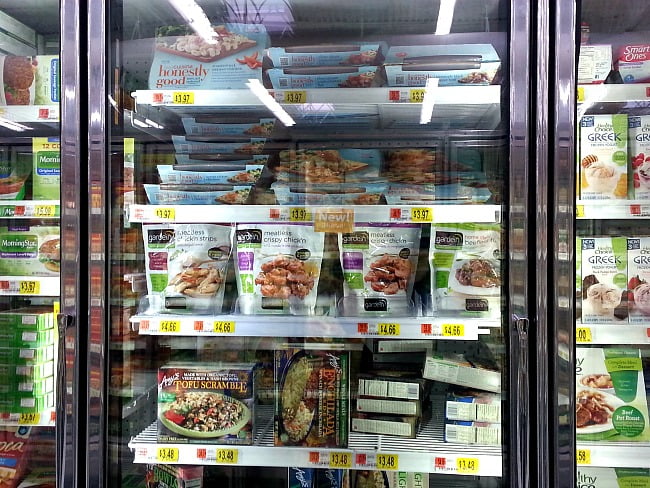 There were 6 varieties of meals  in the case for me to choose from, but because I'm allergic to coconut, I had to stay clear of the coconut crusted shrimp.  #bummer for me, but yeah for you coconut shrimp lovers!
HOWEVER, the crazy carb lover in me was instantly drawn in to the Roasted Red Pepper Chicken because it's served over a bed of cavatappi PASTA! Oh, and not just any old pasta... this is whole grain pasta. Score another point for healthiness! There was a woman shopping for healthy frozen meals in the case next to me. I may have freaked her and her hubby out a little when I shouted out "Oooo, pasta! YES!!"
I've gotta say that I'm impressed by the "no artificial ingredients", "minimally processed", and "no preservatives" aspects of these dinners. You know I've been on a non-GMO kick for a while now, so YAY for less chemicals in my food.  Oh, and what impresses me even more is the nutritional label. Check it out...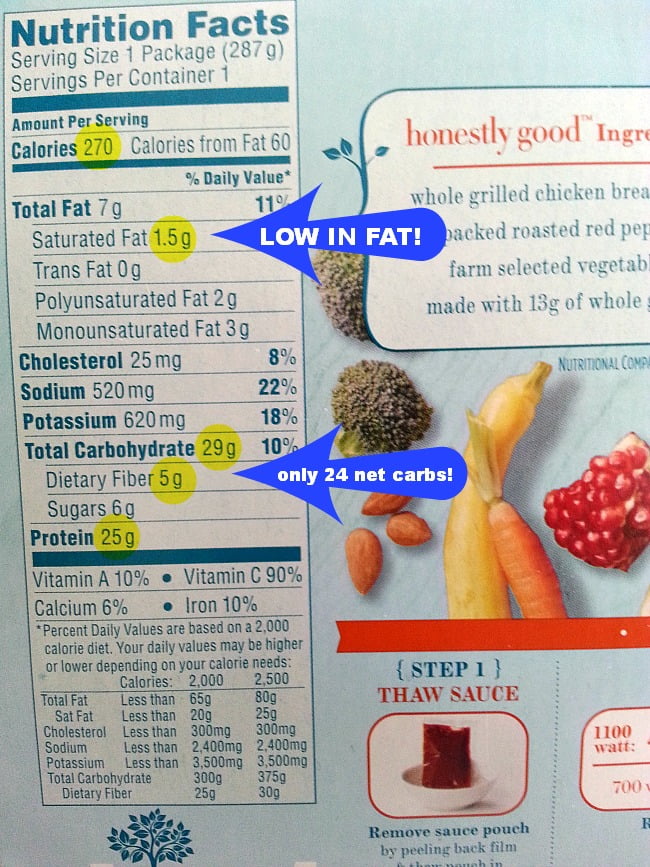 I was impressed! Most of the frozen dinners, especially the "healthier" ones, have double the amount of calories, fat, and carbs that this meal has. The cost was a TEENY bit higher than the healthy frozen meals I usually purchase, but in my opinion, the added value of having a minimally processed meal with a REAL chicken breast vs. processed chicken bits & pieces is worth the extra money.
After I selected a couple of dinners and put them into my cart, I raced around the corner to the ginormous produce aisle section to grab some goodies for the beverage that I planned to drink alongside this lunch...a lean, green smoothie! I picked up some healthy leafy greens, a few clementines, some tropical fruits, and I was on my way to the check out aisle. I posted the recipe for it yesterday. If you missed it, you can grab the recipe HERE
So when it's time to sit down and eat, and you're looking for something that's wholesome, healthy, and easy to make, think about putting your fork into these 100% all natural microwaveable meals. It's a choice that makes it easy to keep your stomach AND your spirit well fed!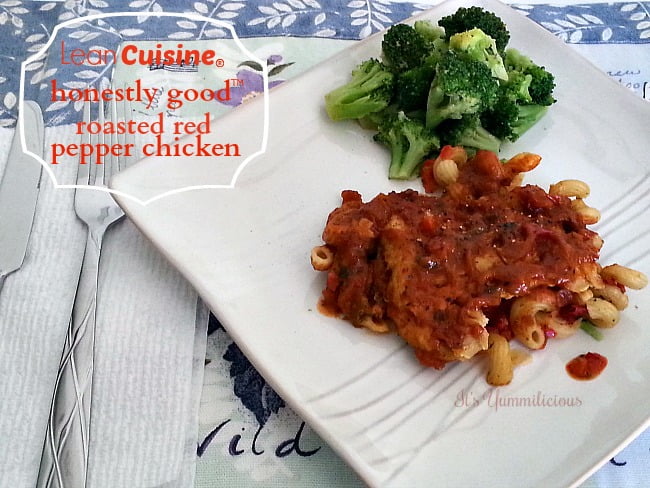 For more information on the Honestly Good meals, head over and check out the Lean Cuisine Facebook page!
Oh, and get yourself a great deal with this printable COUPON!